---
EMAIL INTERVIEW Andre Perra & Ken Sinclair
Andre Perra, President Cerus Industrial
Andre is one of the founders of Cerus Industrial. Formally Andre was President of Veris Industries
and VP of Marketing for Square D, Schneider Electric.
---
Smarter Motor Controls for Intelligent Buildings
Our focus is on helping conserve energy in facilities; whether that is direct energy savings or by helping to monitor and control consumption.











Sinclair: Tell us about Cerus Industrial and describe your role within the company.
Perra: Kent Holce and I decided to start Cerus Industrial after both of us left Veris Industries. Kent of course, founded Veris and decided after selling the company and taking a year off that he was ready for a new challenge. For me personally, my experience as President of Veris after the acquisition left me hungry to start my own business. So the timing was perfect for Kent and I to get together to form Cerus— one phone call and we agreed to work on a business venture together. Once we had the basic concept of manufacturing motor controls, we solicited the help of our two other founders, Steve Everton (CFO) and Jerry Woodin (our first Sales VP).
Sinclair: Of all the things to go into, how did you decide on motor controls?
Perra: We had spent all of our time in our previous companies working on sensing and measuring motors for building controls, so we thought it would be natural for us to work on the actual motor control itself. Our goal is to make motor controls an easy fit for intelligent buildings.
Sinclair: What innovations have you brought to market for motor controls in automated buildings?
Perra: What we know is that motor controls are a costly purchase for any intelligent building, and a key consumer of energy. While there are devices for saving energy, such as variable speed drives, the cost of integrating and controlling the devices is a hidden cost that hasn't received a lot of attention. So we have focused on the total cost of ownership of the motor controls – for things such as BACnet communication and universal control inputs.
Sinclair: Can you tell us about your BACnet interface?
Perra: BACnet on a variable speed drive is now fairly common, but when we started this was completely new. We were one of the first to implement BACnet for VFD's. Our first effort was really a learning experience, but we quickly took what we learned and incorporated it into our current BACnet communications card. We also have, as far as we know, the first implementation of BACnet communications in a motor starter— our BAS starter which is proving to be very popular.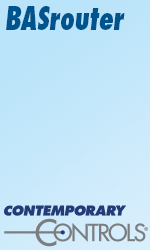 Sinclair: Is there a justification for integrating BACnet in a relatively low cost device like a motor starter?
Perra: Surprisingly there is. Small horsepower fans are used everywhere in commercial buildings, and require the same type of monitoring and controls that a larger fan needs. Unlike a larger motor which is normally controlled by a VFD, a small motor is controlled by a contactor and usually is pretty "dumb"— it has no provisions for status information or direct digital control. When a controls contractor integrates a motor starter he usually needs to use several I/O points for monitoring status, turning the starter on and off, and controlling an actuator- all of which requires interposing relays, transformers and current sensors, not to mention field labor. This can easily add $200 or more to each starter. Our BAS starter offers a better solution with direct inputs to the control system and integrated actuator control. When ordered with BACnet, all of this plus more, is available through communications. This not only eliminates the cost of all relays, transformers and field wiring, but also eliminates I/O on controllers. The savings are very compelling.
Sinclair: What's next for Cerus?
Perra: We are going to continue to focus on making motor controls smarter for intelligent buildings while working to keep them simple to install and integrate. Additionally, our focus is on helping conserve energy in facilities; whether that is direct energy savings or by helping to monitor and control consumption. One of the products we are working on is our second generation BAS starter which will help with LEED projects by monitoring consumption and offering improved motor control. We also are expanding our production capacity, having just recently moving into a new plant that should allow us to triple our volume.
---


[Click Banner To Learn More]
[Home Page] [The Automator] [About] [Subscribe ] [Contact Us]