---
EMAIL INTERVIEW - Marc Petock & Ken Sinclair
Marc Petock, Vice President, Global Marketing & Communications, Tridium, Inc.
---
Implementing Intelligent Building Solutions
Energy is the most expensive component of a building, manage it like an asset. Buildings run and operate in real-time; manage them in real-time.















Sinclair: The concept of Intelligent Buildings continues to change in order to meet the increasing needs of today's business challenges. How are you seeing it change?
Petock: I am seeing it change in several ways. First there are new concerns from the building owners-----strategic issues such as performance, energy costs and usage, building efficiencies and sustainability, government regulations, smart grid and economic pressures.

Because of the risks and the opportunities they have to be involved earlier and more deeply than ever before. So really the process is turned upside down. Instead of architects and engineers presenting solutions to owners according to just design needs - owners and building stakeholder teams are developing strategies and then pushing them to the design and engineering teams.

Another way is within the organization. I am seeing you need more than one champion; you need a measure of change management and multiple champions including a few in the C-Suite to drive the connected and intelligent building concept.

Also, continued concerns about energy. Companies are now seeing environmental performance (energy & sustainability) as core business issues that must be addressed. Businesses can justify energy efficiency investments based on proven savings and reduce the impact that volatility has on their business. I tell people, energy is the most expensive component of a building, manage it like an asset. Buildings run and operate in real-time; manage them in real-time. Adopt a good, better, best strategy. Don't wait for the perfect solution; a 20% reduction that actually happens is better than a 30% reduction that never does.
Sinclair: The technology that has driven intelligent buildings is now evolving in many different verticals. What markets are you seeing the impact of the technology?
Petock: Healthcare/medical, automotive, energy management and energy efficiency, smart grid applications, smart meters, lighting, telecom, convergence retail, Smart Services, the connected home - all are markets that are experiencing a healthy demand for intelligent building technology and connected devices. This demand is being driven by a number of different factors including our acceptance that we live and operate in a connected world, new regulations, environmental awareness and concerns, and an overall desire from people to improve their business to maximize efficiency and performance.
Sinclair: Beside North America, where is Intelligent Building technology growing today?
Petock: Intelligent Buildings is certainly an international phenomenon as the technology has made its presence known in many places across the globe. The regions which I am seeing particular excitement around are: Europe- especially driven by energy, The Middle East--- Abu Dhabi, Saudi Arabia—building complete smart, connected cities, Asia Pacific-, China, Australia, Korea, Singapore, Japan and Thailand—driven by overall economic growth.
Sinclair: What is the biggest hurdle right now that is holding back the widespread adoption of Intelligent Buildings?
Petock: Implementing Intelligent Building solutions is not a technical challenge. The technology exists today and is well enough established at this point: there are real world proof points that prove the benefits of these solutions. The biggest hurdle is getting management at companies to think differently and adopt a new perspective on the nature of their business. Now is the time for companies to take a good long look at how they can make their business more efficient and effective, reduce errors and asset downtimes, improve profitability, and ultimately better respond to customer demands.
Sinclair: Some think that implementing new technology solutions can be risky especially when it comes to buildings. What are the ways you can reduce the risk of deploying Intelligent Building technology?
Petock: First, coming to the realization that these solutions are a strategic investment in the business is critical. It's also not just about the technology it's about the understanding and knowing exactly what benefits you are expecting to receive. Also, defining what you want the solution to accomplish and what metrics will be used to define its success prior to deployment.

I believe there is a basic foundation to all Intelligent Building solutions and the level at which there are differences depends on how much, what role and to what extent you want it to play within a particular business environment.

Look toward the technology providers who are not only delivering the backbone that can make this all happen, but also have the real world applications with the proof in deployment. Also, ask questions…lots of them. Ask for references—speak to them; visit them to see first hand how their solutions are doing.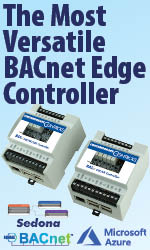 Sinclair: What are some of the specific types of projects that Tridium's technology is currently working on and who are some of the companies you are collaborating with?
Petock: On the collaboration front, we just announced we are working together to develop new systems for Energy-Efficient Smart Buildings; integrating IBM Tivoli Monitoring for Energy Management and IBM Maximo Asset Management enterprise software with our Niagara and Framework. On the deployment front, we just surpassed 200,000 instances and some of the new deployments include Panduit's new world headquarters; the City of Raleigh; all of AT&T's remote service huts; Bank of America; the new Harry Potter attraction at Universal Studios; the newly opened City Center in Las Vegas; MEDCottage-a new, first–of-its-kind, state-of-the-art high tech temporary mobile medical home for family managed care; GM Daewoo automotive facilities in Korea and in Dubai, the Niagara Framework is being deployed in 80,000 government buildings.
Sinclair: What's the next big thing in Intelligent Building technology? How can we expect to see the market change over the next few years?
Petock: The next big thing as I see are devices you would have never thought of being connected will be connected and become part of a building information network; the increase use of managed services and their importance of running businesses; IPV6—allowing more devices to have their own unique IP address and being able to communicate in dual environments---wired and wireless.
Sinclair: How can we expect to see the market change over the next few years?
Petock: Ken, I see a wider acceptance by business; an increase use of building automation technology to solve real world business challenges and drive company value and more strategic partnerships within the industry.
---


[Click Banner To Learn More]
[Home Page] [The Automator] [About] [Subscribe ] [Contact Us]