---
Articles - September 2010















Our authors provide insight into our rapidly evolving industry.
Please take the time to read their valuable articles.
"Open" It can be argued that the word 'Open' is the most fundamental key word that has driven the BAS industry over the last decade and will continue to drive it in the future. Nirosha Munasinghe MBusIT BSc BE (Hons) (Melb), Product Development Manager, Open General
From the Silo to Open Collaborative Facility Internetworks Today we have to anticipate a new kind of network in the facility - The Facility Network. That particular network has to be developed before the building automation subsystem details. Nino Kurtalj, President, Elma Kurtalj Ltd
A Rose I'm talking about the endless list of buzzwords that have occupied these pages over the past years and represent technologies and initiatives that have—and have not—transformed our industry and environments. Anto Budiardjo, Clasma
Does Owning the Meters Make You Smarter? Only if you do smart things with them. If we own the smart meter or collection of sub-meters we no longer need to deal with other people politics. Ken Sinclair, AutomatedBuildings.com, Publisher
Seeing is Believing Stay Cutting Edge with Visual Representation Sarah Erdman, Marketing Director, QA Graphics
Control Issues Controls and building management systems have for too long been relegated to the final stages of building commissioning. And they have remained largely misunderstood by most building stakeholders, to the detriment of building performance and overall energy efficiency. But the industry is set to take control, as Sean McGowan reports. Ecolibrium, AIRAH official journal.
Certifications Why you need to know about the Certified Automation Professional, Jacob Jackson, CAP, CTS, LEED AP, MCP, Assurity Design Group
Columns - September 2010
Why is it that control systems don't work? Focus on thorough control design and installation, coupled with good training and tools for continuous commissioning and monitoring. These are the keys to the delivery of high performance building operation platforms. Paul Ehrlich & Ira Goldschmidt, Building Intelligence Group
The Power to Control Home Lighting and Appliances comes to your handheld device Web services are the future of empowering personal power savings. Manny Mandrusiak, Vice President of OPC Marketing, OPC Foundation
Smart Buildings share schedules with Business and Smart Grids Using WS-Calendar for scheduling things Toby Considine, T9
Articles - August 2010
Monitoring-based Commissioning for Proactive Energy Management MBCx can provide new opportunities for commissioning providers. Peter Sharer, Founder, Agilewaves, Inc
A Window into Shading and Electrically Switchable Glass There are three systems that need to act in tandem: lighting control systems, the HVAC system and the shading system. Jim Sinopoli PE, RCDD, LEED AP Managing Principal, Smart Buildings LLC
Integrating the BMS on Campuses 150 miles apart Johnson Controls installed a multi-vendor head-end workstation to integrate a number of legacy building automation systems which controlled 28,000 physical points on the Twin Cities and Duluth campuses. Becky Wacker, Systems Sales Engineer, Johnson Controls
Improving the Construction Process with BIM The models and intelligent information that BIM can provide offer better visualization of a project as a whole, and allow more information to be included early on in the design stages, ultimately improving the communication among everyone involved in the construction process. Sarah Erdman, Marketing Director, QA Graphics
Common Problems of our Industry As an industry we must address this issue with greater care than what we have done over the last decade. There needs to standards developed to govern a far greater synergy between original specification and commissioned results. Nirosha Munasinghe MBusIT BSc BE (Hons) (Melb), Product Development Manager, Open General
Occupying Yourself with Energy and Occupancy The most popular technology for counting people at the doorway appears to be thermal sensors or imaging, infrared and video analytics. Jim Sinopoli PE, RCDD, LEED AP Managing Principal, Smart Buildings LLC

Smart Grid Consolidates to Meet the Challenge As major electrical giants begin to emerge from the recession, the number of acquisitions in the smart grid space is on the up, according to an executive brief from business intelligence provider Memoori. Jim McHale, Memoori
OPC Xi Overview White Paper This article briefly compares OPC Xi with Classic OPC and OPC UA, and provides an overview of OPC Xi. Randy Kondor - OPC Training Institute; Lee Neitzel - Emerson Process Management; Thomas J. Burke - OPC Foundation
Columns - August 2010
VFD Retrofit Opportunities Variable frequency drive opportunities abound! Steven R. Calabrese, Control Engineering Corp.
When Does Building Automation Become Industrial Automation? However tempting or logical it might seem to use industrial automation in complex building projects, it usually leads to problems (generally due to the technical and business practices "gaps") that are greater than the benefits. Paul Ehrlich & Ira Goldschmidt, Building Intelligence Group
Smart Buildings & Smart Energy: the Integration Challenge Toby Considine, T9
Energy – How much do we have, how much do we need, and where do we find it? How will PROFIenergy be used to balance the energy equation? Manny Mandrusiak, Vice President of OPC Marketing, OPC Foundation

Looking In On BACnet Paths Through the BACnet Maze Andy McMillan, President and GM, Philips Teletrol
Integrated connected (IC) virtualization Through integrated connected virtualization, the world of large buildings will soon view everything connected differently. Ken Sinclair, AutomatedBuildings.com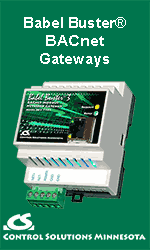 Past Favorites
August:
Jim Sinopoli, PE, LEED AP, RCDD Managing Principal, Smart Buildings LLC A Window into Shading and Electrically Switchable Glass
Peter Sharer, Founder, Agilewaves, Inc Monitoring-based Commissioning for Proactive Energy Management
July:
Sarah Erdman, Marketing Director, QA Graphics Energy Dashboards and Energy EDUCATION Dashboard
Michael Colicchio, Canadian Regional Development, Viconics Electronics Inc. Wireless Communicating Controls
June:
Harry Sim, CEO, Cypress Envirosystems Kaiser Permanente Qualifies Old Building for Energy Incentives
Ken Sinclair AutomatedBuildings.com Takeaways from ConnectivityWeek 2010
Nirosha Munasinghe, Open General The Future of Cloud Connectivity for BAS
May:
Ken Sinclair Editor/Owner, www.AutomatedBuildings.com Preview of May 24-27 ConnectivityWeek 2010 Santa Clara
Michael R. Lavelle P.E., Lavelle Energy LLC & Kimon Onuma, FAIA, ONUMA, Inc. Virtual Building Energy Management
Nirosha Munasinghe, Open General What is a Web Enabled Building Management System? & Data Integration Levels
April:
Dave Krinkel, Founder EnergyAI What Secrets Lurk In the 98% of Energy Data that's Never Looked At?
March:
Ken Sinclair Editor/Owner, www.AutomatedBuildings.com The Next Big Things
February:
Andy Stadheim CEO, Barix Technology U.S. Building Automation Considerations
Ken Sinclair Editor/Owner, www.AutomatedBuildings.com Twenty Ten to be a BAD-ASS Year
January:
Jim Sinopoli, PE, LEED AP, RCDD Managing Principal, Smart Buildings LLC Predictions for Smart Buildings in 2010
Rawlson O'Neil King, Communications Director, CABA Research Viewpoints
Robert Eckery, Marcom Manager, EnOcean, Inc. Energy Harvesting, Wireless and Next Generation Building Energy Management
December:
Jim Sinopoli, PE, LEED AP, RCDD Managing Principal, Smart Buildings LLC How Buildings Will Communicate With The Smart Grid
Harry Sim, CEO, Cypress Envirosystems Retrofitting Existing Commercial Buildings for the Smart Grid
November:
Andrey A. Golovin, Executive Director of associations BIG-RU (BACnet Interest Group Russia) and KONNEX Russia, Editor in Chief of the magazine "Building Automation" What is "Smart City"?
Gina Elliott, MBA Project Director, Smart Buildings LLC Energy Reporting
Daryl Cowie, Business Development Manager, Wescon Technologies The Business Case for Submetering - Part 1-3
October:
Kevin Braley, Communications Specialist, Orion Energy Systems Ebb and Flow of Lighting Needs Require Flexible Controls
David Wolins, CEO Scientific Conservation The Emergence of Proactive Building Management Automation
Rick Huijbregts, Cisco Canada The Real Value of Building Information, Integration and Transformation
Marc Petock, Vice President, Global Marketing & Communications, Tridium, Inc. The Niagara Framework® and Energy
September:
Sarah Erdman, Marketing Director, Quality Automation Graphics Energy Dashboards Inform and Educate
---
---

[Click Banner To Learn More]
[Home Page] [The Automator] [About] [Subscribe ] [Contact Us]