---
EMAIL INTERVIEW – Ken Sinclair and Scott Muench
Scott Muench, Vice President of Marketing & Business Development, J2 Innovations
---
Life After a Startup: J2 Innovations

- the Journey
Sinclair: What made you decide to become an entrepreneur/business owner versus large company?

Muench: I have always been drawn to smaller companies throughout my career for the culture they offer. In a small company, you know everyone, you can make a big impact, and there is typically lots of variety. Ironically, both of my most recent companies ultimately ended up as large companies through acquisition. (Tridium>Honeywell and J2 Innovations>Siemens)

Sinclair: Looking back, how did the idea for J2 Innovations come about?

Muench: The idea for the business came after Jason Briggs and I worked on a large project together (City Center in Las Vegas-largest construction project in US at the time). We were frustrated with the lack of adequate software tools System Integrators use to program and configure Smart Buildings. We had the first hand knowledge and experience to do it better, so we hired a bunch of talented software developers and the rest is history.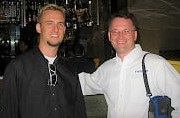 Scott and Jason circa 2005

Sinclair: As a startup, what are some of the major challenges you faced?

Muench: The biggest challenge is also the most fundamental; defining your market, finding your value proposition for the customers in your market, and then ultimately creating a product that meets the market needs. After many years of iteration and refinement, I believe we have conquered this challenge with FIN!

Sinclair: Personally, what are the top three skills needed to be a successful entrepreneur?

Muench: I would say persistence to keep moving forward, flexibility to iterate and develop new solutions, and being good at communicator - which to me means being a good listener and being able to simplify complex ideas.

Sinclair: What have been some of your failures, and what have you learned from them?

Muench: In the early phase of the business we tended to be "all over the map" with lots of good ideas, hoping that we could find a customer that matched them. In reality, we have learned that it works the other way around.

Sinclair: What have been your biggest successes?

Muench: I'm most proud of the FIN community we've built over the years. We're thankful for both the early adopters who took a leap of faith with FIN technology in the early days and our distributors who have stood by us as great partners over the years. As FIN project successes and popularity grew, we were excited to see the adoption by OEM partners grow as well. We now have a solid community of end users, system integrators, distributors, and OEMs. Because of that success, our longtime customer, Siemens acquired J2 Innovations and is investing in our future.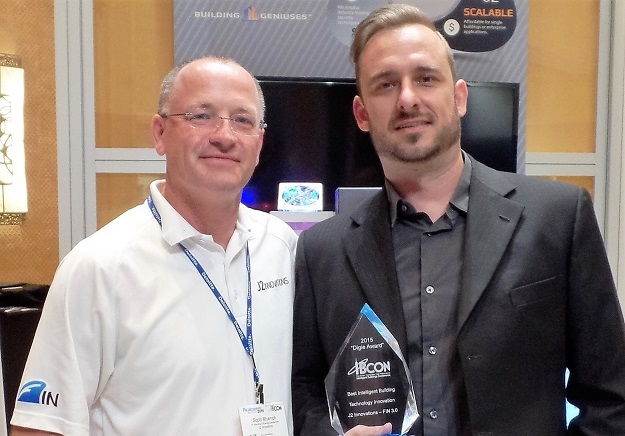 [Scott and Jason now]

Sinclair: What does Siemens acquisition mean for J2 Innovations?

Muench: J2 Innovations is now a wholly owned subsidiary of Siemens Industry, Inc. and will remain an independent company with our own business goals and objectives. We will retain the company name and the FIN brand as well as the management team led by founder and CEO Jason Briggs.

Sinclair: What does this mean for the FIN community?

Muench: Our plans are to continue business as usual, selling FIN technology through our North American FIN Stack distribution channel and OEM partners. This acquisition means that we will have additional resources to expand our customer support and continuously improve our technology.

Sinclair: What is the future of J2 Innovations?

Muench: Our vision is to continue building our business and grow into a global technology company. We have already added more talent to our growing team - with new hires in the U.S., and future hires in Europe. We will have additional capital and renewed focus that will enable us to enhance FIN technology and expand into new markets.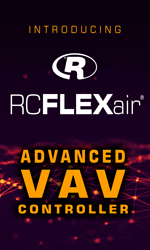 Sinclair: What does this mean for FIN technology?

Muench: We've created a unique organization within J2 Innovations. We now have the "Glue Team" and the "Stack Team". The Glue Team is a dedicated group of developers who will stay sticky with our partners and help them develop and adopt the FIN framework. The "Stack Team" will focus on innovating the FIN Framework. This provides a highly focused organization best suited to meet both customer and development goals.

Sinclair: Has it been worth it?

Muench: Absolutely. The journey has been an exciting one! Our vision has always been to change and evolve the industry. This acquisition is a huge milestone on that journey and will help us accelerate realizing our vision.


---

[Click Banner To Learn More]
[Home Page] [The Automator] [About] [Subscribe ] [Contact Us]