---
Across My Desk

snippets, blog bits, tweets, linkedIn posts, and url links that are about to fall off my desktop




Ken Sinclair

Founder, Owner, Publisher AutomatedBuildings.com
Every month there is a blizzard of information contained in the emails and newsletters that cross my desk on their way to AutomatedBuildings.com. Some of this information is not in the form of any type of content we can publish but I feel I should share with you these snippets, blog bits, Tweets, LinkedIn posts, and URL links that are about to fall off my desktop.
On a daily basis I tweet as @Ken_Sinclair https://twitter.com/Ken_Sinclair I actual now have a few moments ;-) https://twitter.com/Ken_Sinclair/moments
I tweet links I think will be of interest and part of our rapid industry evolution.

Also, http://automatedbuildings.com/ maintains this LinkedIn online blog for the magazine, a great place to interact.
I also write a column twice a month for Contractor Mag http://www.contractormag.com/author/Ken-Sinclair
And a column once a month for facilitiesnet Home of Building Operating Management & Facility Maintenance Decisions Magazines

But I still have stuff falling off my desk I feel I should share.
My Top Tweets, posts, podcasts, and video interviews
https://twitter.com/Ken_Sinclair
https://www.linkedin.com/in/ken-sinclair-8246965/detail/recent-activity/posts/
Episode 278: ControlTalk NOW — Smart Buildings Videocast and PodCast for week ending August 12, 2018, finds automatedbuildings.com's Ken Sinclair stepping in as co-host for the vacationing Ken Smyers, who is in Mexico (confounded with intermittent internet).The fascinating Lawrence Ampofo, one of the worlds foremost authorities on digital mindfulness, joins us as this week's ControlTalk NOW guest. We dedicate the entire episode to this globally recognized expert. In our discussion with Lawrence, we learn what digital mindfulness is, why it is relevant, and most importantly, how the ControlTrends Community can apply the ideas presented in this podcast to the smart buildings they serve.

https://digitalmindfulness.net/109-dr-lawrence-ampofo-on-the-smart-buildings-podcast/
https://digitalmindfulness.net/103-digitally-mindful-buildings-with-ken-sinclair/

Other Industry Stuff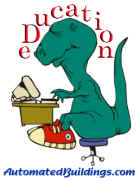 Just updated our Education page, fixed a many broken links yikes 20-year-old pages. They look funny but still links to some great resources now including new stuff give it a go. Want to get a toe-hold on the industry? Start here. C U in Atlanta AHREXPO? http://automatedbuildings.com/frame_education.htm …
This year at AHRExpo Atlanta http://automatedbuildings.com/news/aug18/reviews/180723072601bmahr.html

Session Title Introduction to Building Automation Systems
Session Description In this introductory session, attendees will get an overview of Building Automation Systems (BAS) and how they automate the operation of a building. The speaker will explain the purpose of BAS, or Building Management Systems, how it collects information about a building, and factors that affect implementation, processes, and decision-making. This interactive session will additionally build the foundation for the audience to develop an understanding of BAS, the benefits that it brings, and resources to further that knowledge based on individual needs (from basic to more advanced).

This session will provide you with the skills to go on to the next education session Building Automation 101 by Scott Boehm
Class Level Entry Level
Who would benefit the most from attending this session? Engineer, Facility Manager
Session Focus Building Automation & Control, Commissioning, Energy Conservation/Efficiency, Facility/Building Management, Indoor Air Quality (IAQ)

Organization Tridium
Contact Name Scott Boehm
Email sboehm@tridium.com
Session Title Building Automation 101
Session Description This session will be a primer for entry-level students based primarily on current topics as well as define some of the more common terms such a: protocols, connectivity, interoperability, wired vs wireless, Internet of things, big data, analytics, etc. Also, the value proposition and a simple building automation system architecture will be presented for discussion.
Class Level Entry Level
Who would benefit the most from attending this session? The contractor, Facility Manager
Session Focus Building Automation & Control, Trends
https://www.linkedin.com/pulse/smart-building-automation-evolution-timeline-ken-sinclair/
BACnet Airport Conference Thursday Sept 27, 2018 (hosted by Fraport AG at HOLM - House of Logistics and Mobility) at Gateway Gardens in the Frankfurt Airport Area 08:00 a.m. Opening of the Exhibition "Reliable Building Operation at Airports"Beckhoff, GEZE, JCI, Siemens Building Technologies – ABB, Meteoviva - Belimo, Bihl+Wiedemann, Danfoss, Hermos, Iconics, Loytec, Oppermann, Reliable Controls, Sauter, Tridium, TÜV SÜD, WSCAD – Adiutec, Kieback&Peter
Learning Meaning in Natural Language Processing — The Semantics Mega-Thread In which Twitter talked about meaning, semantics, language models, learning Thai and Java, entailment, co-reference — all in one fascinating thread.
SWIMMING IS THE NEW STANDING
Employees in your organization who have already converted to a standing desk can tell you: the proper question isn't "Why" but "Why not?" Studies have shown that reducing the time you spend seated makes you less likely to die of a heart attack and extends your life expectancy. But stationary standing may not be the answer since that can lead to spinal compression, enlarged veins, and edema. As an alternative, some have turned to treadmill desks, but for people with joint pain or arthritis, that isn't an option.

Johnson Controls GLAS® smart thermostat now available for pre-order with expanded Amazon Alexa and Google Assistant voice-control capabilities Beautiful in form and function, GLAS creates a seamless smart home and voice-control experience, working with Amazon Alexa, the Google Assistant and Microsoft Cortana®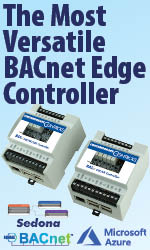 Great information for Open Sedona community https://www.sedona-alliance.org/
What is Sedona?
Developed by Tridium, Inc, Sedona is an open-source software environment designed to make it easy to build smart, networked, embedded devices which are well suited for implementing control applications. The Sedona language facilitates component-oriented programming where components are assembled onto a wire sheet, configured and interconnected, to create applications. Sedona was made available to the public under an Academic Free License (AFL 3.0) granted by the licensor—Tridium, Inc. A licensee was allowed worldwide, royalty-free and non-exclusive use of the technology.

Why Wire Sheet view simplifies programming of iSMA controllers?
https://www.ccontrols.com/blog/2018/06/11/graphical-programming-approach-and-managing-sedona-kits/
Just online Why are we talking about Building Bots and not Building Controls? https://www.contractormag.com/iot/building-better-building-bots-mindfully

Over the past few weeks, we've quietly reached out to over a dozen facility managers.
The reason we reached out to them is we wanted to hear firsthand how they use their BAS and more importantly why they don't use it. One of the benefits our company has is that we do not sell controls, we only provide vendor agnostic building automation training. Because of this, we were able to get some really honest answers around what facility owners want and need from their building automation system. In this episode of The Building Automation Monthly Podcast, we discuss what those needs are and how to use your building automation system to address those needs.
Listen to the podcast by clicking on the link below.
https://buildingautomationmonthly.com/128/
THE 5G EXPERIENCE
In the coming years, the newest generation of mobile connectivity – 5G – will roll out and change what is possible again. With maximum speeds up to 1,000x faster than 4G, this new technology will again shift consumer behavior, as well as how we view smartphones, communications, IoT, gaming, and AR/VR.

Please welcome our newest sponsor CatNet Systems - "The next generation embedded interface to BACnet, ModBus and LonWorks." Tell all our sponsors you saw their ads on the AutomatedBuildings.com web-site and thank them for supporting your free access to evolving Automated Building Industry information. Click on their ads and view their valuable products and services. Please review all Our Sponsors.

A scary visualization of the global warming problem Thanks Bob Next fear is global fires. Can you imagine losing the boreal forest and then the tundra to fire?

---


[Click Banner To Learn More]
[Home Page] [The Automator] [About] [Subscribe ] [Contact Us]