---
Updated December 16th
nPhase Provides Nation's First Global M2M Wireless Connectivity Solution with Sprint PCs and Cingular












Chicago, IL – nPhase, one of the nation's leading Machine to Machine (M2M) solution providers launches nPhaseDSNTM – secure, global, two-way connectivity through Cingular's GSM and Sprint PCS's CDMA wireless networks. This proven capability solves the problem of Dynamic IP addressing for two-way communications and allows companies that need to connect to their business assets to significantly reduce the complexity and cost associated with large volume M2M deployments. nPhaseDSNTM includes: secure, direct connections to both the Sprint PCS CDMA wireless network and the Cingular GSM network; activation, custom rate plans and resale of both GSM and CDMA data service; nPhase software and M2M data protocols that enable two-way, secure, end-to-end connectivity; and a software development kit that reduces the complexities of implementing cellular wireless solutions. In addition, nPhaseDSNTM integrates POTS and other communications providing normalized date regardless of the communications path.
Also see their white paper on Solving the Messy Network Problem
http://www.nphase.com/pdfs/white_papers/messy_networks.pdf
---
IIPSEC Technical Seminar Programme
Proving the fact that networked solutions are now being routinely deployed across the UK and Europe, some of the most progressive companies in the industry are keen to help those not yet versed in the technology to take their first steps into IP. At IIPSEC 2005 an interactive programme of educational seminars are being offered to those who want to learn more. Catering for all levels the sessions are a must for those involved in purchasing, specifying or installing of tomorrows security systems. Presented by some of the most influential individuals in the industry the four technical sessions over 25th & 26th January 2005 will cover a host of topical and crucial subjects.
Programme One: Introduction to IP
Programme Two: Video over IP
Programme Three: Intelligent Security Systems and Applications
Programme Four: Increasing Competitive Advantage
If you wish to learn more visit www.iipsec.com/seminars.
---
Austin Energy Purchases USA Technologies' CoolerMisers™ and SnackMiser™ T0 Extend Their SmartVendor Program
AUSTIN, TX AND MALVERN, PA—Austin Energy, acommunity-owned electric utility and a department of the city of Austin, and USA Technologies (OTC Bulletin Board: USTT) announced the addition of the CoolerMiser and SnackMiser to Austin Energy's SmartVendor program. Under their SmartVendor program, Austin Energy has agreed to purchase from USA Technologies 500 CoolerMisers, and 200 SnackMisers. Additionally, they plan to order another 600 CoolerMisers before the end of their fiscal year. Austin Energy will provide the CoolerMisers and installation, free of charge to its customers.
---
Win a free Web Server Gateway

Win a free Web server Gateway. We'll give away one every month starting in December 2004!! With the Gateway you can connect your automation devices to the web. Design your web interface in a few minutes without writing asingle line HTML. No Windows tools required. Sign up now to receive more information about the NetBiter® and to qualify to win a free product. Winners are selected randomly in a monthly drawing. Good luck!!
http://www.intellicom.se/contest.shtml
---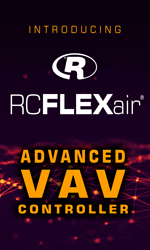 Introduction to the U.S. Electric Power Industry

A Live Two Session Phone & Web Seminar
December 15, 1:00 pm to 2:15 pm (U.S. Eastern Time) & 3:00 pm to 4:15 pm (U.S. Eastern Time)
http://www.pgsenergy.com/online/e101.html
---
AEE online training seminar
3D Load Profiling Using Interval Meter Data
A 4-Hour Distance Learning Seminar - January 10
For more information on these and other courses visit http://www.aeecenter.org/realtime/
---
At ASHRAE'05 Tips on Using New Standard 62 Shared at ASHRAE Seminar
ATLANTA – The first step in complying with ASHRAE's 2004 ventilation standard is learning how. And the easiest way to do that is by attending the seminar, How to Comply with ASHRAE 62.1-2004, at ASHRAE's 2005 Winter Meeting.
The seminar will be held from 10:15 a.m.-12:15 p.m. Wednesday, Feb. 9. The seminar is part of the technical program at the winter meeting, Feb. 5-9, Orlando, Fla. The seminar will feature an overview of the requirements of the 2004 standard with emphasis on the new requirements. ASHRAE 62.1-2004, Ventilation for Acceptable Indoor Air Quality, will contain many changes from the 2001 standard.
---
XML and Building Automation
Using XML in building automation systems (BAS) has become a hot topic—but do the results live up to the hype this article explains the fundamentals of XML in non-technical terms and provides tools to understand how XML related to building automation protocols such as LonMark® and BACnet®.
http://www.ashrae.org/template/JournalLanding;jsessionid=aaaetK7m1SzgVQ
---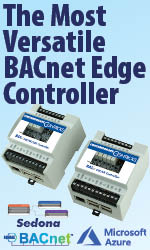 NBA's Charlotte Bobcats Will Make Wireless Work Everywhere By Installing The InnerWireless® System In The New Charlotte Arena

Pervasive wireless signal to drive arena operations, enhance live experience for fans

RICHARDSON, Texas and CHARLOTTE, N.C. – The NBA's Charlotte Bobcats today announced they will install the InnerWireless® in-building wireless broadband distribution system in the New Charlotte Arena to enhance wireless communications. Owned by the city of Charlotte, the 780,000-square-foot arena is operated by the NBA's Charlotte Bobcats and also is home to the WNBA's Charlotte Sting. The $200 million facility is scheduled to open in the third quarter of 2005, and in addition to pro basketball, it will host events including college basketball games and tournaments, concerts and family shows.
Installed in large commercial buildings, hospitals, campuses, convention centers – any institution or commercial enterprise – the InnerWireless system helps eliminate signal dead spots and facilitates the rapidly expanding number of wireless applications and devices. The InnerWireless system acts like a wireless utility, supporting virtually any wireless protocol or device, including wireless LANs, personal communications services (PCS), cell phones, PDAs and two-way radios for property maintenance and security.
---
15th Annual TCardTech/SecurTech (CTST) Conference and Exhibition
Security content level elevated
NEW YORK – Thomson Media Conferences and Exhibitions announced day that its 15th Annual CardTech/SecurTech (CTST) Conference is to be held at the Mandalay Bay Convention Center in Las Vegas, NV April 12 – 14, 2005. CTST is North America's largest card technology conference that covers IT and physical access security and payment transactions.
---
LonWorld® 2004 Expo and Conference in Shanghai, China Breaks Attendance Records
The annual LonWorld Expo and Conference had record setting attendance in Shanghai, China last month. LonWorld 2004, held in Asia for the first time, received enthusiastic support from attendees in China, Asia and across the globe. For a complete review of the conference visit http://www.lonmark.org/news/in1104_cover.htm
---
Honeywell Announces New Simplified Line of Flanged Globe Valves
MINNEAPOLIS - Since World War II, Honeywell (NYSE: HON) has offered several flanged valve families. Today the company introduced the VGF Series of flanged globe valves in both ANSI 125 and 250 body classes in sizes 2 1/2 to 6 inches. The new VGF series is based on cast iron valve families from Honeywell Germany that have been converted to meet North American standards and requirements. Built with precision craftsmanship, the VGF series features standards-based designs and replace the current series of V3350-V3460 (V3xxx) flanged globe valves. The new line will functionally replace V5011A, B, F, G and V5051 families. For additional information, please visit www.honeywell.com
---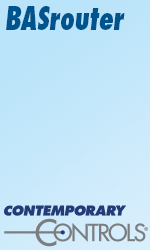 Draka Comteq Develops Powersum 25pr Cat 5e UTP
Franklin, MA - Draka Comteq, manufacturer of copper and fiber optic cable products, has expanded their SuperCat product offering to include a Powersum Category 5e 25-pair plenum (CMP rated) and 25-pair non-plenum (CMR) cable to their copper UTP product line. This cable was designed for use in data and voice backbone applications and is ideally suited for a Category 5e zone cabling architecture as well as for interconnect cable assemblies. The plenum cable, in accordance with NEC Article 800, meets NFPA 262 and can be placed in air handling ducts and spaces without being installed in innerduct. This cable becomes the ideal choice for backbones, especially where tight spaces and flexibility are a factor. The non-plenum cable, built with a flame-retardant PVC jacket, meets UL1666, CMR and CMG and is installed mainly in risers.
---
Matsushita Electric Works Ltd. Announces Airtegra Automation System Based on Tridium's Niagara Framework
Richmond, VA. – Matsushita Electric Works, a leader in the automation and controls industry and the group company of the world renowned Panasonic brand, has adopted Tridium's Niagara Framework as the foundation for their new "Airtegra" building automation system. The Airtegra system provides a comprehensive facility automation solution for mid-size buildings, integrating diverse control devices into a unified system that is easily managed through a built-in touch screen display or via the web. Facility automation applications based on the Niagara Framework are used to monitor, automate and control diverse building equipment systems –- in one facility or a host of facilities – from anywhere in the world via the Internet.
---
Mohawk Announces VersaLite™ Indoor/Outdoor Plenum Cable
Leominster, MA - Mohawk, a leading manufacturer of fiber optic and copper cable products, announces VersaLite™, a versatile indoor and outdoor plenum cable, as a cost-effective solution for campus environments. As part of Mohawk's Mini-Distribution product line, VersaLite™ was originally developed to provide data center-type installations with a compact, flame retardant cable that meets stringent OFNP (plenum) rated requirements. By combining its unique cable properties with rugged jacketing materials, VersaLite™ also becomes ideal for outdoor installations.
---


[Click Banner To Learn More]
[Home Page] [The Automator] [About] [Subscribe ] [Contact Us]