---
LonMark International to Host Free Education Seminars at AHR Expo 2005
Industry experts to share insights on specifying, deploying, and understanding open systems in buildings












San Jose, CA – LonMark International will host four education sessions at AHR Expo 2005 on Tuesday, February 8 in Room S230F at the Orange County Convention Center. The free education sessions are part of an on-going initiative by LonMark International to help facility professionals make better use of open systems in their careers.
Contractors' Dilemma: Is Systems Integration Right For You?
8:30 am - 10:00 am, Room S230F
Session Overview
This panel discussion will help contractors wade through the issues, risks and rewards associated with systems integration, including how open, standard protocols impact contractors' business options in the construction of today's integrated buildings.

Benefits of Open Systems: End User Panel Discussion
11:00 am - 12:15pm, Room S230F
Session Overview
This panel discussion will include "real life" experiences on open systems and delve into a number of key issues, including key objectives with the decision to go with open systems; the open system selection process; writing the specification; the bidding process; systems integration; and living with the results.

Introduction to Whole Building Automation
1:00 pm - 2:30 pm, Room S230F
Session Overview
This panel of industry experts will address the key issues of whole building automation, including open systems specifications, equipment sourcing, systems integration, and maintenance.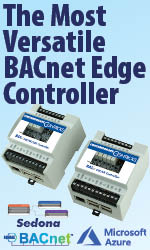 The Value LonMark Open Systems
3:00 pm - 4:30 pm, Room S230F
Session Overview
This session will address the key components of the LonMark open system including the protocol, communication media, devices and controllers, network tools, routers and gateways and management interfaces. Additional information will be provided on writing open system specifications, finding integrators, sourcing products, and more.

"We are hosting education sessions at AHR 2005 to help facility professionals make better use of open systems," said "Barry Haaser, executive director of LonMark International. "Education will be a focal point of the LonMark organization throughout the year. Following AHR Expo, we will host free seminars in 44 cities throughout North America and Europe. The seminars are designed to help industry professionals overcome some of the fear, uncertainty and doubt they have regarding open systems."

More information on the seminar series can be found by visiting the website at www.buildingopensystems.com.
About LonMark International
Since its inception in 1994 and new corporate structure in 2003, LonMark International has become a major driving force in the establishment of interoperable guidelines for building, industrial, transportation and residential/utility automation. LonMark® membership is open to any manufacturer, distributor, engineer, system integrator, or end-user committed to the development, specification, and use of open, interoperable products utilizing ANSI/EIA/CEA 709.1 and related standards. Products that have been verified to conform to the LonMark interoperability guidelines are eligible to carry the LonMark logo.
---


[Click Banner To Learn More]
[Home Page] [The Automator] [About] [Subscribe ] [Contact Us]