---
Updated February 1st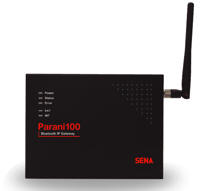 Sena Technologies Parani100 Gateway connects Bluetooth devices to Ethernet
The Parani100 is a Bluetooth to IP gateway that connects Bluetooth devices to 10/100 Base-T Ethernet network. Supporting point to multipoint connectivity to seven points, it transmits data from each Bluetooth terminal to management station via TCP/IP at a rate of 723Kbit/s. The unit is designed for large-scale wireless installations especially in industrial, medical and banking sectors, which are traditionally fitted with serial connections. The Parani100 supports various operating modes including TCP server, TCP client, repeater, vertex and RS232 modes. TCP server mode allows management station to initiate a TCP connection to the Bluetooth device attached to the Parani100.

More Information visit http://www.sena.com/products/by_name/parani_100/
---

Adept GRouter3 - Ethernet & WiFi
The GRouter3 is the new price/performance leader for LON over IP routing! This modular, scalable platform supports open, interoperable ANSI 709.1 (LonTalk©) and ANSI 852 (IP) standards. IP interface is offered in either 10/100 Base-T Ethernet or 802.11b WiFi. For more information visit www.adeptsystemsinc.com
---

Lighting Control & Design - The Invisible Photosensor
The new SlimLine photosensor from LC&D is the solution for daylight harvesting applications with indirect luminaires. Indirect luminaires normally throw light onto the ceiling where the photosensor is traditionally mounted. But to be operate successfully, the photosensor can not "look" directly at the source of lighting. The SlimLine provides a solution because it is mounted on the bottom of the indirect luminaire rather than on the ceiling. This allows it to "look" below the luminaire to get a more accurate light reading and be successful. Visit www.lightingcontrols.com for more information.
---
2006 Product Catalog from Jackson Systems Now Available
Indianapolis, IN – Jackson Systems, LLC, an award-winning HVAC manufacturer and wholesaler, has released their 2006 catalog. The new catalog showcases the complete residential and commercial Comfort SystemTM zone control line by Jackson Systems as well as hundreds of products from manufacturers such as Honeywell, White-Rodgers, Apirlaire and Lux. To receive your 2006 catalog, please visit our website and complete a catalog order form, www.jacksonsystems.com
---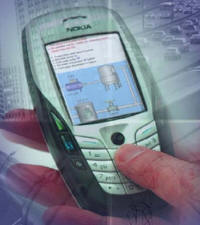 Control-See introduces U.C.ME-OPC version 5.5 – Eliminating Nuisance Alarms at their source
The main new features of version 5.5 are:
Eliminating Nuisance Alarms at their source
Text messaging (SMS) using standard analog modems and TAP protocol
Key features in U.C.ME include:
Alarm Snapshot - web and cellular
Alarm analysis – web and cellular
RSS support- web
Alarm notification using Phone, SMS (bidirectional), Email, Fax & Multimedia
Connection with any OPC/DDE server or SCADA that supports OPC/DDE (Native Drivers if required)
Redundancy - Hot Backup support
Alarm notification using weekly shifts
Special days and holidays handling
For more information visit www.controlsee.com
---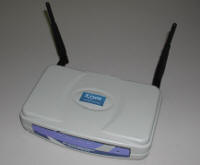 Kiyon Booth 3829 - AHR Expo Read Interview
Feature new Wireless BACnet Router, winner of AHR Expo 2006 Innovation Award for Building Automation
La Jolla, CA – Kiyon will introduce its new KAN254B Wireless BACnet router at the AHR Expo in booth 3829. The KAN254B was selected the winner of the 2006 AHR Expo Innovation Award for Building Automation in a competition conducted by ASHRAE Journal. The KAN254B provides wireless connectivity for all types of building control systems (HVAC, lighting, safety & security, IT) plus WiFi capability all on one network. It is the only product to offer broadband mesh networking compatible with BACnet MSTP, BACnet IP and standard IP, and enables 2-way data traffic between devices and building management systems, peer-to-peer networking, data bridging across different types of building systems and wireless mobility for building personnel using standard WiFi over the same network. Benefits include lower infrastructure cost; faster, easier adds, moves and changes; interoperability; and scalability. For more information on Kiyon and the KAN254B wireless BACnet router, visit www.kiyon.com
---

Loytec Americas Booth 3568 AHR Expo Read Interview
Loytec Americas – Starts 2006 off with the Introduction of Six new EIA-852 and EIA-709.1 Products
Loytec has over 6 new products that are now available based on their new high speed EIA-709.1 dedicated ARM7 micro controller called the LISA chip. The LISA chip incorporated into Loytec's product line offers higher performance, new features and lower product cost. A new line of Etherent Routers are the first products to be introduced which offer higher packet through put and additional channels. In addition a product called the LIP Redundant offers the ability to do product monitoring on a wire, alarming if the wire breaks and signal recovery for both the EIA-852 and EIA-709 channels. A really hot product is the new LVIS Touch Screen Display unit enables the customer to create the display with many pages of images and bind those with a fully dynamic LNS data base. The LNS variables can be bond or poled and more excitingly the product can be connected to either the EIA-709 – FT10 channel or the Ethernet EIA-852 channel for higher network speeds. For more information visit www.loytec.com
---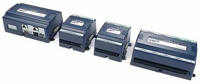 Lynxspring Booth 3565 - AHR Expo Read Interview
Launches JENEsys TCP/IP Internet Controller
Leawood, Kan. — Lynxspring Inc. has announced the availability of JENEsys™, a newly-design Internet control suite targeted at mechanical equipment manufacturers, control system integrators, national accounts and small commercial buildings. JENEsys provides flexible and modular control capability. Powered by Niagara AX, JENEsys brings the Internet to building control applications. JENEsys provides owners with a platform that will migrate to new communications strategies while protecting their original investments. The product represents a future-proof strategy that delivers a flexible point count, Web server, XML capability, OPEN APIs, JAVA programming and SQL, all in a single platform and at extremely competitive pricing. For more information visit www.lynxspring.com
---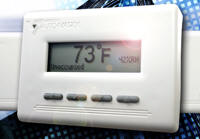 American Auto-Matrix Booth 3735 - AHR Expo
SBC-RH1, RH2, and RH3 and Advanced Capabilities
Export, PA - American Auto-Matrix is pleased to announce the latest release in the next generation of Smart Building Solutions®: the SBC-STAT Relative Humidity Sensors as well as the more advanced functionality in other pre-released SBC-STATs. These "Smart" Sensors utilize proprietary STATbus™ technology in order to achieve a two-wire polarity insensitive network that does not consume controller physical I/O. Through proper utilization of the STATs and Relative Humidity sensors in conjunction with AAM unitary controllers, users can create custom logos on models with an LCD display, as well as view eight hours of trending from any point on the system. Air balancing can also be achieved through the STAT3 with no other software tools needed. Relative humidity sensors are accurate within +/- 2%. The three various models provided for the new Relative Humidity sensors are the SBC-RH1: no display, relative humidity only; the SBC-RH3: relative humidity only with display; and the SBC-RHT: a temperature and relative humidity sensor with complete functionality and display. For more information visit www.aamatrix.com
---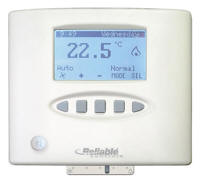 Reliable Controls Booth 3935 - AHR Expo
New Offerings meet the MACH-Stat™
VICTORIA, BC -- The MACH-Stat™ features an I/O configuration of 7 inputs and 8 outputs (each output being a socket which a relay or universal output module can be inserted). The MACH-Stat™ combines the executive-styled of the SSL with the high-performance and durability that were trademarked in the MACH-Vision™. The new MACH-Stat™ is easy to mount and complements any decor. Information at http://www.reliablecontrols.com
---

CW Industries introduces The CrossTalk Platform's HMI for Johnson Networks Read Interview
The webVUE HMI for Johnson Networks, a powerful part of The CrossTalk Platform, is a cost-effective, easy-to-use, web-enabled, integrated headend solution for Johnson networks! We integrate all N2 Open and DX9100 protocols. Optimize your current Johnson control network and make it easy for your staff to monitor, control and troubleshoot your building equipment. Integrate your maintenance management system, lighting controls, access and CCTV systems onto that same headend and control everything locally or remotely via any standard web browser. The webVUE headend allows you to OWN your systems and manage them in a fashion that works for YOU. For more information or a demonstration visit our website at www.cwindustries.com/crosstalk.
---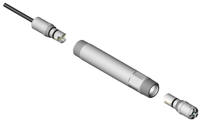 AquaSensors Introduces DataStick
Menomonee Falls, Wisconsin: DataStick is a modular sensor system that provides a superior alternative to analog sensors where precision measurements are required in a wide range of applications including boiler, chilled water, water, waste water, food, beverage, chemical, pulp & paper, and other applications. The DataStick enables Building Automation controllers, and commercial PCs to perform in a wide range of applications that in the past could only be done with expensive process control instruments. These applications can now be accomplished with Building Automation controllers and PCs since DataSticks delivers flawless 24 bit resolution analog data directly over fieldbus networks including Modbus, USB, RS-232, RS-485, DeviceNet, Profibus, and Rockwell DF-1 to measure pH, ORP, DO, Ozone, Conductivity, Suspended Solids, and Resistivity. In addition temperature is measured with all sensors. This analog data quality is equal to or better than most DCS and process instruments deliver. For more information visit www.aquasensors.com
---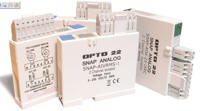 Opto 22 Introduces New Isolated Analog Modules
Temecula, CA — Opto 22, a developer and manufacturer of hardware and software for industrial automation, remote monitoring, data acquisition, and machine-to-machine (M2M) applications, has introduced four new isolated analog modules: SNAP-AIARMS-i, used for applications involving AC/DC current measurement; SNAP-AIVRMS-i, used for applications involving AC/DC voltage measurement; SNAP-AIMA2-i, used for monitoring very low currents; and SNAP-AOA-23-iSRC, which features built-in, isolated loop sourcing and is used to output current values to industrial devices. For more information visit the website at www.opto22.com.
---
Control Solutions, Inc. Booth: 3855 - AHR Expo
Control Solutions, Inc. Introduces Babel Buster Series of Gateways
Control Solutions' Babel Busters provide cost effective tools for connecting Modbus devices to LonWorks networks. The universal gateways are LonMark Certified and easily configured with generic LonMark object tools. Visit Control Solutions, Inc. at the AHR Expo. Visit www.csimn.com for more information.
---
---


[Click Banner To Learn More]
[Home Page] [The Automator] [About] [Subscribe ] [Contact Us]