---
EMAIL INTERVIEW - Terry D. Swope & Ken Sinclair
Terry D. Swope, President, Lynxspring, Inc.
---
Who is Lynxspring?
We have created a solution that is scalable -- from a unit controller to a Web-enabled supervisory level manager.











Sinclair: Who is Lynxspring?
Swope: Lynxspring is a company that manufactures and distributes a TCP/IP-based control suite using Tridium's NiagaraAX software in an embedded platform. Our system is very scalable and price competitive providing normalized interoperability with standard and open protocols such as BACnet, LonWorks, Modbus and many legacy systems. Additionally, our products are Web-enabled, allowing direct communication with the specific application through any common Web browser.
Sinclair: What markets does Lynxspring serve?
Swope: Lynxspring has three primary markets:

a. We supply original equipment manufacturers in the HVAC-R, lighting, security industries or any manufacturer desiring to use M2M technology. Our software developers work with OEMs to provide Web-based tools that greatly enhance their ability to customize our products on the fly, through automation. Additionally, we provide them Web tools to rapidly deploy their new offerings successfully through their channels of distribution.

b. We service national account markets in the Retail, Restaurant, and Data Technology sectors that have facilities nationally or world wide with needs to manage energy, environmental conditions, and assets. We help them create network operating centers to automate and manage global control, data acquisition, alarms and service requests. We custom-tailor their applications for a proactive service approach, thus enabling major savings in areas of equipment replacement and longer terms of use of their investments.

c. We have a partner group of system integrators thought the U.S. that is growing very rapidly. We are expanding into Canada, Mexico and throughout Latin America. We provide product, training and support services to our partners as well as any marketing support that they may need to be successful.
Sinclair: What are the key challenges of controls today?
Swope: When Lynxspring was founded, we were a value added reseller of open control solutions. We soon discovered that everything we did for OEMs was a compromise. We promoted open control solutions, albeit "open" required proprietary software, making it vulnerable to changes in the field by unsuspecting integrators. In many cases, this destroyed the safeties and control logic we had created for our customers. Additionally, the word "open" is suspect at best, because what is exposed for integration and naming conventions can make it difficult to be truly interoperable. Equipment manufacturers are faced with the dilemma that their equipment may have an operational life of 15 to 25 years, but contain controls that tend to change strategies every 3 to 5 years. Additionally, we recognized the need for manufacturers to provide a control solution that is homogeneous with the building's IT department.

Lynxspring's national account customers required competitively-priced, modern control solutions, while maintaining existing legacy systems. How could they combine different control protocols and field bus installations, while installing and maintaining building IT network infrastructure necessary to their business? Why isn't it possible to have just one system that is both compatible and secure?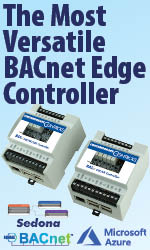 Sinclair: How did Lynxspring address these issues?
Swope: It became evident that we needed a better solution than what was available from the manufacturers we represented. We feel that controls should be invisible, and should work. We endorse interoperability at the highest level, and we are "Protocol Agnostic". By partnering with Tridium, we brought our knowledge of owner's/end user's needs, the recognition of OEM's paradoxes of supplying such, and combined them with a keen eye on the future. Thus, JENEsys™ was born.

Our goal was to create an IT-centric solution using the latest M2M technology. JENEsys™ fulfills these needs by embedding Tridium's NiagaraAX Platform on an IBM self-powered chip. We have created a solution that is scalable -- from a unit controller to a Web-enabled supervisory level manager. It can reside in a vertical topology schema for an existing field bus application, communicating through a normalized database with LonWorks, BACnet, or Modbus, or in a horizontal topology using the buildings IT-based network. On board are two Ethernet connections, one RS-232 and one RS-485 Ports. The system is expandable with inexpensive modules. It is configurable for connectivity with modules like 56K modem, GPRS, and Wireless Mesh. Best of all is its future proof backbone, made possible by using JAVA and XML, with roles-based security, all with open APIs.

I personally like the current UPS commercial where a lady is sitting at a desk in the middle of a road and a UPS truck stops. The drivers ask her why she is there and her response is that they are lost. The driver inquires as to how she knows, and her response is that "the boxes told her." That is the technology of today, and Lynxspring, Inc. is excited to be a part of it.
---

[Click Banner To Learn More]
[Home Page] [The Automator] [About] [Subscribe ] [Contact Us]