---
Modern Art Meets Modern Automation In New York City MoMA
(San Jose, CA) - Echelon Corporation (NASDAQ: ELON), the creator of the LonWorks® device networking platform for networking everyday devices to each other and the Internet, announced that The Museum of Modern Art (MoMA) is using a state-of-the-art building automation system (BAS) based on Echelon's networks to protect its priceless art collection from environmental damage by maintaining perfect environmental conditions. MoMA's permanent collection includes 150,000 paintings, drawings, sculptures, design objects and other works of art from such masters as Claude Monet, Paul Cezanne, Vincent van Gogh, Salvador Dali, and Henri Matisse.












With more than 1.6 million visitors annually, controlling the climate inside the museum and protecting artwork from ensuing damage is a major concern. Humidity and temperature fluctuations, as well as light, UV radiation, and gaseous pollution, are extremely harmful to sensitive older pieces. The museum temperature must be maintained at precisely 22.2 degrees Centigrade (72 degrees Fahrenheit), and the humidity kept stable at 50 percent, around the clock, even in the face of very heavy visitor traffic.
MoMA chose T.E.C. Systems, Inc., a LonWorks building automation system specialist, to create a monitoring and control system linking all mechanical and electrical equipment within the museum complex. A single graphics-oriented operator terminal provides facility managers with a comprehensive view of all building systems. The BAS utilizes LonWorks based interoperable products and Echelon's network management software to integrate security, heating, venting and air-conditioning, lighting control, and fire detection / suppression systems.
---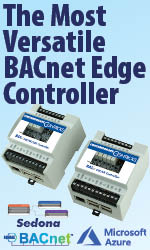 New Ultra-Low-Cost Echelon Development Kit Makes Designing Control Networks a Breeze
(San Francisco, CA ) Embedded Systems Conference, Booth #2506 - Echelon Corporation (NASDAQ: ELON), a pioneer in control networking, and the world's leading supplier of technology for the widely-used LonWorks® control networking platform, announced a new development kit that could dramatically simplify the process of evaluating and deploying control networks. This development kit is designed for everyone, particularly in the rapidly growing, price-sensitive "mass" markets of "smart" light switches, thermostats, and other simple devices and sensors. The new tool, called the Mini EVK, is priced at less than one-tenth the price of previously-available development kits – making it affordable for virtually any engineer to assess the viability of the LonWorks platform for his or her control network product or product line. Moreover, the richly featured Mini EVK may be the only development platform many engineers require.
This announcement signals Echelon's latest move to support cost-effective development and rapid deployment of value-driven and cost sensitive control network applications.
Further information regarding Echelon can be found at http://www.echelon.com.
---


[Click Banner To Learn More]
[Home Page] [The Automator] [About] [Subscribe ] [Contact Us]