---
RapidRing™ Provides Ethernet Redundancy and Fast Recovery












Downers Grove, Illinois - Industrial Ethernet customers are seeking a solution to a common problem: redundancy and quick recovery. What Contemporary Controls has to offer is called RapidRing technology that provides a backup link in Ethernet networks when wired in a ring topology. RapidRing is available in the company's managed switch line including the EISX8M, EICP8M or various EISB models.
R&D Manager for Contemporary Controls, Bennet Levine, says customers desire a fast recovery from a network fault. "RapidRing technology enables a network recovery in less than 300 ms." Levine says this technology is easy to bring into play for it's a simple, ring network unlike the Rapid Spanning Tree (RSTP) or Spanning Tree (STP) protocols. The STP protocol can recover within 30 seconds, and the RSTP protocol can recover within 1 to 2 seconds. Levine stated that in order to improve the RSTP recovery time, a mesh network can be utilized requiring at least three connections between each switch.
A simpler approach is the ring structure comprised of either copper or fiber/copper cable (depending on the switch model) using just two ports of each switch for implementing the ring. By default, RapidRing switches are "slave" devices, but one must be selected as the "master." In normal mode, the master keeps a "backup" link deactivated.
Levine says the process to detect a link failure is easy with this technology. When a primary link failure is detected, the master is alerted and it 'rebuilds' the network by triggering its backup port permitting normal communication to resume," explains Levine. "In addition, the ring port definitions in the switch's address table are cleared to allow communication using the new network formation. If these tables were not cleared, slaves would attempt to communicate via obsolete paths until those paths were 'aged' out of existence (usually taking as long as five minutes). However, notice of the link failure and activation of the master's backup link and clearing of each switch's address table all happen in less than 300 ms."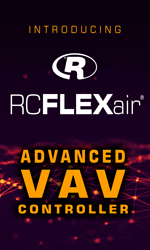 Once the defective cable is repaired, the slaves will immediately alert the master and the network will return to normal operation. The backup link will be deactivated and the repaired link used. After the repair of the failed link, the network is again restructured in less than 300 ms. Levine adds that RapidRing is valuable for the customer. "By just a minimal amount of additional cost, the industrial automation system can be cabled so that any single communication cable fault will not impact the overall communications of the system."
The series of compact switches (EISX8M) offer extensive management features for industrial applications where 40°C to +75°C are expected. Equipped with conventional features found in standard Plug and Play switches, this series broadens that functionality by adding important management attributes such as VLAN, trunking, Quality of Service (QoS), Simple Network Management Protocol (SNMP) and a programmable fault relay that can be connected to a supervisory system. It is available in an all twisted-pair 8-port model or a mix of twisted-pair and fiber optic ports using either SC or ST-style connectors. The compact switches (EICP8M series) are similar to the EISX8M models except they are used for industrial applications where 0°C to +60°C temperatures are required.
The various switch models of the EISB Euro series provide management functionality in situations where an extended temperature range of 40C to +75C is expected, enabling them to perform successfully in outdoor applications. Within a constant footprint (panel space consumed) requiring only 1.75" of DIN-rail, these switches can support 8, 16 or 24 ports with copper and fiber/copper combinations in a rugged aluminum enclosure. This series is similar to the other switches in terms of management features.
For more information on RapidRing technology, visit http://www.ctrlink.com/rapidring.htm.

---


[Click Banner To Learn More]
[Home Page] [The Automator] [About] [Subscribe ] [Contact Us]