Comments by Ken Sinclair


Publisher - AutomatedBuildings.com

April Organize, Standardize, Analyze, Visualize, then Monetize $


We live in interesting times. Who knew that our industry's organizational clarity would come from a cloud? And that this cloud would be better organized by a project called haystack. And the organizational output of the haystack would make the invisible visible which would lead to a new way to view and monetize the Building Automation Industry, OK I am done playing with words. Read this month's articles and interviews to see what set me off.

This month's cover picture Visualizing data is like photography. Instead of starting with a blank canvas, you manipulate the lens used to present the data from a certain angle. When the data is the social graph of 500 million people, there are a lot of lenses through which you can view it.


From Finding the Needle

Project Haystack is an open source initiative to develop tag naming conventions and taxonomies for modeling of building equipment and operational data. The project is developing standardized data models and tag libraries for sites, equipment, and points related to energy, HVAC, lighting, refrigeration and other environmental systems. Substantial libraries of tag names and proposed taxonomy models are already in place.

April articles


Finding the Needle John Petze, C.E.M., SkyFoundry; Beyond the Engineer - Engaging the Masses Aaron Cottrell, OuterArc; BACnet's Continuing Growth Jim Butler, Cimetrics, Inc.; Dynamic Energy Management Peter Kelly-Detwiler, Constellation Energy; Smart Grid's Killer App David Roberts, Cypress Envirosystems; Addressable Lighting Controls Terry Mocherniak, Encelium Technologies; Why you need to achieve (BTL) Nirosha Munasinghe, Open General; Is There an Elephant in Your Building? David Howitt, Convergineering Inc; 852 Lon over IP Samuel M. Smith, Ph. D. Adept Systems Inc.; Building Automation System Tribbles? Roy Kok, Aware Technology

April Interviews
Integrating Lighting Control Gerry Cellucci; Building on BACnetŠ George Thomas; EnergyConnect Acquisition Kevin R. Evans; Connectivity Week 2011 John Petze; Greening of HVAC Controls Steve Dushane; Daylight Harvesting Gary Meshberg

April Columns
Controls Devices (3 of 3) Steven R. Calabrese; Social Media & Building Automation Manny Mandrusiak; BAS Usability Paul Ehrlich, Ira Goldschmidt & Angela Lewis; Productive Load Banking Toby Considine; Making the Invisible Visible Ken Sinclair

April Reviews
Weather visualization demonstrates our vision of data presentation; Across My Desk; Skyscraper Digital Signage Sparks Debate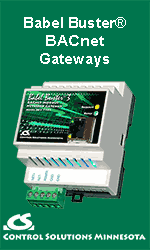 Tell all our sponsors you saw their ads on the AutomatedBuildings.com web site and thank them for supporting your free access to evolving Automated Building Industry information. Click on their ads and view their valuable products and services. Please review all Our Sponsors

This month we welcome Yorkland Controls has roots in distributing and warehousing heating control products such as Flame Safeguard and Burner and Boiler Management Systems. Over the past several years, we have expanded into new markets including Building Automation and more recently in Lighting Control Solutions.
Thanks for increased advertising to ControlGraphics.com features the most comprehensive selection of graphic user interface development products and services for the building automation industry and is a recognized leader in innovation, design, and automation.
I am assembling a self-maintained global network of "Who is Who in building automation". Presently my network includes over 1660 please join us.
Please join our Group on Linkedin and interact with our magazine & online resource in real time while sharing your thoughts with our editors and other readers around the world.

The news just keeps flowing thru our web site and RSS feeds daily, and of course the only way to truly find what you are looking for in the vast quantity of information on our site is with our site search engine http://www.automatedbuildings.com/search/sitesearch.htm

As always lots of new products, plus be sure to check our event calendar to see the number of events we have in our future.
Editorial from March 2011
Send comments and suggestions to news@automatedbuildings.com
---

[Click Banner To Learn More]
[Home Page] [The Automator] [About] [Subscribe ] [Contact Us]