---
ADR, Green Button and Plug-In


What does the term Energy Information (EIT) technology mean, and why should anyone care?





Anto Budiardjo
President & CEO,

One way or another, whoever wins the US presidential race, or whatever happens in the middle east, the cost of energy is going to go up. It's a simple manifestation of the law of supply and demand in the global energy market.
May I remind readers that what we now know as Building Automation started life as Energy Management a few decades ago. The BAS industry is once again at the center of the energy conversation, this time with powerful new tools brought about by the Internet revolution. The manifestation of today's energy management is what we should know as EIT, in other words the use of Information Technology to the management of energy generation, transportation and consumption.
I recall hearing the term Information Technology for the first time in the the late 1980's. I couldn't really understand what it was about, until I started to use local area networks and eventually the Internet. It's only when we see new concepts in action are we able to grasp their potential impact.
Standards based EIT
ADR (Automated Demand Response), and Green Button are two manifestations of EIT. They will have major consequences to Building Automation specially since they are now both implemented as open standards based systems, with the clout of both the utility and building/home automation industries behind them.
ADR, or specifically OpenADR is a standards based mechanism for energy suppliers (typically utilities and system operators) to communicate key energy information in real time, using event based control (contracts based "switch off 500kW now" signals) as well as economic/pricing controls (the price of electricity will be 50¢ kW/H in 20 minutes). OpenADR allows building systems to include this real-time energy availability and cost information into their logic and control strategies to ensure best balance of facility comfort, safety and cost of energy. For control systems, it is simply one additional input parameter.
While Green Button started out as a residential consumer initiative of gaining access to historical energy consumption, the implications for analytics of energy consumption for building automation is powerful. Green Button data will allow automation systems to use past energy consumption data as part of their decision making process to maximize efficiency of energy consumption.
Open standards is yet again responsible for this. The key for Green Button is that once fully deployed, energy consumption data will be available in the same standard format from all energy providers, so technologies and products you use will work anywhere in the US, and internationally if this standard is adopted as many are expecting.
Show me all of this working
All of this is nice words and promises, not unlike the promises of open standards that we heard back in the 1990's. How long before we see all of this EIT stuff in action?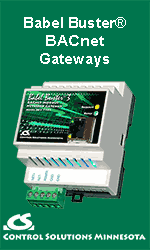 May 22 is the answer to this question. As part of ConnectivityWeek (which includes BuilConn), around a dozen equipment manufacturers and technology vendors will be participating in the second Plug-In, a live interoperability demonstration of how demand side standards such as those enabling OpenADR and Green Button, will actually work together, across different products from different vendors. At the first Plug-In at Grid-Interop last December (which included utility transmission and distribution areas), industry participants were wowed by this demonstration of standards actually at work.
While not all of the standards are ready for prime-time deployment, enough of it will be finished, tested and deployed as shipping products. The Plug-In will also highlight the status of those standards not at that stage, and give a glimpse on when they are likely to be complete.
It's collaboration at work
The exciting developments that I am describing here did not happen overnight. Hundreds of industry experts have toiled for years, arguing best practices, requirements, use-cases, practical deployment issues as well as testing and conformance methodologies. As the organizer of many of the events where this collaboration has occurred over the years, it is truly rewarding to start to see the fruits of this effort being shown to actually work and deliver value.
The positive impact to your business in the building automation space cannot be overstated. EIT is already changing the landscape of building automation, and more is coming your way. Come join us at ConnectivityWeek this May 22-24 to see what is in store for your business growth.

---


[Click Banner To Learn More]
[Home Page] [The Automator] [About] [Subscribe ] [Contact Us]