---
Effective Daylight Management
through Building Automation

Kevin Mayer

Marketing Director

ESI
Effective daylight management has long been a challenge for building managers. With constantly rising cooling and lighting costs, organizations have been forced to implement new strategies to best manage costs while maintaining comfortable work environments. The integration of motorized window shading systems into building automation is proving to be the best solution to address these market needs.

RQ Bus Network
ESI has developed a powerful bussed communication platform in the RQ Network. The RQ (Remotely Queryable) network provides advanced bi-directional communication and control to motors used inside shading products. Low noise "Q" Motors from ESI are available in 40mm and 50mm diameters in a variety of torques and speed. The Q Motor line integrates intelligent, advanced control inside the motor. Control of standard motors is also realized through RQ controllers. RQ controllers empower any standard 4-wire AC or 2-wire DC motors to realize advanced actions including 3 digit move to position, ability to incorporate into pre-set scenes or whole building actions, while continually reporting position to the control system.

The RQ Network easily ties into advanced control and automation systems through RS232 serial ports. The RQ Bridge enables communication and control of the RQ Network through simple ASCII command strings. 3 digit alpha numeric addressing lets a programmer easily manage network devices and helps to keep the command strings short, typically not exceeding 8 characters.


The network provides a stable platform that can manage motorized systems with as many as 100 devices per network and has the address capacity to support 42,566 parts. RQ is diverse in its depth of application. It utilizes the same command strings for tubular motors with RQ intelligence built in as well as standard motors controlled by external RQ controllers. For example, an RQ network can easily incorporate roller shades with Q Motors, drapery tracks with DC controllers, a projector screen with an AC controller, etc.

Building Management Gateway
In 2011, we partnered with FieldServer Technologies to develop the RQ BMS Gateway, a small device that provides an embedded solution for protocol conversion between virtually all popular Building Management Systems. BACnet MS/TP, BACnet/IP, Metasys N2 by JCI, Modbus TCP, Allen Bradley EtherNet/IP, LonWorks and many others can now simply, reliably incorporate an advanced motorized shading system.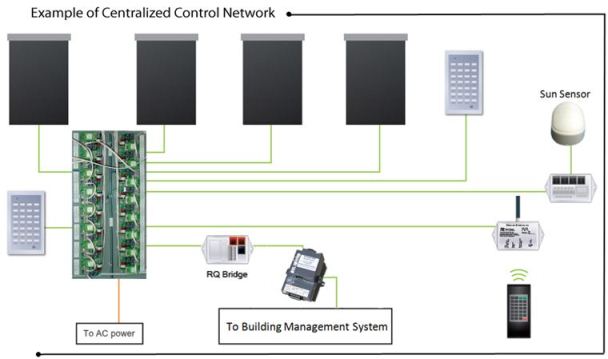 Centralized control networks utilize a single power source into a control panel. RQ60 AUMH controllers inside the panel manage the control of the AC motors and the communications from input devices. The RQ BMS Gateway enables bi-directional communication between most building management systems and the RQ network.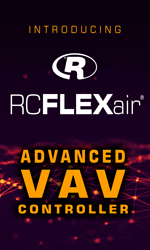 PilotRQ – Shade Automation through Solar Tracking
ESI has developed a proprietary solar tracking software system designed to best manage natural daylight. The PilotRQ program, riding on the RQ backbone, automatically operates motorized shading products based on a building's position relative to the sun. PilotRQ features a "Where on Earth ID" system which accounts for the building's latitude, longitude and orientation to ensure the building footprint is accurately managed. The building's position is then used to develop programmable rules to automate the movement of the shades. The rules allow for timed operation for any device in the project, support hierarchal organization where events like fire alarms or window washing supersede other actions, and enable the building manager to customize the automated shade actions to their tenant's preferences.

The PilotRQ system includes a roof-mounted RQ Weather Station. The station transmits real time weather data which is evaluated by the system against the predefined rules. The building manager administers the PilotRQ system through a Dashboard, the primary control desktop user interface, where user profiles can be setup and managed, rules can be established, and all system administration can be centralized. "Local desktop control" gives building users control over individual shades, with pop up notifications to give advanced notice of shade actions that can be overridden if desired. All actions are tracked and logged to provide the system administrator perspective into system utilization. The system can then be customized even further in consideration of users' preferences.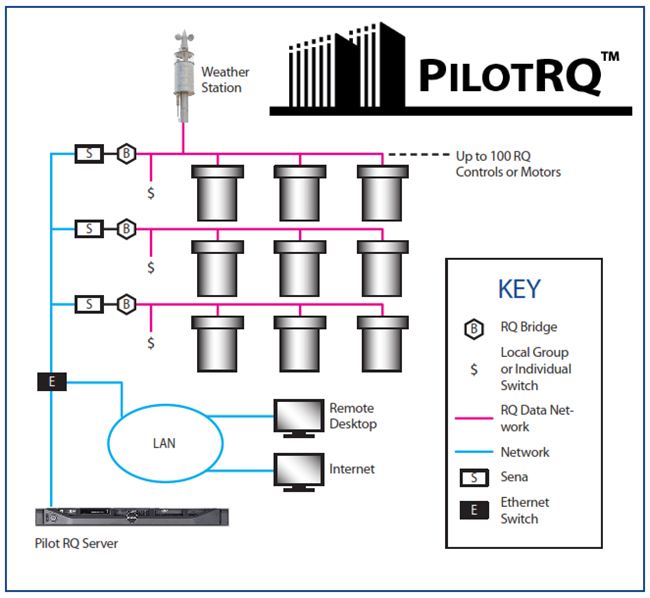 ---
About ESI:
ESI is North America's leading manufacturer of intelligent motors and motor controls for products including window coverings, projection screens, retractable awnings, rolling shutters and exterior solar protection products. ESI is a Hunter Douglas company and is located in Lafayette, CO.


---


[Click Banner To Learn More]
[Home Page] [The Automator] [About] [Subscribe ] [Contact Us]