---
Sensing The Future

Right from their original introduction as the eyes and ears of the BMS, misconceptions have persisted in terms of how accurate these devices really need to be, how fast they should react and what precisely constitutes a high quality room and / or duct sensor.






Trevor S. Palmer,

Managing Director

Sontay

Trevor S. Palmer, Managing Director at Sontay, examines the role that room sensors have played in the rise of the building control system and looks at the impact of current trends on the design and development of these devices now and in the years to come.

Over recent years, we have seen a greater emphasis placed on energy efficiency especially in the way a building is constructed and used.

To help consulting engineers, mechanical contractors and architects meet the new efficiency demands and guide them through the building process the American Society of Heating, Refrigerating and Air-Conditioning Engineers (ASHRAE) has compiled a comprehensive list of standards.

When it comes to air quality and building control there are three standards which are worth noting. Standard 90.1 provides minimum requirements for energy efficient designs for buildings, excluding low-rise constructions. Standard 62.1 ensures minimum ventilation rates for acceptable indoor air quality in both new build and existing buildings. Standard 135 requires the use of BACnet, the well known data communication protocol for building automation and control networks.

With this ever increasing importance on green construction, Building Management Systems (BMS) have proved vital in meeting the ASHRAE standards. They combine energy saving control techniques, such as optimum start and dead bands, with communication and information systems that allow active management of the building services and the capability to achieve and maintain a high level of energy efficiency and lower carbon emissions.

For all the sophistication, advanced feature-sets and benefits that these control systems bring to their occupants, they are dependant for their success upon the humble sensor.

Room temperature and humidity sensing and transmitting products began in conjunction with the development and proliferation of centralised building management systems in the 1980's. Traditionally, the manufacture of these two-wire products was limited to the major systems' manufacturers of the day - companies like Honeywell, Johnson Controls and Barber Coleman (today owned by Schneider Electric).

Right from their original introduction as the eyes and ears of the BMS, misconceptions have persisted in terms of how accurate these devices really need to be, how fast they should react and what precisely constitutes a high quality room and / or duct sensor. These factors are important and they demand closer consideration from consultants, contractors and systems integrators charged with delivering energy efficient control systems for today's buildings.

As an example, many consulting engineers continue to specify 0-10V transmitters equipped with PT100 type temperature elements, as standard. The commonly held view is that these products are more accurate than box-standard thermistors. In fact, quite the opposite is true. Thermistors are today available in different grades and types which quite often exceed the accuracy of transmitters of old.

Measurement accuracy versus stability is another talking point. Generally speaking, the industry has relied and continues to rely on temperature sensors which are low cost and tolerate +/- .3 degrees Celsius over the entire range (-10 to +70). But what is really important from a sensing perspective is longer term stability rather than absolute accuracy. It is much more important for devices to remain accurate within the manufacturer's specification (+/- .3 degrees) for the life of the device than their absolute accuracy. After all, these devices are being applied within commercial buildings to enhance occupant comfort and improve energy savings over the long term. If our balance of priorities shifts in favour of performance stability over absolute accuracy then these benefits can be successfully realised.

Sensor cost also remains an issue. Accounting for just 2% of the budget for a whole project, room sensors themselves are not always the main focus of attention when it comes to selecting and specifying the building control system. However, different price-points often reflect a differential in quality. Choosing the lowest cost sensor brings with it the increased risk of compromising on long-term measurement reliability and performance stability. Device failure can lead to the time and cost of unnecessary call out and product replacement issues, alongside the unwanted cost of reputational damage to the specifying contractor and consultant.

Increasingly popular wireless sensor technology is also having a fundamental impact in transforming how we think about the cost of sensor installation. By eliminating the need for structural cabling during sensor installation, wireless devices can greatly reduce engineering time and installed project cost. This enables faster and easier installation on new buildings and also opens up the opportunity for control specialists to retrofit energy efficient HVAC controls into existing commercial and public buildings. In projects which feature our SonNet family of wireless sensors, we are typically finding total installed cost savings of 30% and more over comparable wired sensor installations. At a time, when reducing costs are a priority on many projects, proven wireless technology can bring significant benefit.

Comprising battery powered sensor nodes together with permanently powered network receivers and routers, and software, this innovative product range is built on a robust 2.4 GHz, 802.15.4 self-healing, wireless tree topology. This topology is significant because it eliminates concerns with reception and reliability often associated with existing 'point-to-point' wireless systems. If a sensor detects a problem with the signal, it will automatically re-route to find the strongest available path to the receiver. Interference with other radio devices in the same frequency spectrum also been addressed through a proprietary algorithm which continually adapts to site conditions.

Using this type of wireless technology also brings building owners and facilities managers enhanced site flexibility, allowing for building layouts to be changed on a regular basis without the need to re-wire sensor configurations accordingly.

Today, changing aesthetics and increased functionality are also important drivers in helping us re-evaluate the way that we look at sensors.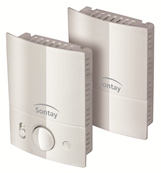 Up until now, sensors located in the space have been selected with little or no regard to design aesthetics. The latest devices available on the market offer an opportunity for specifiers not simply to satisfy the functional demands of their client but also the impact of the sensor on the interior space, and the look and feel of these devices. Take our new range of TT-1000 space temperature sensors. These room sensors feature a specially designed low profile and curved fascia to ensure that they can blend stylishly and seamlessly into a room's design scheme whilst still helping to deliver greater energy efficiency, cost savings and carbon reductions in new build and retrofit building applications. The bland and, frankly, cheap-looking design of the ordinary room sensor need no longer be a barrier nor an unwanted intrusion into the design scheme of the upmarket commercial office building.

At the same time, the longer term trend is away from single use sensors, one for temperature and one for humidity, to single, multi-functional environmental sensors. These modern devices can measure different important variables within the overall space conditions which may include air quality, CO2 for occupancy alongside traditional temperature and humidity measurements. This combined approach offers numerous advantages to the systems integrator and the client. The building owner enjoys the ability to monitor and report on total environmental conditions and yet service only a single device into the future. He can also minimise the wall acne that will often occur if multiple devices are required. The systems integrator, meanwhile, has the ability now to provide much more sophisticated control strategies at a lower total installed cost with fewer devices to install and service in the building.

Today's sensing devices are providing much better aesthetics and greater functionality for a relatively low – and, in the case of wireless, significantly lower - total installed cost. These devices are capable of providing a better picture of the true building conditions over a long term in smaller, more pleasing to the eye packages. The result is the creation of a broader market opportunity for control systems specifiers and installers and, ultimately, the potential for more energy efficient buildings and reduced carbon emissions for all.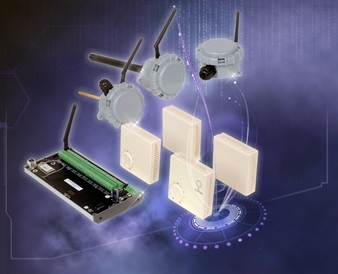 Editor's note: Sontay products and control solutions are designed to help improve building management system performance, reduce energy and maintenance costs and increase occupant comfort levels. For further information on the Sontay product range, contact sales@sontay.com.

---
About the Author
Trevor S. Palmer is Managing Director at Sontay and has over 15 years of combined HVAC controls experience. This extends from expertise in the application of manufactured solutions to knowledge gained in key sales, marketing and product development functions at various international market leaders in the sector. Previously, Trevor has held a senior role at Canadian-based HVAC controls manufacturer, Viconics, where he was director of marketing and international sales.


---

[Click Banner To Learn More]
[Home Page] [The Automator] [About] [Subscribe ] [Contact Us]