---
The Energy Bubble & Automation

Maximizing savings in energy retrofits



Zach Denning
Engineering Sales
Western Allied Mechanical
Automation has taken a foothold as a key player in energy reduction throughout a facility. By controlling the highest consumers in a building including HVAC and lighting, DDC now indirectly operates up to 75% of our energy budget. So how can we maximize automation savings? Who should we look to when trying to discover low capital, high return efficiency projects? Look through this article to discover new ideas related to automation and your energy consumption.

Most facility owners and managers know that precise control of their mechanical equipment can be the key to driving major energy savings in their building. Mechanical firms play a pivotal role in reducing consumption as they specify robust equipment and provide intricate sequencing to reduce operating costs yet without a good automation contractor this means nothing. How many times has automation been the weak link in energy retrofits? Energy upgrades are riddled with intricacies including obtaining funding, contractor coordination and timelines; all of which can add delays and reduce estimated savings. So why pollute the process further with faulty automation? Here are some keys that may help save time, effort, and headache when considering your next energy retrofit:

1. In every automation platform there are key built-in energy saving strategies that typically are underutilized.

Optimal Start Stop (OSS) is one of many startup strategies that can enable your HVAC in the morning and pre-heat or cool the building as necessary. Although an extremely effective measure to save energy, it is often not written in the equipment sequencing and therefore not implemented. If you specifically request startup strategies like this you can save up to 5-10% with only slight increase in price. In a 100k sq. ft. building you're looking at potential savings up to $20k per year.

2. When specifying controls vendors you should make sure they have experience with energy retrofits.

Would you reach out to an energy consultant for help on a retrofit without knowing their record for actually saving energy? Probably not. Don't think that
automation contractors are an exception to the "vendor model" of project references when it comes to energy based retrofits. Just because the energy consultant wrote elegant, energy driven sequences doesn't mean that they're going to be implemented correctly. The automation contractor still needs to translate those sequences into code which can be a daunting task. Missing just one line of code can be the difference in losing 10% of your estimated savings.

3. Energy retrofits require integrating to existing equipment controls before looking to upgrade or replace devices.

Energy savings are usually derived from controllability of the actual equipment. If the required amount of controllability already exists to obtain calculated savings utilizing the "built-in" equipment control (i.e. Package Rooftop Units), it is more cost effective to integrate to those units rather than replace.

For example, if a site contained a Carrier package rooftop unit with "built-in"
Carrier Comfort Network controls it would be more cost effective to simply integrate to those controls rather than look to replace them. Open integration platforms like Tridium were specifically designed for these types of retrofits with their ability to integrate to many differently manufactured control lines.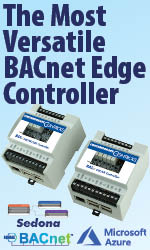 4. If you're not saving energy, turn to your controls contractor first.

Your controls contractor is the glue that brings together all the mechanical systems in your building. When identifying failures post-project completion, they should be your first resource to help resolve problems. Most likely, the mechanical firm correctly wrote the HVAC sequencing but it was incorrectly translated into your control system. Therefore, they should have a good insight on what's working incorrectly before you have to turn to the mechanical firm.

Typically, it's a good idea to interview your potential automation contractors before a retrofit to ensure they have experience with energy savings based control projects. As described above, the automation contractor is the last person associated with any energy upgrade; essentially bonding all the equipment together into a fully functioning system. Their expertise is invaluable when trying to guarantee calculated savings when closing out a project.


---
About the Author
I currently maintain an engineering sales position at Western Allied Mechanical. Our business is consulting customers on energy consumption and reducing costs through a joint mechanical and automation venture. I'm an avid follower of the industry and am always open to new opportunities and approaches. You can reach me at zdenning@westernallied.com or my cell at 650-798-4154.



---

[Click Banner To Learn More]
[Home Page] [The Automator] [About] [Subscribe ] [Contact Us]