---
Simple and Elegant Building Energy Modeling for All

A Technology Transfer Tale

Kyra Epstein
Bay Area freelance writer


This feature story was published on the website of the Environmental Energy Technologies Division, Lawrence Berkeley National Laboratory.

A building owner changes the building's thermostat setting, allowing the indoor temperature to increase a couple of degrees for an entire afternoon. But how much energy was actually saved? To know the answer for sure, the energy actually used must be compared to the energy that would have been used if they hadn't made the change…but how does the building owner find that out?

The answer is provided by a "baseline energy model," a statistical formula that, based on the analysis of previous energy use, takes into account the time of day, the day of the week, and the outdoor air temperature to predict the building's energy consumption as a function of time if the building were operated normally.

When Environmental Energy Technologies Division (EETD) researcher Phillip Price began working with building energy data a few years ago, he discovered that the standard baseline energy models are very simple. "And that makes sense," says Price, "because usually the only useful explanatory variable you have is outdoor air temperature. If your only variables are time and temperature, you may not get much benefit from a complicated model." EETD is a Division of the Lawrence Berkeley National Laboratory (Berkeley Lab).

But he also discovered that the standard approaches have some flaws, so he made improvements. He developed a model that produces more accurate predictions in most buildings, but isn't much more complicated than previous models. He and graduate student Johanna Mathieu published the model in 2011.

Price has worked with statistical models for 20 years at Berkeley Lab. In the early 1990s he became one of the foremost authorities on the spatial and statistical distribution of indoor radon, and co-developed state-of-the-art algorithms for mapping airborne pollutant concentrations using optical remote sensing data.

He turned his hand to statistically modeling electric load data several years ago. While researching for his model development, Price noted changes happening in the industry, which dramatically increased the amount of energy use data available.

"Until not too long ago, the only energy use data people had were monthly use data," Price said. "Now that we have 'smart meters,' we've started getting more data and that has opened up many possibilities. The idea was to look at what people were doing and see if we could do better—and that effort led to this model."

Looking at energy use in much smaller increments of time led to additional needs for modeling. Price wanted to include a simple way for building designers and operators to measure the outcome of energy efficiency measures looking separately at the effect of temperature during different building occupancy and use scenarios, as well as taking into account the use of many different pieces of equipment and technology.

"What you want in a decent model is something that takes temperature into consideration in a different way when the building is operating and when it is not," Price said. "As an example, suppose we have a night and day that are 75 degrees all the way through. At night, we wouldn't be conditioning the building; during the day, you are cooling. Dependence on temperature is also something that changes," he said.

"Also, even when the heating and cooling systems are operating, there is usually some range of temperature when you don't have to cool or heat. Below that range you need to heat, above that range you need to cool. If the outdoor temperature gets warm enough, at some point the cooling system is working flat out and you can't use more, so energy use stays the same. So rather than a straight-line dependence on temperature, it can be a curvy line," he said.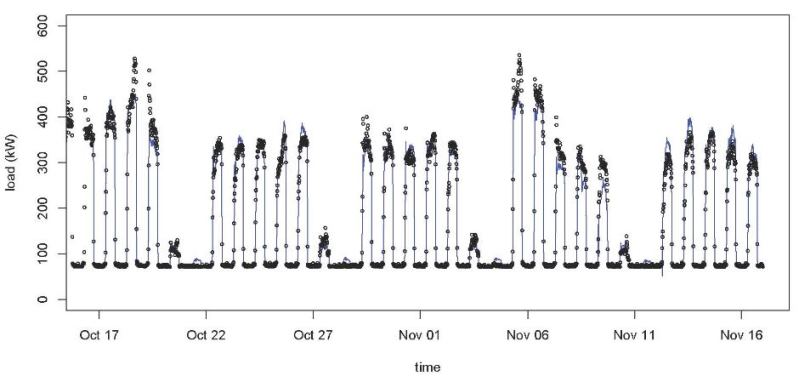 Measurements of energy use in a building (black dots) plotted with electricity load predicted by the LBNL regression model.

The model has been helpful to a number of industry organizations that have used his methods as a basis for business functions and tools.

Tom Arnold, co-founder and CEO of Gridium, a Bay Area company that helps commercial customers make sense of the flood of energy data provided by smart meters, ran across a paper written by Phil Price about his model and used it to catalyze his work early in the company's history.

"His model was a kernel that catalyzed our work," Arnold said. "I think this is quite common; you get a little bit of government-funded research and it's digested by the private sector," he said.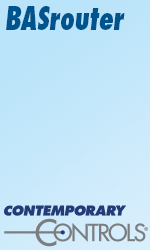 Arnold said that he needed to find a model that applied time-theory statistics to the energy use issues his customers face, and the model was a simple way to begin approaching it. Now, Arnold's company analyzes data from 110 million square feet of buildings, using Cloud computing to run tens of thousands of modeling scenarios across many servers, providing weekly analysis of building energy performance for customers.

A Berkeley company called QuEST also used the model as a foundation for their work. QuEST works in commercial utility programs to identify energy efficiency measures and verify energy savings.

"I had a research project from the California Energy Commission to develop a measurement and verification tool, so we needed an energy model," said David Jump, principal at QuEST. "We talked with LBNL, Phil, and some others. They had already developed this modeling code for other projects, and we went with this one because we wanted to model energy use on as frequent as 15-minute intervals over the period of a day," he said.

Jump said they started with Pacific Gas & Electric's desktop tool, Universal Translator, which is fairly well known in the energy efficiency industry, and then added measurement and verification capability based on Price's model.

"I introduced our tool at the last ASHRAE meeting, and everyone wanted a copy," Jump said. "Here is a tool that has soup-to-nuts measurement and verification capabilities, all open source. And it basically eliminates the need for highly skilled, high-priced people to do modeling work," he said.

So far, companies that have been using Price's approach have had to write their own computer code based on his publications, but that's about to change: an improved version of the model is soon to be released as part of an open source software distribution.

Price continues to work on baseline energy models, and he is excited about a new approach he is developing.

"The simple model works fine for predicting energy consumption in the near future, but it's not ideal for other applications such as detecting sudden changes in a building's energy consumption pattern," said Price. "The new approach is very well suited to that kind of application, but you pay a price in increased complexity. I think the simple model is going to be around for a while," he said.


---
About the Author

Kyra Epstein is a Bay Area freelance writer who covers energy and environmental issues and works as a contract writer.

---


[Click Banner To Learn More]
[Home Page] [The Automator] [About] [Subscribe ] [Contact Us]