---
Death of the Controls Industry


Be brave and ask for something truly open that provides you with access and choice.


Therese Sullivan,

Principal,
Darren Wright, a Director at Arup, has released a video stream of his presentation on the history and future of the controls industry on youtube. It's a very on-point statement on the topic from the viewpoint of an experienced building commissioning expert. His understanding of the development of control automation goes all the way back to ancient Greece, but he quickly advances to what is happening now—and that is open source control software. He predicts radical change in how controls are designed, installed and maintained over the life of a building, and when he says 'Death of the Controls Industry,' he means that part of the industry that relies on proprietary-protocol lock-in to limit the options of building owners and their partners in design, construction, operations and maintenance. As a further demonstration of its commitment to open-source building controls communities, Arup has just joined Project-Haystack as an Associate member. Here are a few key points from Darren Wright's presentation:

BMS Lock-In
We are told that BMS complies with an open communication language. We assume this gives us the flexibility we need to design systems and to hire contractors to build and maintain. Unfortunately this is not true. Systems are still designed to lock us in. But, now the lock-in is embedded further down in a BMS controller, at a software level that you cannot access. Below the line, control and services do not follow the open protocol.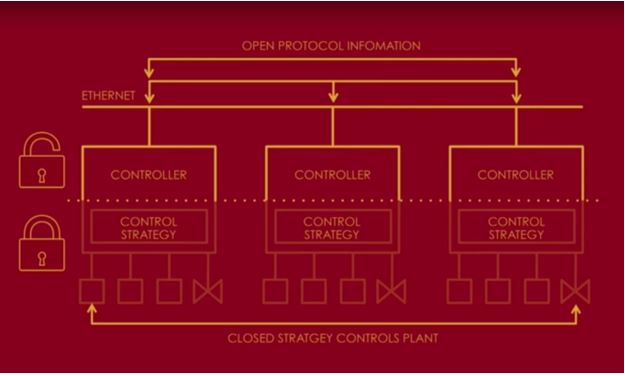 Broken Process at Each Step of Controls Software Development and Deployment
About 90% of the buildings that I visit have some problems with the BMS, occupant satisfaction or both. Why do so many great buildings not work. Right now the buzz is around 3 things: smart buildings, IoT and Big Data. But, more data and communication can only identify the problem. Real solutions will only come from knowledge of the unique building, its mechanical and electrical services and the occupants. Only then will we be assured that the systems we design and install meet the desired performance expectations.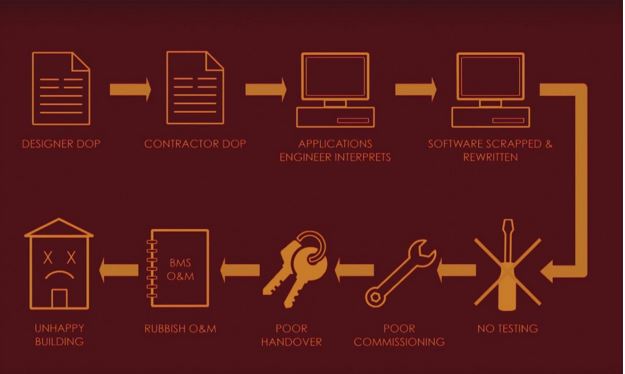 How Open Source Will Fix Controls
If I were king of controls industry, software would be open-source. Designers, contractors, applications engineers — all would have access. They would be able to control their BMS software. A BMS has 1000s of inputs and outputs, but today these are non-intelligent devices locked away via a closed-strategy controls layer of code. A building's future control plant will feature intelligent devices communicating via open-source programming. The Internet of Things is moving us to this new future. Devices such as temperature sensors are becoming intelligent so that data can be collected bypassing a BMS controller to collect all these inputs.

Open source software development methods are already prevalent in IT. Open source organizations share development of solutions and applications across the whole industry. Errors and emissions in the software are more easily spotted and dealt with because everyone contributes. There is still a license, but those that need access have it. Open source will provide us more opportunity to link control with other devices, data and information.

The BIM and dominant controls companies are just waking up to open source. But, it is possible to envision how enterprise IT data and applications and realtime operations data and apps will be combined into a single solution with open source at its heart. Such solutions will arrive in the not-too-distant future.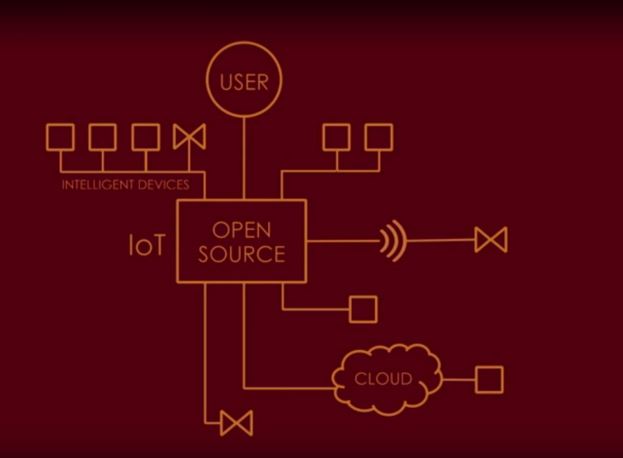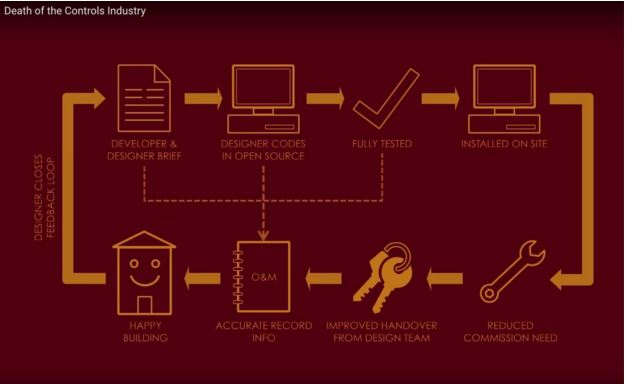 I'm advocating a revolution. We have to get to the point where we are in control of our controls. Where you get what you ask for. Be brave and ask for something truly open that provides you with access and choice.
______________________

Bio: Darren Wright, Director at Arup, is a global business area leader for its Controls and Commissioning group. He is a Chartered Engineer with over of 25 years experience in the building controls industry. He has particular interest in the commercial and contractual practices that define the controls industry, particularly as they apply to Arups' primary role as a systems designer. He guides a team of engineers that deal with all aspects of building control systems in many market sectors. Arup and its blue chip clients have been strong proponents of global 'open' solutions for their building portfolios.
---


[Click Banner To Learn More]
[Home Page] [The Automator] [About] [Subscribe ] [Contact Us]