---

....energy is critical in the IT world, and based on the growth in this sector this will remain true.

John J. "Jack" Mc Gowan, CEM
Energy Control Inc.
Contributing Editor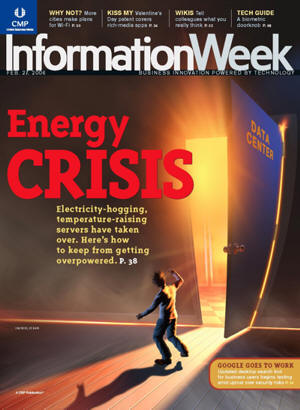 What is the hottest topic now in Information Technology (IT)? No it is not Voice Over Internet Protocol (VOIP), the new Intel Microprocessor, outsourced software development in India, email service for BlackBerry's or even data security. All of these have gotten significant attention over the last six months, but cover stories in two major IT magazines for February and March were not on any of those topics… there were on energy. InformationWeek's cover from February 27 is shown here with the bold heading Energy Crisis, and eWeek ran a story in March called WATT A SHOCK.











Over the past several years, the energy industry has become very interested in IT, and that has been no more prevalent than in this EPM column. This new interest from the IT sector in energy seemed like the perfect springboard to explore the interdependence of these topics. For several years there has been an ongoing talk of "convergence", a term that has become synonymous with integration of building, SCADA and business systems. Convergence is an interesting term, because it includes more than hardware integration, it also means software collaboration. Even more important, convergence means that data is available via facility intranets and the Internet in a way that dramatically enhances our ability to manage operations. This translates to more effective and profitable operations, and my business is using the revenue streams from cost savings that result from convergence to pay for the technology. The energy services model can be used to fund more than T8 lamps. Don't misunderstand, more efficient lighting, HVAC and Direct Digital Control should be high priorities in all buildings. However, mere energy efficiency must be taken to the next step…building technology capitalization. Building technology capitalization is another way of saying performance contracting, but it is critical to raise our eyes above the hood ornament and look further down the road. I remember hearing once in a driver's education class that many accidents are caused because drivers don't expand their field of vision; they look down the hood and don't look up and out further ahead to see oncoming accidents quickly enough to respond. The same is true in business; managers focus on the short term and often miss the bigger issues.
In the IT industry, recent spikes in energy costs have hit the near term radar, but it is especially interesting that managers are really taking heed. EPM has seen the importance of the data operations and embraced this community through involvement with 7 X 24 Consortium and with a regular column. Yet the first reference I have seen to measuring processors based on a performance per watt (PPW) rating, like miles per gallon (MPG), was in an IT publication. Bear in mind, the PPW rating would be used to compare IT products from different manufacturers but, that is only one index of interest here, what about the cooling, Uninterruptible Power Supply (UPS) and also the IT application itself. The InformationWeek article for example noted that it can cost up to $60 per square foot to cool a data center! Take a breath. I have audited hospitals recently and been shocked when all-in energy costs were at $3 to $4 per square foot, but this is $60/square foot just for cooling. Now add in the cost to run the equipment in a major data center. Google engineers published a study three years ago projecting that an 80-unit rack of mid-range servers, each with two 1.4 MHZ Pentium III processors, would require 400 watts per square foot of electricity. At $0.10/kWh including demand, that's another $15 per square foot. A room like this could cost as much as $75 per square foot, and what about lighting and UPS's, assuming that the cooling cost includes humidification and dehumidification.
Conclusions to be drawn from this discussion are many. First energy is critical in the IT world, and based on the growth in this sector this will remain true. At the Intel Developer Forum in March, energy and lower-power processors were major topics. The bottom line is that IT, whether it is defined as the hardware and software that make up computer networks or as the Internet and its' burgeoning Web Services industry, is a major economic engine that is fully aware of its' cost of energy. IT also makes up a substantial load on the electricity system, and electricity is imperative to keeping the servers hot. Nowhere is the cost of downtime more acutely felt than in the IT world. Downtime is a seven and eight figure per hour event for many entities from banking to Web-hosting, and the UPS business is brisk to help protect against such events.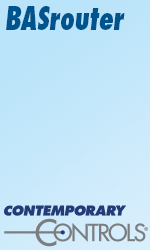 The IT industry is keenly interested in the energy business for both self-preservation and for the business opportunities. Launch of offerings like Cisco System's Connected Real Estate integration suite, makes it clear that some IT companies are already targeting this space. This column has noted more than once, that open systems were the price of entry for energy technology to participate in the information age. There is little question that the information players are ready and willing to bring a new suite of offerings to the energy space as well. Even more interesting, many energy players are also expanding the energy / data value proposition. Tridium has launched a major initiative in the Energy space and developed an elite group of Vykon Energy Partners with enterprise energy services as a focal point. Tridium has incorporated energy content into their upcoming Niagara Summit that is primarily targeted at building system and automation integrators. Trane has also launched the Tracer Enterprise Solution with emphasis on IT services to view all systems.
These are exciting times in the energy business. They are also scary times in the energy business. This prolonged period of higher energy prices, with oil and natural gas prices entwined in an upward spiral, will not likely end soon. Equally critical, electricity is and will remain the critical fuel for IT and, as previous columns have pointed up, much work is needed to improve Grid reliability in the face of projected fast growth in demand. It is both ironic and comforting that one of the major loads that is driving that growth in electric demand is IT, and IT Interoperability may also be one of the major tools that can improve the Grid. The BuilConn Forum is a premier smart building event that incorporates a significant focus on energy, and one of the major conference sponsors is Cisco. Looking forward I believe it is the joined forces of the Energy and IT industries working together that can and will solve these issues. Who else can?
---
About the Author
Mc Gowan is President of Energy Control Inc., an Energy Service Company and System Integrator. He is an author and has published 5 books including "Direct Digital Control" on Fairmont Press. The Association of Energy Engineers named him "International Energy Professional of the Year" in 1997 and admitted him to the "International Energy Managers Hall of Fame in 2003. Mc Gowan sits on the Energy User News Technical Advisory Board, the GridWise Architecture Council and is a Contributing Editor with www.automatedbuildings.com.
---


[Click Banner To Learn More]
[Home Page] [The Automator] [About] [Subscribe ] [Contact Us]