---

…where does your business go from here

John J. "Jack" Mc Gowan, CEM
Energy Control Inc.
Contributing Editor
Watching the integration business unfold right now seems to present a contradiction in terms. On one hand there is unquestioned value that controls can offer to building owners who want to save energy and money, as well as pursue the elusive green building. On the other hand automation continues to spiral into a commodity business. Illustrating that point only too well is a project my company pursued a few months back. This was a new building on a University campus where the same technology and solutions were flat speced for almost three decades. As a result of the move to open and some other events, this job was bid with a BACnet spec and all the usual suspects responded. When the dust settled a bidding war between two competitors, who wanted a foothold on this campus, had taken the project selling price below our cost.











Situations such as the one above may be a reaction to a fear that construction will slow, as a result of the economy. They may also be yet another example that skill as a control integrator no longer can bring reasonable profit margins, let alone a premium. Either way there could be no better argument for the position that the industry needs a new approach to selling systems. More importantly there is a need for industry education to learn this alternative approach to selling systems. At the same time, there is a need for new applications that target the issues that is foremost in every building owners mind today…energy cost and carbon footprint. Just in the nick of time, there may be a new industry consortium that can offer answers to these challenges.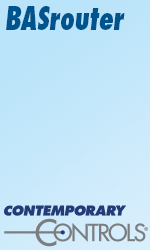 The NewEnergy Alliance won a Buildy Award at Connectivity Week 2008 for Best New Initiative. This is a unique effort that has been launched by an energy company, Constellation NewEnergy to target system integrators for training on how to sell Demand Response (DR). Some may have heard that DR is the new frontier for building systems, and it is likely to drive billions of dollars in revenue for integrators over the next decade. The key to the future is to combine systems knowledge with DR applications, but it is also about finding a way to engage this industry to learn how to sell those applications. The control industry can no longer be defined as an industry filled with people who know how to put a number in an envelope. Rather it must be an industry that uses the vast skill it has, in customizing applications, to create solutions…energy solutions.
Green solutions delivered through automation are the place to start. Yet this is a culture shift for the current control contractor community because they still think putting a number in an envelope is a business model. Perhaps that is unfair because there are a lot of strong niche players, but technology should be the enabler not the whole story. Clearly it does not make sense to go back to building one-of solutions for every job, and that is why DR is so exciting. DR however is just the tip of the ice berg, "smart energy" solutions that require integration will continue to evolve, but the NewEnergy Alliance a unique opportunity through education. Energy Control Inc. is a founding member of the NewEnergy Alliance and is participating in the development of a training program that will present a complete marketing, sales and technical immersion on DR. DR pays customers to change their electric consumption profiles and automation systems are the optimal tool for accomplishing these changes. The funds that are paid to the customer create a pool of money that will pay for implementing these new strategies in existing systems, but more importantly can also pay to expand and upgrade systems. This can be the ideal way to overcome the old objection that the customer does not have the money to complete upgrades. It also presents the opportunity to move toward negotiated sales that are outside the traditional bid and spec procurement. For those who want to learn more about the NewEnergy Alliance, contact Constellation NewEnergy or me through automatedbuildings.com. The Alliance will also have a major presence at the DR Expo coming up this fall in Toronto http://www.dr-expo.com/2008/toronto/
.
---


[Click Banner To Learn More]
[Home Page] [The Automator] [About] [Subscribe ] [Contact Us]