---
Measuring Happiness
- the Impact of Comfy

For thermal comfort nerds like me, one of the most fun parts has been to see how it has positively impacted so many people's comfort, and how we've been able to measure that.


Lindsay Baker,
VP Research and Marketing,
Building Robotics, Inc
Here at BR, this first year of Comfy being out in the world has been so fascinating and fun to watch- from watching the glee of the first time someone clicks in Comfy, to getting to know our Comfy power-users, exploring new features with clients, it's all a ton of fun. At this time of year when people are freezing in their offices, we've been fielding a ton of media inquiries about summer over-conditioning from the NY Times to the Washington Post, so we thought it was a good time to talk about how these things impact people's experience at work. For thermal comfort nerds like me, one of the most fun parts has been to see how it has positively impacted so many people's comfort, and how we've been able to measure that. So I thought I'd take a minute to show some of you what we're seeing (even if I am really just speaking to nerds out there like me!).

It's notoriously hard to measure comfort and productivity. People have done awesome work in this area, but the reality is that productivity means different things to different people, especially for knowledge workers like many people who work in creative fields, technology fields, etc. And yet, we all know that where we work matters. I'm sitting in BR's beautiful new office in downtown Oakland, and I know that I'll do better work because I have an awesome spot I can sit outside. Maybe it's the non-rhythmic sensory stimulus of the breeze, or maybe it's the impact of short-wave radiation (i.e. the sun) on my skin, who knows! But the reality is that as we all try to invest in better, healthier buildings, people need to have some numbers to justify these investments, no matter how hard it is to quantify that impact.

So, people often ask, how do we measure the impact of Comfy?

Great news. Through the awesome help of some of our early customers, we are starting to answer that questions and the results are pretty exciting. We ask all of our users to fill out feedback about their experiences using Comfy, including a question that is usually referred to as a Net Promoter Score. Ours is this: "Do you think that Comfy should be available in the other office space at your company?" and so far we've seen 100% agreement! We've also asked users to report whether Comfy made them more comfortable at work, and again, 100% agreement on that one as well. So cool.

But my favorite bit of data so far has been from the good folks at Oak Ridge National Labs, who are preparing a report on our Comfy installation in a General Services Administration Building, courtesy of the Green Proving Ground Program. They did very comprehensive research on Comfy, and below is a graph of the survey responses they found in their work- really awesome to see. This is just preliminary data, the official report will be coming out by the end of this year.
So, there you have it, a few numbers! For those of you who aren't convinced yet, look forward to a blog coming soon on our Top 10 Quotes from Occupants about Comfy. Sometimes data isn't as good as this: "I just used Comfy and I feel like this is the coolest thing that has ever happened to me. :P Love it."
See also:

---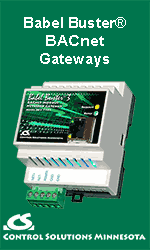 About the Author

Lindsay Baker is the VP for Research and Marketing at Building Robotics, Inc, a new venture-backed software startup. She is responsible for client relationships and occupant experience at BR, as well as leading marketing efforts for the new software, Comfy. A former consultant to Google's Green Real Estate Team, and the initial team that developed the LEED Rating System, she has extensive experience in implementing and evaluating energy efficiency programs. Lindsay is a LEED AP and a Ph.D. candidate at Berkeley's Center for the Built Environment, a leader in occupant comfort and behavior research.

---

[Click Banner To Learn More]
[Home Page] [The Automator] [About] [Subscribe ] [Contact Us]