---
With this month's theme being about Transformative Change, what is driving transformative change in our industry?
Transformative change is powerful. It can have a real impact by changing how products are made and distributed, how products are serviced and refined and more. In today's economy, there is a constant drumbeat to come up with something new and undergo transformative change. But you don't need to invent something entirely new to be successful. Invention is wonderful, but you can be very successful if you focus on innovating and adding new and extending value to something that already exists rather than inventing something completely new. For us, beginning at the most basic levels, with new conceptions about how devices, information, people and systems interact is in a way, transformative change.

In our industry, several technologies have come together in building controls that is driving truly transformative change. True, open systems, data and analytics, wireless, going further out to the edge and cloud-based applications and services are a few. Together, they are turning the whole world of building automation upside down.
While technology has had a major influence, I also believe market dynamics and what value we deliver is driving transformative change. Value has made people think and feel differently in the way we operate and manage our buildings. Our value delivery has transformed. We have gone from being just about lower operating costs in the beginning, to energy efficiency, performance, sustainability and smarter, to now, delivering and creating value centered on financial optimization, connected intelligence, operational efficiency and cyber secured.

What is important here is transformative change can come from other places not just inventions. Take a look at the iPhone, for example. Apple took a stagnant product category - the mobile phone - and completely rethought how it could be used and the value it delivered. They took an existing product category and existing technologies, but somehow transformed an industry, sparked a technology revolution and influenced society.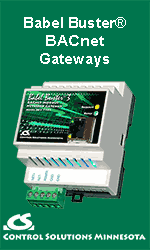 Furthermore, transformative change is being fueled by collaborative, connected community efforts. We see it most clearly in the Internet and web, where new capabilities are continuously developed by communities that build on the work of others, creating "mashups", and new complementary applications. We also see it in IoT and are beginning to see it to some degree in our very own industry with Project-Haystack as an example. Collaborative community efforts are helping drive new ways to extend the value of our building systems and effect change.

In the end, transformative change does not need to mean just new things. While new things are absolutely important, even without them, transformative change can happen by looking at and finding new ways to extend and deliver value.


---


[Click Banner To Learn More]
[Home Page] [The Automator] [About] [Subscribe ] [Contact Us]