---
EMAIL INTERVIEW – Mike Sabinash and Ken Sinclair
Mike Sabinash, Business Development Director – North America, Schneider Electric

---
Small Building Systems

Studies show that 98 percent of the buildings in the U.S. fall under 100,000 square feet.

Sinclair: How prevalent are small and mid-sized buildings in the overall commercial buildings market?

Sabinash: Studies show that 98 percent of the buildings in the U.S. fall under 100,000 square feet. That's a lot of buildings and for a small business, a building represents their single, largest asset. These small- and medium-sized buildings (SMBs) serve a variety of purposes and organizations, such as office buildings, retail operations, schools, health clinics, banking branches and restaurant chains. SMBs' maintenance and energy consumption per square meter or foot can be just as significant as large buildings'. It makes sense for SMBs to protect their investment in their facilities and get the greatest return from it, but many facility managers don't know where to start.

Sinclair: What are some of the unique facility or building management challenges that small and mid-sized buildings face?

Sabinash: One distinct difference in this market is the lack of automation, specifically, a building management system. Traditionally, a BMS would be too expensive and complex for a smaller building to install and manage. If you are a facility manager managing multiple buildings, you either spend lots of time between sites or you are relying heavily on outside contractors. Limited time and resources equates to additional expense. Unlike larger buildings that may have many property and facility managers, smaller buildings must do with the limited resources they have. And, whereas their larger counterparts may have sustainability, energy, IT and security managers, this falls solely on the shoulders of the smaller building facility manager. This impacts occupants as well, as comfort complaints often fall down the "to do" list over issues that impact safety, security and liability.

Sinclair: What are the biggest challenges when it comes to finding solutions for small and mid-sized buildings to manage their operations?

Sabinash: Most automation companies have focused their efforts on larger buildings. There are more players focused on SMBs than there were a few years ago, but not many enterprise building automation companies have dedicated the resources to understand and develop a cost effective solution to aid the day-to-day operations of smaller facilities. With the recent evolution in BMS tailored to SMBs, businesses now have an opportunity to increase their operational efficiency, improve energy efficiency and boost their bottom line by measuring, monitoring, analyzing and remotely accessing and optimizing their building's day-to-day operations.

Sinclair: What kinds of tools should they consider and how will it impact the day-to-day responsibilities of the facility manager?

Sabinash: My first bit of advice is to select a system that can support multiple sites remotely. This has a large impact on facility personnel's time management. It's not enough to monitor but you also want to control and proactively manage HVAC and lighting. Global scheduling is a key application. Trending tools will allow facility managers to spot and troubleshoot equipment long before complaints or expensive breaks/fixes. Metering will assist in monitoring equipment as well as managing energy. Alarm logs are a facility manager's best friend and will be a great tool for prioritizing activities. There are a lot of applications that will make life easier, and any application should most importantly be easy to use and understand. There is no need to make your job more complicated with a complicated solution. Owners and facility managers should look for a solution that is "right-sized" for their needs and budget.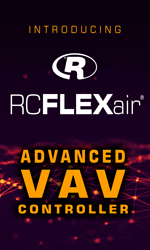 Sinclair: What considerations should be given in implementing a solution?

Sabinash: Start with a company that has invested the time and money to understand the unique needs of the small building market and will continue to innovate and support their customers. Consider a solution that is based on open protocols and standards so that you aren't locked into one vendor or manufacturer. Avoid a solution that involves wiring – wireless is the way to go and it provides a lot of functionality as well as it's easier and less expensive to install. With wireless there is no special wiring, no renovation, no working through ceilings, no repainting and you won't disturb the occupants. In addition, if you lease buildings, you can take it with you when you move on to your next location. You also want a solution where the install will not disrupt business. Most small building installs should take less than a day with minimal business impact. You should also consider a solution that can meet the need for the type of building. For example, a grocery store will need refrigeration monitoring and a hotel will need occupancy sensors. The breadth of the product line should meet the building and business' needs.


---


[Click Banner To Learn More]
[Home Page] [The Automator] [About] [Subscribe ] [Contact Us]