---

EMAIL INTERVIEW – Brian Patterson and Ken Sinclair
Brian Patterson, Chairman, EMerge Alliance

Brian Patterson is the Chairman of the EMerge Alliance, a 501c non-profit corporation established to create standards and promote the rapid adoption of safe, low-voltage DC power distribution and use in commercial buildings. The Alliance is a member funded organization focused on developing open standards that integrate infrastructures, power, controls and a wide variety of devices in a common hybrid AC-DC microgrid platform. He is also General Manager of Business Development for the Building Products Division of Armstrong World Industries, one of the original founders of the Alliance.

---

The EMerge Alliance

The new standard creates an integrated, open platform for power, infrastructure, peripheral device and control applications to facilitate the hybrid use of AC and DC power within data centers.


Sinclair: What's new with the EMerge Alliance?


Patterson: The EMerge Alliance just announced the completion of the
EMerge Alliance Data/Telecom Center Standard
at the Greenbuild International Conference & Expo in San Francisco, Nov. 14-16. The new standard creates an integrated, open platform for power, infrastructure, peripheral device and control applications to facilitate the hybrid use of AC and DC power within data centers and telecommunications central offices.
Sinclair: What are the benefits of using 380VDC to power data centers?

Patterson: Using DC power distribution in data centers significantly improves reliability and reduces equipment, floor space, maintenance and operating costs. The costs are broken down further below:

Lower maintenance costs:

By significantly reducing the number of power conversions occurring in a data center, DC power distribution reduces overall component content while decreasing the amount of heat generated by the power distribution equipment, which in turn lowers maintenance costs by reducing related equipment failures.

Sinclair: How does using DC power distribution in data centers help increase reliability?

Patterson: Since DC data center power distribution equipment has fewer components than its AC counterparts, they suffer fewer device failures. DC can be between 200% and 1,000% more reliable than AC, improving data center reliability significantly. In addition, whole pieces of distribution equipment, such as remote power panels, power distribution units, static switches, second stage UPS conversion, and UPS by-pass switches, can be eliminated, resulting in fewer points of failure.

Sinclair: Why is the EMerge Alliance Data/Telecom Center Standard set for 380VDC?

Patterson: 380VDC is considered as the global sweet spot for standardized components with the best balance of economics and safety. These standardized components are commonly used in power supply systems for today's computers, electric vehicles, solar power, etc. 380VDC is the next generation for telecom applications, enhanced distribution capabilities and improved sustainability with smaller bus and wire sizes and reduced copper. As a practical matter, most AC input power supplies used in servers and other data center ICT equipment have a final stage DC bus at 380VDC, so most equipment on the market today should be easily converted by OEMs.

Sinclair: How does the new standard work with the other developed standards?

Patterson: The EMerge Alliance Data/Telecom Center Standard was designed to integrate with the Alliance's other standards to form a family of area-specific DC microgrids that, when interconnected by a supervising DC microgrid, can create a resilient and versatile building or campus energy network. All of the standards using DC power are designed to help achieve net-zero-energy buildings and improve energy efficiency, flexibility, reliability and sustainability throughout commercial buildings.

Sinclair: Can this DC architecture be scaled to full-scale facilities?

Patterson: It can be scaled from a single data/telecom center to modular additions and even to entire new or most existing buildings over time, utilizing a DC microgrid distributed network topology. It generally does not require the changing of a building's basic AC feed or primary distribution system during an opportunistic, modular or evolutionary scaled implementation. The integration of on-site renewable or other energy sources at anytime is also easier to accomplish due to the non-synchronous nature of the DC bus power architecture.

Sinclair: How do EMerge Alliance standards, such as the Data/Telcom Center Standard, fit into smart grid efforts?

Patterson: Smart grids benefit from "smarter buildings" and vice-versa. Use of EMerge Alliance Standards provides the opportunity to optimize local power use within buildings while still being connected to the macro grid. The 100-year-old public utility grid, whose general success is a tribute to power engineering, was never designed to power today's modern electronic devices and systems. Because they can electrically isolate or island a system, building or campus from macro grid disturbances, DC microgrids perform a fundamental role in increasing building-level power quality and assurance. And since the EMerge Alliance is working to use the same wireless control technology platforms utilized in smart grid efforts, this will allow for future integration opportunities in combined control and/or power management. This will allow buildings to better use intelligent data from the smart grid to minimize energy use during high cost - low availability times and to avoid contributing to linear dynamic grid failure propagation during power outages and other emergency grid events.

Sinclair: How does DC power distribution tie into on-site power generation?

Patterson: DC power collection and distribution systems simplify the use of locally generated power from sources such as solar panels, wind turbines and fuel cells. The non-synchronous operation of a DC bus provides a simple yet effective integration of either AC or DC on-site generated and/or stored energy. This results in the direct delivery of easily dispatchable DC power, no matter how many different sources are combined.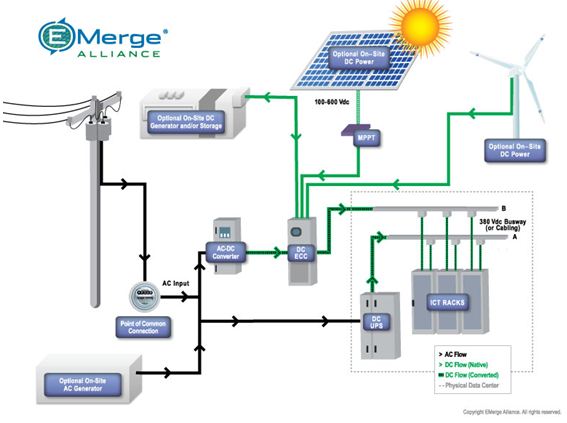 The diagram above illustrates how the EMerge Alliance Data/Telecom Standard is used as a system to deliver DC power from on-site renewable energy sources or utility supplied AC power directly to data and telecom equipment.
Sinclair: What other key standards, milestones and accomplishments has the Alliance achieved this year?

Patterson: We believe that we will soon look back on 2012 as a watershed year for the EMerge Alliance. Today, the Alliance stands at more than 100 members with a broad range of interests represented, including building owners, occupants, building trades, IT community and others involved in the generation and utilization of both standard and alternative energy. All of our members are contributing to the brightening vision of a complete commercial buildings operated using DC power. DC power is a key component in net-zero-energy buildings, and our growing organization continues to make progress with standards for the occupied space, data and telecommunications centers, building services, and outdoor applications to achieve our vision.


This year, we formed two new technical standards committees, including the Task Level/Furnishings workgroup and Campus Microgrid Technical Standards Committee. We started the Task Level/Furnishings workgroup to create a standard bringing DC power directly to the desktop. When finished, the standard will better optimize power use by the rising number of DC-powered devices we use at our desktop everyday. The Campus Microgrid Technical Standards Committee is focused on establishing a standard for the interconnection of area-specific DC microgrids throughout a building or campus.


In October, we also completed EMerge Alliance Occupied Space Standard version 1.1, including several important updates to voltage limits, recommended cable sizes and other requirements to assist companies developing products when using the standard. This development illustrates our commitment to driving the continued improvement and expansion of standards that will deliver DC power throughout buildings.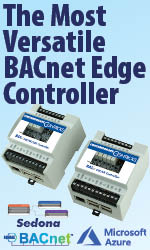 Sinclair: What does the future look like for the Alliance in fulfilling your vision for DC power throughout a building?

Patterson: Continuing to move toward our vision in the coming year means the Alliance will sharpen its focus in several areas. First, in addition to the technical committee work already in play, we will set in motion the development of standards for building services, such as HVAC, and standards for outdoor applications, such as electric vehicle charging. Second, we will hone our effort toward globalization. This means greater geographic and technical representation in our leadership and work. Third, recognizing that our application standards don't exist in a vacuum, we continue to heighten our efforts to "connect the dots" of collaboration and cooperation with other relevant safety/technical standards and trade organizations around the world. And lastly, we will continue to build on our early work to actively coalesce a vibrant eco-system of engineering, hardware and integration providers who can support our standards with recognized and listed offerings in the marketplace.

While we have accomplished much and look forward to another strong growth year for the Alliance, we humble ourselves with the motivating thought that there are still 1.5 billion people in the world without electric power in their buildings. So in the largest sense, we will not consider ourselves successful until there is meaningful and productive access in those buildings to what has become the new primary currency of modern civilization: clean electricity. As far as timing, I'd like to borrow a thought from Edison's conversation with Henry Ford back in 1937, shortly before he died, "…I hope we don't have to wait until coal and oil run out…"

For further information regarding the EMerge Alliance and GreenBuild read this December Review.



---


[Click Banner To Learn More]
[Home Page] [The Automator] [About] [Subscribe ] [Contact Us]