---
Review of GreenBuild San Francisco http://www.greenbuildexpo.org/Home.aspx

GreenBuild was a kaleidoscope of the green movement located in three separate venues with all the varing shades of green mixed together. Although this approach insured that you walked the complete show and see the complete scope of the green movement presented there, it made it hard to focus on the various pieces of this evolving industry. I focused all my efforts only on the expo portion of the show.

I met a friend, Denis Du Bois, Energy Priorities Magazine, who was working the other side of the floor and he provided his insight on the event.

San Francisco today welcomed an estimated 30,000 people in the green building industry to the 2012 Greenbuild Conference and Expo. Rick Fedrizzi, founding chairman and CEO of the U.S. Green Building Council, took the opportunity to lambast critics of green building and the standards known as LEED — short for Leadership in Energy and Environmental Design.
http://energypriorities.com/2012/11/green-building-movement-tells-its-critics-bring-it-on/
In a second piece Dennis shared this view

The commercial landlord-tenant relationship can be adversarial, with split incentives and other hurdles to implementing energy efficiency upgrades. Two real-estate pros share their experiences from the front lines of sustainability and offer their advice for fostering collaborationI was facinated by the array of new green technologies that will require our building automation industry to integrate.
I was facinated by the array of new green technologies that will require our building automation industry to integrate.

Very pleased to meet with http://www.emergealliance.org/ and Brian Patterson, Chairman EMerge Alliance.
EMerge is an open industry association leading the rapid adoption of safe DC power distribution in commercial buildings through the development of EMerge Alliance standards. The Alliance is very active and growing and bringing real change to our industry.
DC is everywhere and the fact we feed it with AC power and then convert with great energy losses to DC is an unbelievable waste, plus of course DC is the energy source of choice for onsite renewables and the only electrical source you can store.
New DC LED strip lights on the ceiling t-bar fit well with building a DC grid.

For more insite to the EMerge Alliance read this month's interview with Brian Patterson.

Interesting to see companies such as Crestron, a $4.5 billion technology giant, entering into the large building automation space. Be sure to read this month's article:

How "IBMS" intelligent building management solutions are reducing operational costs

Lots of new products to control and interact with such as addressable lighting fixtures, controllable window shading, natural light devices and even phase change materials.

Resources found
I really need to get out more as I am always amazed at what I do not know about what is happening in our industry.
When I met with Schneider folks at GreenBuild SF they made me aware of their Energy University. This is a great resource, let's use it as an industry to learn what they have.

The LEED folks provide this great tool that provides easy and fun access to their assembled resources. http://www.gbig.org/
Play with it for a bit and see what LEED buildings are close to you.
I also asked this question at the LEED booth - What are the Leed Points for enhanced and innovative building automation?
I quickly got this great response:

Hi Ken – We have a few points that buildings with robust building automation systems will have an advantage to achieve and one direct point.

In the LEED for Existing Buildings rating system, projects can earn a point by earning the Building Automation System credit (EAc3.1), System Level Metering (EAc3.2), and may use the system to provide energy data to USGBC for MPR6.
We have a few pilot credits that may be attainable for existing buildings operating with a BAS: EnergyJumpstart Pilot Prereq for Minimum Energy Performance (pilot 67), Demand Response (pilot credit 8), Reconcile Actual and Projected Energy Performance (pilot credit 27), and Occupant Engagement (pilot credit 69). And, for newly constructed buildings, the Monitoring Based Commissioning pilot credit (65) would be one to look at.
Check these out and let me know if you have any questions.
Thanks, Lauren.

Lauren Riggs, LEED AP O+M Manager, LEED Performance Programs

Fun stuff at Event

As the press we got to drive all the electric cars ….smile.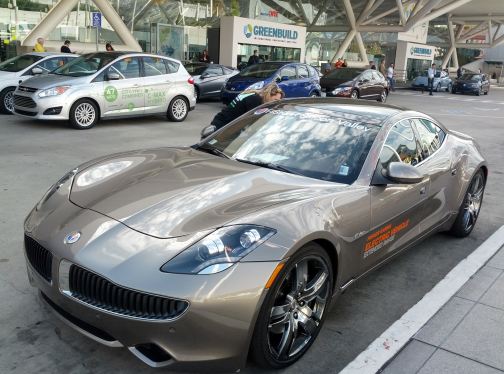 The Karma proved that electric cars need not be boring. They had three of these but the lineup was long and I was not sure I wanted to sign off on being financially responsible for an over $100,000 car when dumped into a downtown SF traffic jam… smile. But a Neat car for sure.
http://en.wikipedia.org/wiki/Fisker_Karma#Specifications
I concluded that the Bamboo bike was likely a better fit for me.
On that note transportation for event was great with a direct flight from my home city, a walk on to the BART then I surfaced downtown blocks from the convention center and my hotel so was able to walk everywhere.
San Francisco is a great green city, very walkable and has combined the transportation systems of its past with today's to create a great user experience.
I also loved the roof top park and green space on the roof of convention center. Obviously this had been done many years before the push of today's green movement.

Gay parade was a nice touch for San Francisco, added some color to the basic green event.

Exhibit floor seemed less busy than last year in Toronto. Lots of students which was a good, not a bad thing, it was great to see the young folks out to this event. The complete crowd was younger than I'm used to seeing. Very pleased to see the gender shift as the amount of females at the event was higher than I have ever seen.

The show program app available for both android and apple was very useful for getting around the show and navigating the three venues while eliminating the use of paper. In fact, I turned in my bag and printed paper programs back to sender once I understood that I had everything I needed in the App on my BYOD for the show. Good leadership and demostration GreenBuild.
That being said there was still way to much printed paper at show that will be dumped, ok maybe recycled, but still we have failed to move completely to electronic media but great strides towards our goal.

Did you miss a plenary or master speaker session? Watch the free, archived videos.

Did you miss an exhibitor? Check out a map of the floor.

Save the date for Greenbuild 2013 in Philadelphia. Whatever your story, your background or your nationality, you are a citizen of our planet, a citizen of our community, a citizen of Greenbuild Nation. Together we are reaching across borders to build a better tomorrow. We are Greenbuild Nation.
---


[Click Banner To Learn More]
[Home Page] [The Automator] [About] [Subscribe ] [Contact Us]