---
Pump Your Project Haystack Tags and Data Up



Enter the Onyxx BACnet to Haystack Data Pump.





Travis Reno,
Product Development Manager,
Lynxspring


Today's access and exchange of data are empowering us to take advantage of it----- from everywhere and from any device. With data, we are further extending the delivery of lowering operating costs, driving better performance (both operationally and financially), driving the conservation of energy and creating better occupant experiences within our buildings and facilities.

Now is the time to unlock the value held in our building automation systems data. We strive to improve the efficiency of our building systems, the comfort of its occupants, and reduce the lifetime cost of our equipment and operations. Our building systems offer up a plethora of data to help us achieve these goals, but this data is often locked up in a proprietary format and is not organized. We have made huge investments in intelligent systems and analytics platforms and have transformed the way that we can use this data. Instead of simply reporting on historical trends, we can now make useful predictions about what is happening in our buildings. More importantly, however, we can make changes to our operations and policies to produce significant improvements in the markets that we serve if we can only get access to this data.

Project Haystack has made great strides in turning the data that we collect from our building systems into intelligence that we can act upon. The tagging model provided by the Project Haystack approach brings us many steps closer to achieving our goals. With Haystack tagging, you decide how you want the presentation layer to be affected right up front. Then, on the back end, you get to utilize the power of the tagging model to combine, filter, or sort your data in a meaningful way.

There is, however, a problem that remains. How do we get data from the BACnet protocol that our building systems offer up into a Haystack compatible system? There are a variety of complex and vendor specific solutions to this basic problem, but at Lynxspring, we thought there must be a better way.

Enter the Onyxx BACnet to Haystack Data Pump. The Onyxx Data Pump talks BACnet natively. It knows how to communicate with the BACnet devices, on your network. At a schedule that you decide, the Data Pump will automatically query the selected BACnet devices on your network and store the information that they provide onboard.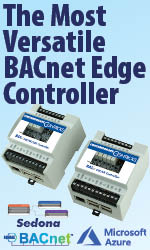 We have implemented a full Haystack API on the data pump. Users can apply your Haystack tags directly to your BACnet devices, and this tagging information moves forward to any Haystack server that the Data Pump connects to. Also, you can use your existing Haystack based tools to query and analyze this data on the Data Pump using this API. While this is possible, this is not where the real power of the Data Pump lies.

The real power comes at push time. On a schedule that you determine, the Onyxx Data Pump sends all the pre-tagged data that it has collected, over time, to your Haystack server. By using the Haystack API to synchronize its tags with the Haystack server, it knows all about the devices, points and tagging model that you have applied to the Data Pump. It then pushes all of its history data to the Haystack server, without losing any histories.

Data has changed the way companies in every industry do business and manage their businesses. Project Haystack and its various implementations give you a great way to bring value to your building data.

---
About the Author

20+ years in computers, software development and software management, Windows Server and client administration. Certified Project management, bringing project management principles to information systems management.


---


[Click Banner To Learn More]
[Home Page] [The Automator] [About] [Subscribe ] [Contact Us]