---
BMS And IP Converge For Smart Building Network Infrastructure

Each individual change creates new challenges but the wave of change as a whole is creating a sea of new opportunities to create greater efficiency, reduce costs and enhance a building's environment.



James McHale,
Managing Director,
Memoori



The days of traditional building management system (BMS) infrastructure are behind us. Heating, lighting, air conditioning and other building functions now increasingly require information and telecommunication (ICT) networks in order to function in the modern world. This not only demands a outright technical upgrade but also requires an entirely new way of thinking throughout the network infrastructure design and implementation life-cycles.

Driven by a new generation of workers, technological evolution, and a growing demand to lower operating costs, today's workspaces and business facilities are undergoing an unprecedented transformation. Each individual change creates new challenges but the wave of change as a whole is creating a sea of new opportunities to create greater efficiency, reduce costs and enhance a building's environment.

This all-encompassing ICT based evolution blurs the distinction between facility management systems and the IT systems upon which organizations depend. Consider the emergence of the Internet of Things, remote working and hot-desking alongside occupancy based HVAC, lighting and biometric access control. These intertwined systems require a converged network infrastructure in order to enable a new breed of energy efficient, people friendly buildings.

While the definitions of these 'smart buildings' may vary, they are all based on two fundamental characteristics; efficiency and connectivity. And in order to achieve efficiency and connectivity buildings require three key technical attributes; an integrated low-voltage infrastructure, a permanent infrastructure for collecting granular occupancy data, and high-speed wired and wireless connectivity.
According to a whitepaper from network specialists Commscope, this demands a whole new way of thinking. "In moving away from a device-centric approach—and toward an application-centric approach—connected and efficient buildings address the key concerns of facility managers, IT managers and corporate real estate teams, while providing an improved experience for today's hyper-connected and mobile workforce."

The platform upon which buildings can create efficiency and connectivity is a combined data and power grid infrastructure. "Twisted-pair copper cabling provides the optimal platform for connected and efficient buildings, supplying bandwidth in excess of 1 Gbps as well as up to 95 watts of power—enabling support for building automation systems, wireless access points, security cameras, access control systems, digital displays, networked sensors, LED lighting and many more," according to the paper.

Several studies demonstrate that the convergence of IP and BMS systems could eliminate standalone gateways by 50%, reduce installation and integration cost by 20%, decrease energy cost by 20%, and reduce operation and maintenance cost by 30%. Furthermore, the variety of applications supported by this convergence can bring about better health and greater productivity of building occupants through the Internet of Things (IoT).

The IoT generally consists of an array of IP smart objects, or small micro-electronic devices with communication ability; this is typically a low-power radio, a small microprocessor and a sensor or actuator. IP protocols and technologies are continually being developed specifically for IP smart objects such as the sensors and actuators used in buildings, factories, cities and so on.

Such technologies allow for more efficient use of the network and enable devices to unearth capabilities that have traditionally been inaccessible to other network participants. Through efficient compression, to address the limited bandwidth of lower speed media often used at the edge, sophisticated routing is able to take into account the unique characteristics of these device-level networks. Therefore, IP can now reach down to the device level while addressing the unique issues associated with the edge devices.
BACnet, for example, which originated in 1987, is a Data Communication Protocol for Building Automation and Control Networks.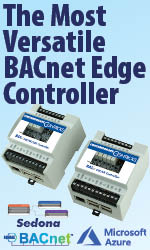 The BACnet protocol traditionally allows for the interconnection of building automation equipment from different vendors, it is now also working on the integration of IPv6 support. The IP protocol itself, also about 30 years old, was designed for slow file transfers and remote terminal control. It is now used to carry an impressive and fast-growing set of applications and services with a variety of constraints and network requirements.

The notion of network convergence using IP is fundamental and relies on the use of a common multi-service IP network supporting a wide range of applications and services. This not only means that such networks are conducive to fostering innovation, but it also leads to dramatically reduced overall cost and complexity in contrast to a multitude of incompatible, specialized networks interconnected by hard-to-manage gateways.

The development of these technologies is serving the evolving needs of our highly connected workforce through intelligent buildings enabled by converged network infrastructure.
________________________
Lots of changes from the IT world that will shake our infrastructure, be sure to also read this two posts from James.
Thread Protocol Moves Onto Commercial Buildings, Leaving Nest At Home

"This is a natural step in the evolution of the Thread networking protocol, and we're excited that industry interest in building a Thread solution for the commercial building domain has been so strong," said Grant Erickson, president of the Thread Group. "This expansion will enable members to build Thread-enabled solutions that will serve a variety of use cases, not just inside the connected home but also beyond, into the commercial and professional sectors."
The Commoditization of Video Surveillance Cameras

Now major chip manufacturers like Intel and Qualcomm are seeing the potential for video cameras to be the "King of Sensors" in Smart Cities. They have now moved into producing the next generation of video chips. In the case of Intel they have also developed a software platform on which middleware for all the services that go into delivering a Building Internet of Things (BIoT) can reside.

---


[Click Banner To Learn More]
[Home Page] [The Automator] [About] [Subscribe ] [Contact Us]