---
| | |
| --- | --- |
| A Preview of our Educational Sessions At The 2006 AHRExpo | Ken Sinclair |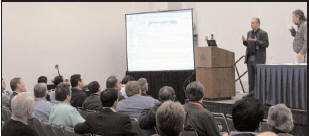 BAS Showcase Listing ** Product Previews ** AHR 2006 News

Presented by: Ken Sinclair - AutomatedBuildings.com & David Branson Compliance Services Group, Inc. (CSG)

Mega Trends in Building Automation at 2006 AHR Expo
Monday, January 23, 9:00am, Room S102BC

General discussion of the mega trends in Building Automation. This session will provide insight into the technologies displayed in this year's Building Automation Showcase located in the Exhibit Hall and the products of the award winners.

Wow! what a year 2005 has been! Mega trends including the fact that our industry is now talking IT, walking IT and providing products and services based on Information Technology ways. Robbert Kuppens, EMEA Managing Director of Cisco Internet Business Solutions Group, in his Keynote presentation in Amsterdam, November 9, declared that in a similar way the PBX industry reached the decision zone around 2002, the BAS market is now at this point in what they call a "Decision Zone". Cisco and other IT giants are now very interested in our Building Automation Industry. Add to this the signing of the GridWise Constitution which is built on the abilities of our BAS industry to use advanced communications and up-to-date information technology. Couple this with; our new understanding of the power of virtual value in all our products and services, the fact wireless is becoming battery less, and that we now have Power over Ethernet (PoE), and we have a catalyst convergence that is propelling us into a new IT era for 2006. Is it any surprise that the innovation winner for this AHRExpo is the Wireless BACnet® Router and that all the runner up products provide connection to the IT world using open standards.

In the session I will provide you "My Virtual Value Visions" for Building Automation in 2006. What is virtual value? I think we all know what the word value means, but adding the word virtual requires some clarification. There are a lot of definitions for the word virtual but the one I like is "existing only in software". It is a simple definition and lets me drive home what I want to talk about virtual value and my vision of it.

We will talk about how our success is dependent on our ability to step out of the comfort zone of our industry and enter into the convergence industry. The new convergence industry is built on virtual values that exist only in software but bring great value to our clients. The convergence industry will lead us to new solutions and new ways whether we are part of it or not. Trust me, we all do want to be part of this exciting new era. My December ES Building Automation Column "Guess Who's Coming To Dinner" and January column "The New Kids on the Block are Giants" talk about Cisco and HP entering our arena. This is a very positive step for our industry but it is the harbinger of a new era, it is no longer about horsepower it is all about change and successful convergence. Do not fear change, embrace it. These giants will need all the partners they can get to help define our virtual value future. Want more insight to Cisco thinking? read this months review of Cisco whitepaper Cisco Connected Real Estate (CCRE)

Also we will discuss how some hardware changes are aimed at making IT ways and virtual value easier to achieve. Power over Ethernet; the prospect of PoE will change the balance of the equation dramatically, since the removal of the need to run power to building automation devices will bring significant benefits overcoming most, if not all of the negatives of Ethernet. IPv6 will also further drive IP based architectures for smart devices in buildings. We will extract highlights from this article

Power Over Ethernet. Industrial Ethernet is Now a True Fieldbus by George Thomas, President/Founder, Contemporary Controls.

In addition we'll talk about how wireless turns battery less for 2006 using new energy-harvesting techniques. New energy-harvesting techniques, which scavenge minuscule amounts of ambient energy present in the environment, are quickly being developed to power a variety of wireless networked devices including sensors, switches, and the radio electronics necessary to transmit their signals.

We will provide you an introduction to AHR's 2006

BAS Showcase .

And provide more info about for the Automation Winner's of the AHRExpo Innovation Awards …….Here are the entries, the runners up in blue, and the winner in yellow.
| | |
| --- | --- |
| Product Name | Company |
| The GPC | American Auto-Matrix |
| VLTFC 100 | Danfoss Graham, Division of Danfoss, Inc. |
| VAV Controllers with Wireless Communication | Distech Controls |
| ED4 zone panel | DuroZone, a division of Duro Dyne |
| ProTeus V | Eagle Technology, Inc. |
| SCN202-T BACnet® VAV Terminal Controller | EBTRON, Inc. |
| FloVENT V6 | Flomerics, Inc. |
| Metasys BACnet® Field Equipment Controller | Johnson Controls, Inc. |
| KAN 254B Wireless BACnet® Router | Kiyon, Inc. |
| L Connection Zoning | Lennox Industries |
| Liebert iCOM™ | Liebert Corporation, division of Emerson Network Power |
| ZoneWorx | Powerline Control Systems (PCS) |
| MACH-Stat | Reliable Controls |
| tekmarNet® 4 | Tekmar Control Systems |
| T7600 Series communicating thermostats | Viconics Electronics, Inc. |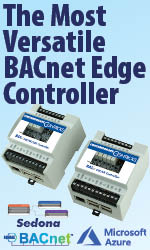 The 2006 WINNER BUILDING AUTOMATION is: Drum Roll Please !!!!!!!!
Company: Kiyon, Inc.
Product: KAN 254B Wireless BACnet ® Router
Description: This product provides wireless connectivity for all types of building control systems, enables wireless mobility for building personnel, and bridges several networks for interoperability enabling these devices to communicate over the same network
Be sure to read this month's interview
AHR "Innovation Award" Winner - Kiyon

John Edler, VP, Kiyon Inc.

Three factors that differentiate Kiyon are standards compatibility, ease of use, and state of the art wireless network technology.
---
Integrating Intelligence
Monday, January 23, 1:30pm, Room S102BC
Discussion on the latest value added concepts evolving in the integration wave. Intelligence is the ability to comprehend, to understand and profit from experience. Integration must add value and add to the overall intelligence. This session focuses on how this can best be accomplished.
For several years my website, columns, articles and magazine supplements plus our AHRExpo Education Sessions have been extolling the merits of integration. Our preaching's often ramble on about our inevitable integration path, but do not interpret our words to mean that we will have integration without reason. All integration must be driven by added value, and must increase the overall intelligence and net worth of all it touches.
The controls industry is undergoing a radical restructuring as technology evolves. The intelligent building continues to beckon owners toward its benefits, but even it is only a part of an intelligent city. The GridWise initiative is gaining power. And yet, it will still come down to people to deliver the real value for clients.

DDC controls and security systems will become a commodity not unlike cell phones, inexpensive highly functioning devices sold on the open market. OEM markets will expand far beyond what we see today. Engineers will be able to specify the best boiler management system and have it arrive pre-programmed for a specific job. The same with be true for air handling systems; simply specify the best controller for this application and have it factory installed, programmed and tested before being delivered to the job site. You need only look at the flurry of M&A activity to see the market strategies forming. JCI is buying mechanical contractors, a building management company and now York International. Schneider Electric bought TAC, Andover and Power Measurement.
Come and join this session and share your intelligence while helping us learn how to integrate intelligence.
---
ADR and GridWise Tuesday, January 24, 9:00am, Room S102BC
Insight and connection to findings from the "Fully Automated Demand Response Tests in Large Facilities." Intelligent buildings are here now, but in the near future the focus will transform to the Intelligent Enterprise. From there, the newest trend will be to elevate the Intelligent Enterprise ultimately to the Intelligent Electric Grid or GridWise. This session provides insight into GridWise and how it envisions Web Services to create a smart national electricity distribution system or grid. With special guest speaker Jack McGowan who has just returned from the GridWise Constitutional Convention in Philadelphia and is well versed on what happened their and what the future holds for GridWise and is more than willing to share his thoughts. Jack is one of our contributing editors and sits on the DOE GridWise Architecture Council and the Energy and Power Management Technical Advisory Board.
Demand Response (DR) is a set of time dependant activities that reduce or shift electricity use to improve electric grid reliability, manage electricity costs, and provide systems that encourage load shifting or shedding during times when the electric grid is near its capacity or electric prices are high. Demand Response is a subset of demand side management, which also includes energy efficiency and conservation. Automated Demand Response does not involve human intervention, but is initiated at a home, building, or facility through receipt of an external communications signal. The receipt of the external signal initiates pre-programmed shedding strategies. We refer to this as ADR.
GridWise is an entirely new way to think about how we generate, distribute and use energy. Using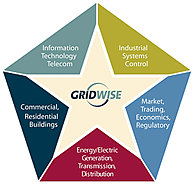 advanced communications and up-to-date information technology, GridWise will improve coordination between supply and demand, and enable a smarter, more efficient, secure and reliable electric power system. A part of the GridWise added intelligence is Demand Response (DR) a set of time dependant activities that reduce or shift electricity use to improve electric grid reliability, manage electricity costs, and provide systems that encourage load shifting or shedding during times when the electric grid is near its capacity or electric prices are high. Demand Response is a subset of demand side management, which also includes energy efficiency and conservation.
The underlying technology however will allow GridWise to do much more by creating tremendous savings opportunities for energy users and extending interoperability to a new level. Futurists talk about disruptive technologies that completely reshape markets, GridWise introduces just that type of technology.
Come a learn more about these disruptive technologies will effect you.
---
Growing Greener Buildings
Tuesday, January 24, 1:30pm, Room S102BC
Using evolving automation, we can bring passive designs alive with the necessary missing ingredient "intelligent interaction." Opportunities arrive daily to intelligently use building automation as more than just a connector of 'brute force' comfort generation systems. To realize this renaissance, this session explores how the building automation industry must become part of the globally expanding green building movement and show how improved occupant/architectural interaction can enhance environment-friendly buildings.
Growing greener buildings is not a new concept. In September 2003, I presented a paper titled "The Greening of Buildings with Computerized Web Enabled Automation," at the Worldwide CIBSE/ASHRAE gathering of the building services industry in Edinburgh, Scotland. The conference addressed the issue of delivering sustainable buildings while remaining profitable and delivering value to clients.
Growing greener buildings with Web-enabled automation will not only change our industry, it will have significant impact on how building owners approach management and optimization. The guidance of successful convergence will become a valuable art. The practitioners that can work with this new fabric and create the dynamic interface while making the myriad of complex technologies used to create this reality all but invisible will be the winners. To the companies and their artisans who move us ahead with successful demonstrations will go increased market share. New relationships and partnering will abound.
The seeds are being sown with GridWise, LEED, the Intelligent Building Council (IIBC) and others. Come and find out how it is easy to be green.
---


[Click Banner To Learn More]
[Home Page] [The Automator] [About] [Subscribe ] [Contact Us]