---

Bottomless power generation comes from ambient sources such as linear motion, light and temperature differentials.

Robert Eckery
Marcom Manager,
EnOcean, Inc.
Wires run through buildings like veins run through our bodies. Wires are pervasive and vital to day-to-day operations; however, today's brave new "green" world warrants consideration for solutions that reach beyond the confines of wires. As one decade comes to a close, EnOcean asserts that the next decade will feature wireless and batteryless controls which will carry building energy initiatives where wires fall short.















Widespread BAS (building automation system) integration has been stalled by installation costs and ominous tasks such as pulling wire through walls and ceilings. Battery-dependent wireless solutions can overcome some installation barriers, but the market has indicated it will not tolerate the maintenance issues tied to them. If the goal is to reduce energy consumption and CO2 emissions, then BAS integrators need non-invasive installation means and payback data that tips the scale in favor of spending the money to modernize existing buildings. Now that more than 100,000 buildings have been fitted with EnOcean-based products and energy reductions are in the books, a case is being made that wireless energy harvesting controls provide a radically easy form of BAS integration.
The Power of Unused Energy
The hallmark of the EnOcean wireless standard is batteryless and wireless communications. The technology stems from a simple observation: where sensors capture measured values, the energy state is constantly changing. For example, when a switch is pressed; temperatures and luminance levels change. These rudimentary operations generate enough energy to transmit radio signals that automate lighting and HVAC control. Instead of batteries or line power, EnOcean uses miniaturized energy converters and capacitors that power sensors and switches. EnOcean's bottomless power generation comes from ambient sources such as linear motion, light and temperature differentials.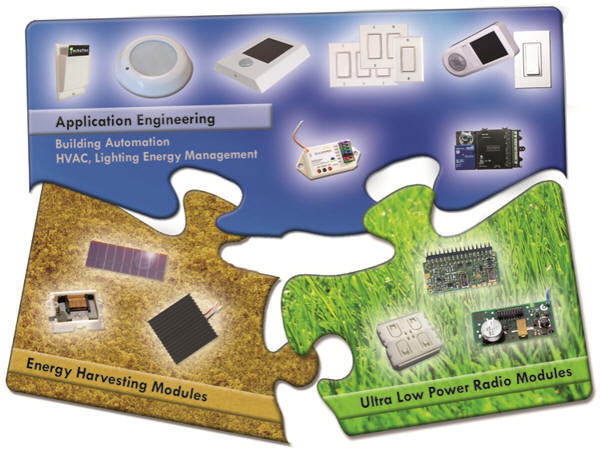 Figure 1. Wireless Energy Harvesting Controls
Low power radio modules, energy harvesting modules and application-specific engineering combine into easy-to-install sensors, switches, gateways and controllers.
Energy harvesting enables the generation of radio signals from extremely small amounts of energy. Using just 50 micro watts of harvested power, an EnOcean-based control can transmit a radio signal 1,000 feet (150 feet is typically indoors – through walls and ceilings). An important part of the patented secret is using short signal durations - the entire radio transmission process starts, executes and completes in less than one thousandth of a second.
3rd Generation Wireless Energy Harvesting
EnOcean recently released its 3rd generation suite of energy harvesting wireless modules. The modules are based upon the Dolphin ASIC, the world's first platform that supports self-powered two-way wireless communications, ultra low power sleep modes and the ability to self-power actuators such as water valves and air vents. Wireless building automation devices spend much of their time asleep; so EnOcean engineered the lowest sleep current in the industry (200 nA). Dolphin-based modules consume approximately 1/10th the power of common low power radio modules. The platform allows OEMs to create energy-autonomous controls able to draw power from multiple ambient sources, such as solar, linear motion and thermal energies.
EnOcean modules are often referred to as "application modules". The modules ship out-of-box with extensive firmware functionalities built-in – such as basic switching, dimming, measuring, etc. – and can go straight into an application without additional programming. EnOcean developed highly efficient methods of synchronizing sensors, supporting RF acknowledgments as well as integrated sensing / control functions. Application-specific functions reduce product development times and are embedded in each module; however, integrators can now also develop their own firmware using EnOcean's new Dolphin Studio – support software for custom firmware development, RF packet monitoring and C-based code sampling.
The new Dolphin platform conforms to the open, interoperable EnOcean Alliance protocol and enables manufacturers to rapidly develop solutions to suit today's "green" economy. EnOcean's Dolphin system architecture is backward compatible with earlier EnOcean products and installations. In addition to the introduction of new platform, the company has also further enhanced wireless capabilities with remote commissioning and wireless routing creating new opportunities previously not possible with energy harvesting. Dolphin-based radio modules are now available direct from EnOcean or through its distribution channels.
HVAC Energy Management
Radio waves are in the thick of the race to make buildings more energy efficient. The following reference building shows how integrators can reduce installation costs and recoup those installations costs via energy usage reductions over time.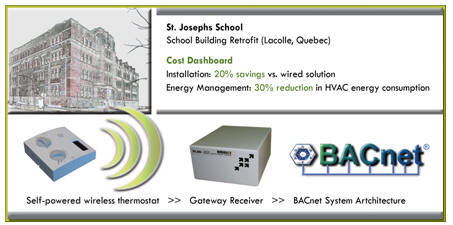 Example: Distributed Climate Control
Older buildings are often guilty of wasting giant sums of power. The United States Department of Energy estimates that 80% of buildings constructed prior to 1980 are energy-inefficient and do not house BAS. Additionally, older buildings often have little or inadequate insulation.
St. Joseph's elementary school in Lacolle, Quebec (Canada) opted to install EnOcean-based room temperature sensors in order to reverse the energy inefficiencies housed by their building. Prior to its renovation, St. Joseph's elementary school did not have localized temperature regulation. As a result, it was often too cold in one half of the school and too warm in the other -- depending on the intensity of the sunshine. This also resulted in very high energy consumption.
The school enlisted Regulvar (www.regulvar.com) to supply and install products based on energy harvesting and wireless technologies. Sensors were put in place in 28 rooms, using ambient light as their power source and requiring neither batteries nor external power supply. All room sensors are linked to a central BACnet system which controls the temperature in individual classrooms.
Speedy Implementation
The entire installation was carried out without interrupting school – a consequence that was deemed impossible to achieve using a cabled solution because of the need to break open classroom walls (duct work and cabling). The system needed to be setup and working prior to the start of the winter term.
Implementation of the system took just one week -- including installation of the central control engineering to monitor and govern energy consumption. The biggest challenge was the right positioning of the room sensors because the school has thick walls made of concrete and steel.
Choosing EnOcean's self-powered wireless technology saved the St. Joseph's elementary school 20 percent in installation costs alone. Additionally, the school expects significant energy savings from now on. "I admit we were a little skeptical about this new technology," says Christine Halpin, principal of the elementary school. "But now we're very glad we chose it. We have more comfort, plus we've cut our energy costs by a good 30 percent."
Lighting Energy Management
In the United States, buildings account for 38% of the country's CO2 emission and lighting accounts for 40% of the energy consumed by buildings. Buildings therefore present an important place to start improving energy management.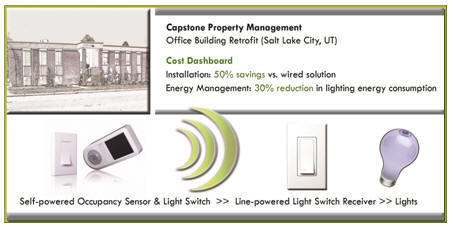 Example: Occupancy-Based Lighting
Capstone Property Management manages 4.5 million square feet of office building space. With mounting concerns regarding energy management and conservation, the firm elected to go green by simply automating lighting control in conference rooms based on a room's occupancy status.
The United States Department of Energy has identified occupancy sensors as being primary means for conserving energy. Leviton has answered the government's call for smarter electronics, but also added a new twist – in addition to the Leviton occupancy /PIR sensor being wireless – it is also batteryless www.leviton.com/wirelessos.
Installation
Because the controls do not require wiring or batteries, this installation was completed in just three steps.
Replace existing light switches with line-powered receiver light switches (wiring is the same as a standard switch).

Program the light switch receiver to respond to occupancy sensor and self-powered light switch. The devices are factory set to manual-ON, auto-OFF (custom to suit California Title 24) - no extra setup was necessary; however, an "auto-ON, auto-OFF" mode is also supported.

Mount sensors and light switch - anywhere! Since they are self-powered and wireless, the controls were mounted according to building owner preferences.
One challenge posed by this installation was that the conference rooms had no windows and did not receive any outside light. The occupancy sensor is powered using a small solar cell; therefore rendering the solution reliant on man-made light sources. Since the network operates in "manual-ON, auto-OFF" mode – this was not a problem. Each time the lights are manually turned on; a power station is effectively created providing ample power for the sensor.
The EnOcean Alliance
More than 120 automation solution manufacturers formed the EnOcean Alliance to promote sustainable buildings via batteryless and wireless controls. The Alliance is committed to interoperability through 1 wireless standard. Collectively, Alliance members have manufactured 300+ building automation products that are on the shelf today - more than any other wireless standard.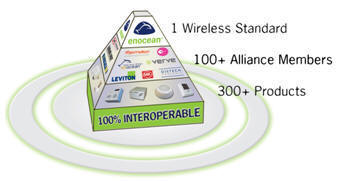 Interoperability is an important key to the Alliance's success:
Between Products – All EnOcean-based sensors and switches are interoperable – regardless of the manufacturer. For example, an occupancy sensor manufactured by Vendor A can communicate to a controller manufactured by Vendor Z.

Between Applications – EnOcean-based solutions support multiple applications (ie. a single wireless light switch can communicate to lighting systems as well as HVAC systems).

As Gateways & Interfaces (LonMark, BACnet, DMX, 802.11, TCP/IP Ethernet, KNX, RS-232/485 Serial, etc.)
---
About the Author
Bob Eckery, Marcomm Manager, EnOcean, Inc.
Bob has been a professional advocate for wireless technologies for the past eight years – managing technical documentation of the evolution of wireless sensor networks. Most recently, Bob's focus has been to document fiduciary developments and pragmatic payback of wireless system designs within the context of green building automation.

---


[Click Banner To Learn More]
[Home Page] [The Automator] [About] [Subscribe ] [Contact Us]