---

EMAIL INTERVIEW - B. Scott Muench and Ken Sinclair
B. Scott Muench, Vice President,
Marketing and Business Development
J2 Innovations
scottm@j2inn.com
Scott is responsible for global marketing and sales activities at J2 Innovations, with his primary focus on attracting new customers and establishing new business partnerships. He also plays a key role in the company's strategic planning and business development. Most recently, Scott served as Director of Sales and Sr. Applications Engineer for Tridium and for the last decade has been an active spokesman for the Niagara Framework community. Prior to Tridium, Scott has held various roles with a large System Integrator where he gained 10 years of experience in the building automation space.
---
J2 Innovation's Unified Toolset

A unified toolset for creating the User Experience across multiple client platforms ranging from desktop browsers to mobile and handheld devices.
Sinclair: Tell me a bit about J2 Innovations and what your company does?
Muench: J2 Innovations is an emerging software and technology company that has been around for over two years, and we specialize in helping provide the best UX (User eXperience) through our software tool called FIN Builder. We also created the core technology called the FIN (Fluid INtegration) for building a variety of software solutions ranging from GUI, configuration tools and appliances.

Sinclair: So what is FIN Builder and who can benefit from it?

Muench: FIN Builder is a comprehensive toolset that combines all the functionality needed to create what is traditionally called the GUI (Graphical User Interface) into a single tool. We have built-in graphic designer tools, drag-and-drop SI tools, and powerful programing "actions" for developers. We designed the toolset specifically for the System Integrator so that they can easily perform all three roles of designer, dealer and developer without having to launch multiple applications. We recorded 15 minutes of FIN Builder in action (fast forwarded it to about 2 minute clip), so you can see just how fast it is to make AHUs, Equipment, Central Plant, Dash Board, and Navigation to tie everything together. You can check it out on YouTube
http://youtu.be/oHhEwMwed6I
Sinclair: How is FIN Builder different from a graphics library or a dashboard application?
Muench: The System Integrator is now being asked to provide more content than ever before; navigation, floor plans, equipment graphics, 3D central plant schematics and dashboards. The expectations for the "look and feel" of graphics have also increased. FIN Builder provides the tools and the functionality so that a SI can quickly and efficiently create the complete solution. It was also designed to allow third party graphics libraries and existing job graphics to be seamlessly incorporated into the tool. FIN Builder can complement other web based dashboard applications by incorporating their screens into the FIN environment, creating a unified and custom user experience. You can check out a brief demo of creating a central plant on YouTube http://youtu.be/4Nhwy5tBLdA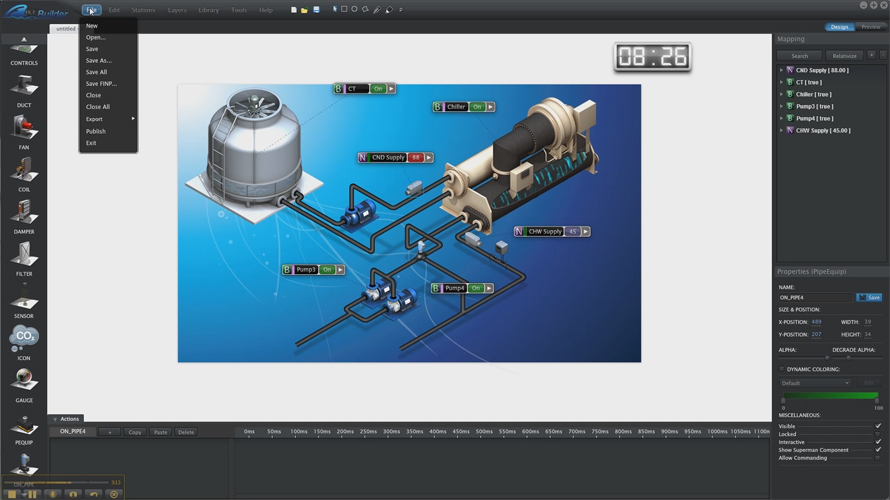 Sinclair: What changes do you see in the industry and virtual computing?

Muench: The consumer market has certainly been driving up customer expectations recently with the explosion of available mobile computing platforms and desire for "apps" to run on them. Back in the early 2000s the BAS industry was simplified by the advent of web based graphics. The ubiquitous browser running on your desktop provided us with a single program to manage a facility. Now 10 years later we have so many choices emerging for possible additional user interface platforms such as tablets and phones running; Apple iOS, Android, Blackberry, and Windows. Customers don't want to be dependent on their desktop workstations to interface with their facilities, they expect to be mobile and have their information anywhere, and on any device.

Sinclair: How does FIN tackle the challenge of all these new mobile platforms?

Muench: We took a comprehensive approach to creating a toolset that does more than just make GUIs for the browser, which is why we like to use the term "UX" or User eXperience. The core technology is designed to be client platform independent, which means that content created in FIN Builder can be rendered on any client device. This provides a user experience that can be on the desktop browser while in the office, on a tablet while in the field, and on a smart phone when taking a service call.

Sinclair: What are your plans going forward and what can folks expect to see at the AHR Expo in Chicago?
Muench: J2 is wrapping up our first engagement with a major OEM and we have also released FIN Builder to the BAS system integrator community. Our focus is now on expanding the features of FIN and creating additional "connectors" for data sources that can be brought into FIN. We currently can visualize Niagara data (via oBIX), so look for future announcements about BACnet IP, SkySpark and other IP connectors. We will have a booth at AHR where attendees can experience first-hand what FIN Builder can do for their business, and can even get a start-up kit to take home with them.

---


[Click Banner To Learn More]
[Home Page] [The Automator] [About] [Subscribe ] [Contact Us]