---
| | |
| --- | --- |
| Will Wireless Revolutionise the Building Control Industry? | Active Linkedin discussion |
This discussion is on our very active Linked in group

Billal Vindhani Director at Greenologic Leicester, United Kingdom

Do you think wireless technology will revolutionise the Building Control Industry? Please let me know your thoughts on this survey... Also feel free to comment on your experiences using the various types of wireless technology available in the market.
Some extracted colorful comments but be sure to read complete discussion

Its about Time! We Old timers have been looking for this technology now for over 30 years. It gives the ATC Contractor so many options with the installations, Flexability in placing sensors, stats, etc.; reduced wiring cost, more options when the customer wants to expand the BMS, and many more. I think its a Great Product for now and future System enhancements
As a veteran integrator and current commissioning agent, I believe there are enough risks in the controls procurement cycle (insufficient access to end-users, poor design, poor construction scheduling, rapid technology development, to name a few) that wireless technology should be given a very very critical look before proceding. At the very least, mandatory full disclosure of risks to owner needs to be part of the picture. Else one risks damaging the already fragile reputation of BAS in the built-environment.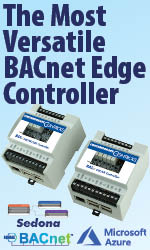 Revolutionise might be a strong word, but it will be of great impact and value to our industry. With any technology it has to go thru the ups and downs of the product maturity cycle. Wireless and people who can proficiently use it will have a significant advantage over those who do not. Yes there is the cost of the wire. In one job I did a number of years ago the electrician estimated about 7M feet of CAT5....wow that was a lot of wire and a significant cost. However I wonder how much pulling that cable was going to cost?
In a retrofit environment vs traditional construction; I would love any opportunity to manage my costs; both hard costs and soft costs. Now we're working at night, moving furniture, ceiling tiles (ultimately breaking 10% and paying for them), etc. Lets also remember that this is one of those technologies that can be easily misapplied and the implications can be costly.
Reading some of these comments, you clearly see some hesitation with the technology, but like it or not this technology will have great impact on our business in the future. I remember hearing, "this DDC thing will never last" and "pneumatics will always be there and be reliable".
Happy Holidays to you all!

---


[Click Banner To Learn More]
[Home Page] [The Automator] [About] [Subscribe ] [Contact Us]