---
Across My Desk


snippets, blog bits, and url links that are about to fall off my desktop

Founder, Owner, Publisher AutomatedBuildings.com
Follow AutomatedBuildings.com's board January Our Role in the Transformation
Every month there is a blizzard of information contained in the emails and newsletters that cross my desk on their way to AutomatedBuildings.com. Some of this information is not in the form of any type of content we can publish but I feel I should share with you these snippets, blog bits, and url links that are about to fall off my desktop.

COP21 boosting transition to a low-carbon built environment Buildings Day was marked by widespread understanding that green buildings are at the core of climate action, with potential to drive significant reductions both short- and long-term.

Top 10 trends for the intelligent buildings market in 2016 and beyond. The report examines the major market issues driving investment in intelligent building solutions, as well as the business case and opportunities associated with various intelligent building solution areas, such as building energy management systems (BEMSs), intelligent lighting controls, and HVAC optimization. Each of the topics in this white paper is examined more deeply in research reports from Navigant Research's Building Innovations Research Service and ongoing research.
The Fairhair Alliance envisions a future where building automation and lighting control systems utilize the Internet of Things and contributes to the realization of this future by providing IP connectivity solutions for resource-constrained devices to all interested application eco-systems, such as BACnet, KNX and ZigBee.
The ZigBee and EnOcean Alliances have entered a collaboration to combine the benefits of energy harvesting wireless solutions and the ZigBee 3.0 framework. By partnering, the organizations hope to create an open, global specification that will extend energy harvesting wireless communication to a broader range of self-powered IoT sensor solutions.
"Creating Transformational Value with the Connected Enterprise." The Automation Perspectives team framed the topics noting that the race is on to fully realize the promise of the fourth industrial revolution. While many challenges lie ahead, leading global manufacturers and industrial operators are laying the foundation for this transformation by converging information technology (IT) and operational technology (OT).
Internet technology and renewable energy are merging to create a powerful "Third Industrial Revolution." He asks us to imagine hundreds of millions of people producing their own green energy in their homes, offices, and factories, and sharing it with each other in an "energy internet," just like we now create and share information online.
"Adoption of a new way of seeing the world is one of the most difficult things to engender. Beyond simple intransigence, technical impedance, sunk cost thinking, fears and incentive mismatch, the dominant paradigms must be exhausted before people are ready to consider a new approach"
Digital Currency Summit a debate forum which objectives are to understand what digital currency means and its implications for banks, governments and investors. Payments, micro-payments and nano-payments between machines. Even bartering services could be possible. Hours of service of a particular device could be exchange for information provided for another one. Micropayment channels and nanopayments could be really useful in this scenario.

Block Chain Space is a focused startup accelerator for talented visionaries creating disruptive solutions to real-world problems using blockchain technology.
Blockchains are tamper-proof, immutable, time-stamped, transparent ledgers whose applications have the potential to improve many aspects of our lives. Accelerating startups to escape velocity!

Bill Lydon's Automation Perspective The Internet of Things (IoT) is creating a flood of new technology. As a result, the automation industry is fortunate to have an expanding range of technologies available to solve problems, improve operations, and increase productivity. Fundamentally, the IoT is the connection of uniquely identifiable electronic devices using Internet "data plumbing," including Internet Protocol (IP), Web services, and cloud computing. The flood of new technology can be overwhelming and will inherently create a desire to try many of them. The challenge is to sort out the options and keep focused on worthy automation goals.
Key aspects when considering network connectivity:
Range - are you deploying to a single office floor or an entire city? Data Rate - how much bandwidth do you require? How often does your data change? Power - is your sensor running on mains or battery? Frequency - have you considered channel blocking and signal interference? Security - will your sensors be supporting mission critical applications? Here is a matrix of common communication technologies that you can choose from including their tradeoffs.
The Building Energy Data Exchange Specification (BEDES, pronounced "beads" or /bi:ds/) is a dictionary of terms, definitions, and field formats which was created to help facilitate the exchange of information on building characteristics and energy use. It is intended to be used in tools and activities that help stakeholders make energy investment decisions, track building performance, and implement energy efficient policies and programs.

GSA and DOE Seek Innovative Building Technologies
GSA's Green Proving Ground (GPG) program and DOE's High Impact Technology (HIT) Catalyst have issued a joint Request for Information calling for innovative emerging building technologies that can cost-effectively transform the operational efficiency of federal and commercial buildings.
Axiom Exergy's Refrigeration Battery Helps Businesses With Large, Refrigeration-Based Energy Loads Reduce Peak Electricity Demand by up to 40 Percent by Intelligently "Storing Refrigeration"; With a Full-Scale Test System Now Complete at Its New Richmond Headquarters, Axiom Exergy is Gearing up for Its First Full-Scale Pilot Projects at Leading Supermarkets
Cisco is furthering their penetration into industrial applications. At their 2015 Global Editors' Conference, Cisco announced close partnerships with FANUC Robotics and Schneider Electric. The Cisco partner ecosystem now includes FANUC Robotics, GE, Panduit, Schneider Electric, and Rockwell Automation.
Omni has just passed independent BACnet testing and is now listed with BTL. This ensures Omni will be capable of being used with any existing or new Innotech or BACnet control system.
2015 Smart Building Wrap-Up Author: Rob Murchison & Tom Shircliff, Intelligent Buildings, Inc. In 2015 the smart buildings solution space paradoxically generated more excitement, more progress, and yet more confusion. The industry has clearly acknowledged the role of Information Technology (IT) in both existing and future development/management models, and we all know that our building controls run on IT. Hence, we have to manage both risk and opportunities inherent, most notably: Rising cost structure Skills gaps Increasing occupant demands
Cyber security Organizational misalignment Realcomm has tabulated over 130 viable, commercial smart building solution types and counting.

I'm no scientist... ...but I'm not stupid either.
Dec 2, 2015 1,763 views 327 Likes 58 Comments Share on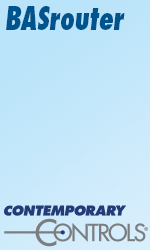 LinkedInShare on FacebookShare on Twitter
The environment and, more specifically, climate change are among the greatest challenges we face in the world (right up there with economic challenges, political instability, health, safety, and social inequality). In the last 140 years, our global temperature has risen 0.83°C. Two-thirds of the warming has occurred in the last 40 years, at a rate of roughly 0.15 - 0.20°C per decade, and the speed of temperature change is accelerating.

Digital Media Outlook for 2016: The Force Pervades :
This 12-page qualitative forcast describes the outlook and threats to digital signage industry growth, and further, provides commentary related to these key elements. The annual industry outlook by digital signage industry analyst, advisor and educator Lyle Bunn is one of the most popular downloads.

New CostLab 2015-16 Data is Now Available! CBRE The only online tool for facility benchmarking, budgeting, and life-cycle cost planning. Used by the world's largest property occupiers and management firms.
Automated fault detection for persistent energy savings in commercial buildings
---

[Click Banner To Learn More]
[Home Page] [The Automator] [About] [Subscribe ] [Contact Us]