---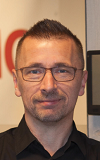 EMAIL INTERVIEW – Johan Schakenraad and Ken Sinclair
Johan Schakenraad, CEO of EasyIO Europe B.V.
Johan Schakenraad is the CEO and owner of EasyIO Europe B.V. He defines the strategic policy of the company and makes sure that the company goals are achieved. He has a proven track record in leading functions in the building automation industry. Because of his wide education and ever lasting energy, he made the foundation and growth of leading companies possible. All those years of experience in the industry led to a unique vision and with the foundation of EasyIO Europe in 2011. Johan chose a new direction creating a company that distinguishes itself from the competition, by doing things smarter and making sure its customers get a stronger position in the industry and deliver more quality. Trust, quality, people development, solid business ethics and leading-edge innovation are the five core values the Dutchman personally stands for.

His goal is never to be the biggest but to be the best. In Johan's opinion, small customers are as important as big ones. By bringing people with strong specialisms into the company, he made it possible to achieve great things with just a small group of people. He's never afraid to go against the grain because he believes things can be done differently.
---
The Rules Have Changed

EasyIO has been on the market since 2000 and is steadily getting more established in the building automation industry.


Sinclair: EasyIO controllers are using open source frameworks and technologies. Why was this chosen?

Schakenraad: For the simple reason people don't want to pay for software anymore. It should be open. If you look at the new generation of technicians now entering our industry, they are used to building their own websites with free, open source software and use Microsoft open standards. They also build their own applications, something that ten years ago we thought would never be successful. Now it's the main thing, and not only in our industry. Why? Because companies like Google, Microsoft, and Apple enable people to make their own apps, by using their open source software. We at EasyIO really believe that's the way forward. We are not here to dictate to people about what to do and how to do it; we are here to help people develop their own things. We do that by opening up everything that we are doing and using.

Sinclair: How do EasyIO controllers differ from other controllers? What makes them stand out?

Schakenraad: I think we are the only ones who include everything, at no extra costs. The industry is moving forward, every day new standards are born. We just implement those, at no extra cost. We follow the IT industry. Look at our CPT Tools, the software that is used to program our controllers. It's for free and freely programmable. Training to learn how to work with the tool is also free. With CPT Tools you can program BACnet, Modbus, SQLite, HTML5 and more. Can you find any other manufacturer in our industry that develops controllers which can be programmed with three different kinds of tools? You can use CPT Tools, but also the Niagara Framework or EasyStack / FIN Stack. Besides that, the attributes of our controllers are also expanded, with for example Wi-Fi and MQTT. Our controllers work as a broker when connecting small devices to each other.

Sinclair: In 2017 the EasyIO FW-series and FS controllers were released. What's special about these controllers?

Schakenraad: When we released the FG-series controllers, we soon realised that their attributes were never enough. People want controllers to be able to deal with huge amounts of data; they want speed and fast loading graphics. So we released the FG+-series, and now the FS. The FS is 30, maybe 40 times faster compared to the FG-series we brought on the market three years ago. For the same price, you get a lot more functionality.

The FW-series is a different story. Some time ago, we realised that many companies are losing their identity, and that's something we don't want. We want to be recognised, make sure that people like to buy from us and like to work with our products. Everybody is making more and more dumb IO, at a low cost, but with no features, and everything relying on the enterprise solution. So we thought: let's make smart IO for the price of dumb IO. It's another way of thinking, and we have done it with the FW-series.

Sinclair: What developments are in the pipeline for 2018?

Schakenraad: In the next few months we are releasing the FT-series, a very small IO-module that comes with a lot of features. You can program it with CPT Tools and Niagara, because we are going to include the Sedona Framework, in a tiny chip. But it also has Wi-Fi, BACnet, and MQTT. The FT-series make you ready for the Internet of Things, where it will be all about connecting devices and sharing data. I expect its release will create a big hype in our industry.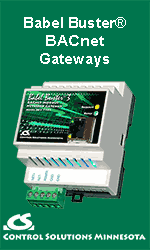 Sinclair: Is EasyIO ready for the future?

Schakenraad: With the FW- and the FT-series we are more than ready for the future. The chip we are using in the FT-series was designed by ourselves. It doesn't matter how small or how big the controller is, you can easily adopt new technologies with this chip.

When it comes to security, people are more and more worried about the risks. The good thing about using open source technologies, like we are doing, is that a solution is here before there is a problem. That's because so many engineers, all over the world, are developing these open standards.

Our enterprise solution is EasyStack, which is an open source development platform as well. It has a flat database, based on Haystack tagging, which makes it extremely fast. Compared to other solutions, EasyStack means you save more than half of the engineering time. The big and unique advantage of it for end users is that it doesn't matter where it sits. It can run on every edge or enterprise platform. BACnet and Modbus are standards available at no extra cost. It's also possible to create your own drivers for it, so it can talk with legacy systems. The user interface will always stay the same.

Sinclair: How can people learn more about EasyIO and their controllers?

Schakenraad: Of course, you can visit our website, which contains a lot of information, or you can follow us on LinkedIn, Facebook and Twitter. But the best way to learn more is by coming to our training. They are for free, and the reason for that is because we want to enable people to build new solutions, but also to develop in the existing industries. We want people to grow and build their own future because life is about people.

---


[Click Banner To Learn More]
[Home Page] [The Automator] [About] [Subscribe ] [Contact Us]