---
My Take IBcon 2016

Just returned from an amazing IBcon event in the silicon valley in San Jose.

Founder, Owner, Publisher AutomatedBuildings.com
Just returned from an amazing IBcon event in the silicon valley in San Jose. IBcon has grown to become the world's most comprehensive and leading edge discussion on the next generation of smart, connected, high-performance, green, sustainable, intelligent buildings. This event is not about the traditional one building, one system, one vendor smart building of yesterday, but rather the open architected, interoperable, integrated, IP, IT centric smart buildings of tomorrow.
Good job Jim Young, Howard Berger and Lisa Woods; a great shake up for our industry dragging us into the dynamic explosive energy that is silicon valley.
Great job on the opening act.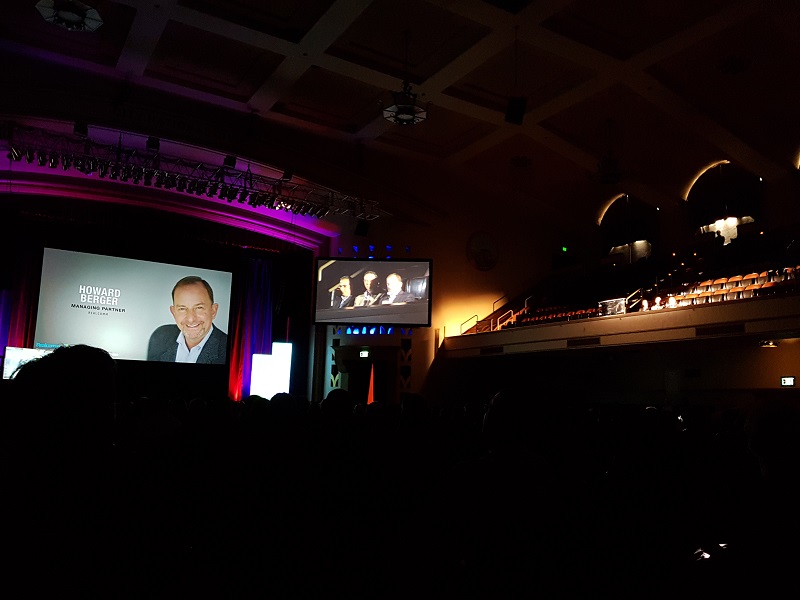 I loved this fun twist proving that center stage has nothing to do with physical location anymore as the opening speakers eventually appeared from the darkness of the balcony watching the show with us while projected in their augmented realities to the stage. A simple shake up message well done.
In my warped sense of humour it reminded me of those grouchy old men in the balcony after each Muppet show but they finally made it to center stage ....smile. Good fun and good twist to start an amazing show.
Then the show moved to center stage but an interactive drop and drag connection was there.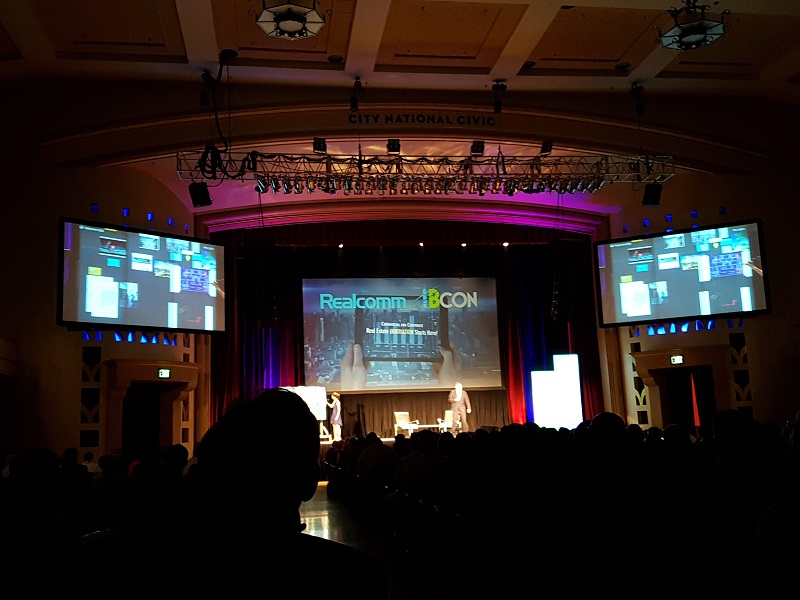 The Keynotes delivered several amazing diverse wake up messages. Listed below are their intros from the website.

Keynote: Global Real Estate – From Finance to Innovation – Things are Changing! Spencer Levy is Americas Head of Research for CBRE and a senior member of the company's global research team. He plays an integral role in the development and implementation of the worldwide research strategy and business plan. He also oversees the analytical activities of the CBRE research community within the Americas region and is responsible for the management of hundreds of professionals who are focused on producing market-leading insight and interpretative analysis on the latest real estate trends.

I particularly liked:
Keynote: Silicon Valley – Transformative Innovation and the Impacts to Real Estate

Cade Metz is a WIRED senior staff writer covering Google, Facebook and other Silicon Valley giants. Tracking the progress of visionaries such as Mark Zuckerberg, Larry Page, Sergey Brin, Elon Musk and others, he keeps in front of the Silicon Valley innovation that continues to change the world.

While recently covering the match between Google's Artificial Intelligence (AI) platform, Deep Mind and the Korean Go Master Champion Lee Sedol, in which the AI platform, "capable of mimicking intuitive thought," beat the human opponent four out of five times. Cade was able to observe and witness not only the technological breakthrough, but also the reaction of the world class technologists participating in the challenge.

AI, IoT, Blockchain, autonomous vehicles, virtual/immersive/mixed reality and 3D printing are just a few of the many new and transformative innovations being developed both in Silicon Valley and around the world and that Cade will be discussing at the Realcomm | IBcon 2016 General Session.

While many feel that these technologies are not realistic or too far out into the future to be concerned about, Cade's presentation will provide real perspective on not only the potential of these new innovations, but offer some speculation on the timeframes that we might see them make their way into everyday life.

Finally, the dialogue will pivot towards commercial and corporate real estate and how these technological breakthroughs might impact the way we manage and use space. From driverless cars and parking garages to artificial intelligence interacting with a company and its market data systems to predict the future and autonomous buildings that run themselves, this could well be the most forward looking real estate discussion of 2016. This is a conversation near and dear to Cade as his wife Taylor is a seasoned industry real estate technology professional and is a managing director with Redirect consulting.

Hoping to share more of this later as it become available.

More of the flavor of the event @ https://twitter.com/REALCOMMtweet and on twitter#IBCon2016
We were extremely pleased to work with Control Trends - Eric & Kenneth + Therese Sullivan, Principal,
BuildingContext Ltd our contributing editor, to cover this show. It was all we all could do to try to cover the many events occurring simultaneously.
Here are a few of our overview comments.

Welcome to IBcon 2016 from Silicon Valley — DAY 1 at the Smart, Connected, High Performance Intelligent Buildings Conference
Ken Sinclair, Automated Buildings and Therese Sullivan, Building Context joined Rob Allen and ControlTrends at the end of DAY 1 outside the San Jose Convention Center, where the Jim Young, Howard Berger, and Lisa Woods and the Realcomm team successfully launched the start of IBcon 2016. Pre-conference events that brought together some of the top visionary experts from around the globe to discuss the latest trends and technologies — and present the world's most advanced, next-gen smart building case studies. IBcon break-out sessions included the Information Systems & Smart Buildings CYBERSECURITY Forum; Intelligent Buildings Boot Camp; Smart Building Integrator Summit; Higher Education – Smart Campus Summit; CIO Roundtable; Sustainability Executive Smart Building Symposium; and Commercial Real Estate COO|CFO|CAO Innovation Summit.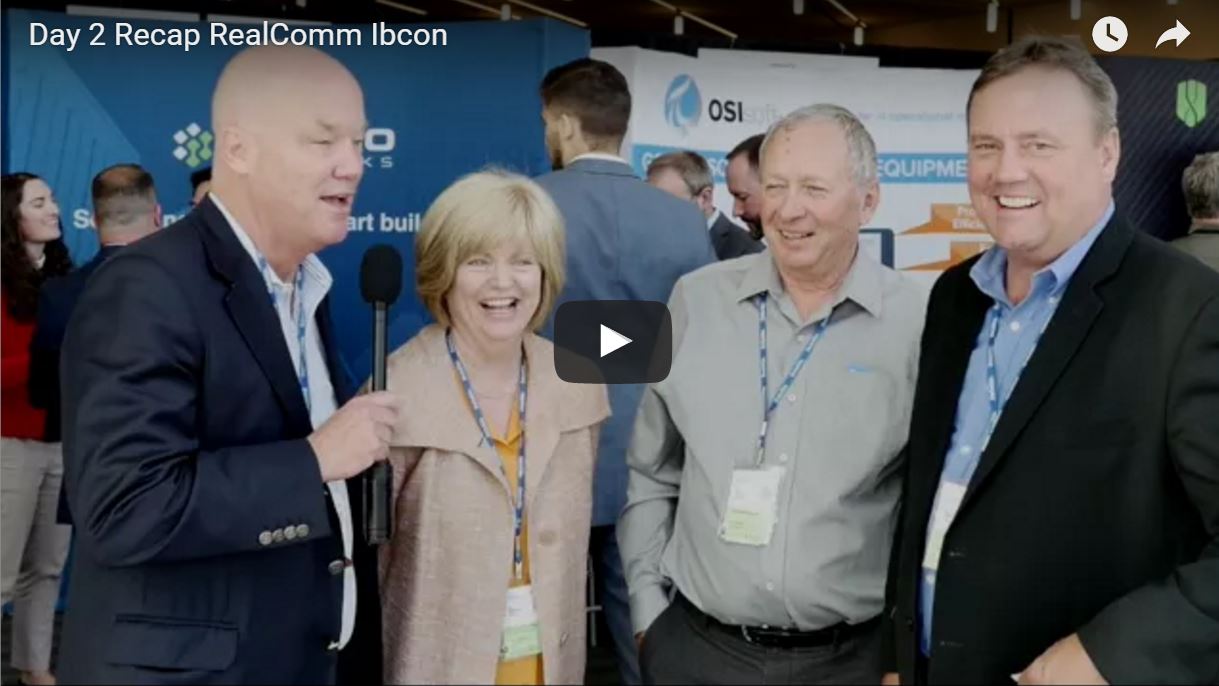 Published on Jun 23, 2016
DAY 2 at the 2016 Realcomm/IBcon Conference brought its innovation engines to full bore with industry thought leaders taking the stage at the Keynote Session and Conference Kickoff. Beginning with Spencer Levy's perspective on the future of global real estate, followed by a continuous salvo of industry insight: Commercial and Corporate Real Estate Innovation Starts Here; Global Real Estate – From Finance to Innovation – Things are Changing; 21st Century Collaboration; and culminating with the Keynote: Silicon Valley – Transformative Innovation and the Impacts to Real Estate and Silicon Valley Meets CRE. The Realcomm Networking Reception, along with the prestigious Digie Awards presentation punctuated a full complement of day-long breakout sessions featuring top executives from the most notable and steadfast companies in the world. Watch and listen in as Ken Sinclair, Automated Buildings and Therese Sullivan, Building Context join ControlTrends once again in summarizing some of the big take-aways from Realcomm/IBcon DAY 2.
DAY 3 at 2016 Realcomm/IBcon featured 47 of the world's most progressive and successful implementations of smart buildings, portfolios, and campuses. The showcase included: Shanghai Tower – Gensler; Kilroy California Portfolio -Kilroy Realty Corporation; RBC Waterark Place & Cisco Innovation Centre – EllisDon & Cisco Systems Controls; Sprint Corporate Campus – CBRE|ESI; The Edge (Deloitte HQ Netherlands) – InsideQ Building Automation Alliance HC RT; Newport Corporate Center – McKinstry; J. Craig Vetter Institute – Integral Group; and Australian National University – Airmaster; and many more.
Realcomm Conference Live: Meet Paul Oswald CBRE/ESI
JUNE 24, 2016 BY ERIC STROMQUIST
Ever wondered how life would be if your smart buildings systems integration company was acquired by one of the largest real estate companies in the world? I had a chance to catch up with one of the smartest smart buildings integrators on the planet, Paul Oswald, to find out. As a long-time system integrator, Paul merged his company ESI with CBRE, and is now known as CBRE/ESI. Hear what he has to say about how this merger changed his approach to smart building controls, as well as his thoughts on the new technologies on display at the 2016 RealComm/IBcon show.
Realcomm Conference Live: What is Intel doing in the Smart Buildings Controls Space?
JUNE 24, 2016 BY ERIC STROMQUIST

The last several years Intel has been showing up in force at smart buildings and building automation controls conferences. So, what is their play in our space? To find out I was lucky enough to have a conversation with one of the people in charge of Intel's smart buildings initiative, Sunita Shenoy, Intel's Director of Products, whose mission statement is: Fueling "Internet of Things" through Smart Building Solutions. Great interview and special thanks to Sunita — for giving us deeper insight to Intel's vision and product road map.
Eric and I were both nominees for the IBcon Digie Awards in the digital impact category but we were not the ones but we were the zeros....big smile. This proves that in a digital world the zeros are needed to give the ones meaning......bigger smile.

---


[Click Banner To Learn More]
[Home Page] [The Automator] [About] [Subscribe ] [Contact Us]