---
Buildings in the Age of the Climate Emergency



Here in Vancouver, it all started with the declaration of a "Climate Emergency" by our city council.




Brad White
P.Eng, MASc
President,
SES Consulting Inc.

Contributing Editor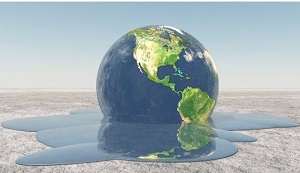 Decarbonization, Electrification, and Resilience are quickly becoming a common part of our lexicon as cities across North America and around the world start to take aggressive and urgent action to curb emissions from buildings.

There has been a slew of recent legislation from municipal governments targeting commercial buildings, both new and existing, with aggressive greenhouse gas (GHG) emissions targets. Here in Vancouver, it all started with the declaration of a "Climate Emergency" by our city council, joining over 400 other cities around the world. In response to this declaration, city staff developed a response plan consisting of six big moves.

In a city that relies primarily on burning natural gas for space heating and hot water, "Big Move" number 4 represents a seismic shift. While the details are still being sorted out, they will largely be modelled on the recently passed New York City Climate Mobilization Act that requires a 40% reduction in emissions from buildings over 25,000 sq ft by 2030, and an 80% reduction by 2040. In NYC's case, penalties for missing these targets will be $268/ton. At that price, adopting low carbon technologies for heat and hot water starts to become the cheaper option. With the onset of these regulations only a few years away, building owners are already starting to include steps toward aggressive emissions reductions in their capital plans.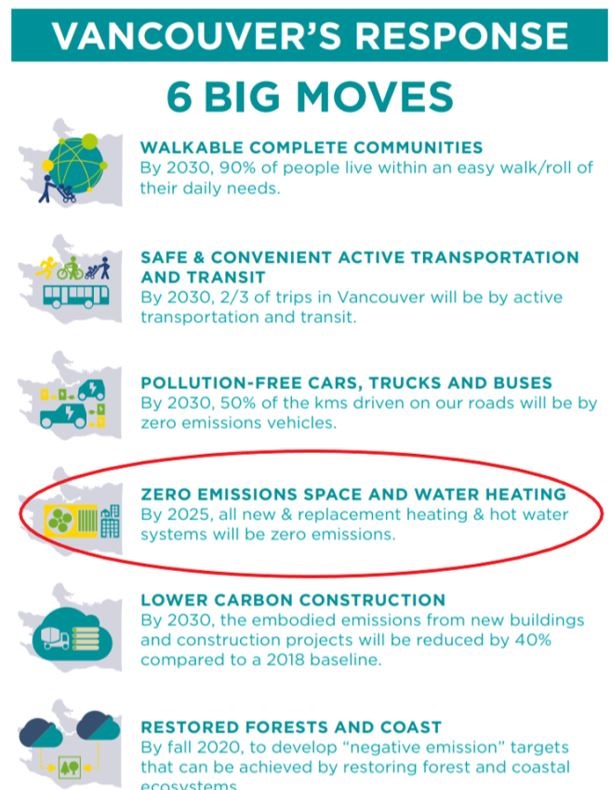 For example, Low Carbon Roadmaps are now an integral part of many of our energy audits. When achieving these targets requires the purchase of capital equipment expected to last 20+ years, 2040 isn't all that far away. While energy conservation measures remain an important aspect of reducing emissions from buildings, but we now need to go much further to identify the most practical path to eliminating the majority of emissions from building systems. The cost of avoided carbon emissions in $/ton is our new key financial metric, often trumping payback and rate of return.

Decarbonizing our buildings means electrification by and large. Alternatives such as biomass and renewable natural gas will certainly play a role as well, but for the vast majority of existing commercial buildings, the best path to zero carbon is by electrifying heating and hot water systems. Wherever possible, this will mean the adoption of heat pumps as a cost-effective use of electricity for heating. This shift is facilitated by the push to reduce the carbon intensity of our electrical grids dramatically. Just last month, New York State approved legislation targeting 70% renewable electricity by 2030 and carbon-free by 2050. Here in British Columbia, we have long been blessed with an abundance of low carbon hydroelectricity.
As anyone who works in existing buildings knows, each one is a little different. Similarly, we're finding the path to low carbon in each building is a little bit different. Heat recovery chillers have far and away from the best return on investment of any low carbon retrofit, and we see rapid adoption of this technology in facilities that have significant simultaneous heating and cooling requirements. Many high-rise commercial buildings can achieve 50% or greater reductions in fuel usage simply by capturing and reusing their own waste heat. In other cases, air source heat pumps (ASHP) are emerging as the best option. These can be particularly attractive in cases where a facility needs to add or replace cooling equipment and can make use of the ASHP for both heating and cooling. In these cases, the technology becomes both a means of mitigating, adapting to climate change, and improving Climate Resilience.

Climate Resilience has become a hot (no pun intended) topic here in Vancouver. While summer temperatures are not significantly higher than their historical averages (yet), other impacts related to climate change are starting to hit us especially hard. In the past, we Vancouverites could comfortably deal with summer weather by opening our windows. This becomes inadvisable when record-setting wildfires cause your air quality to rank as the worst in North America, on par with Beijing and Delhi, for weeks at a time in the peak of summer. My office now has a particulate matter sensor, and our staff have developed a finely tuned sense of how healthy the air is based on visibility from our windows. When we can no longer see the mountains on an otherwise clear day, we know we're into the unhealthy range. Clean air shelters, facilities open to the public that will have filtered air, are now a thing here. Two years in a row of dealing with this is already driving many buildings to install mechanical cooling systems and overhaul ventilation systems with high-efficiency filters in order to make their facilities more resilient to these events.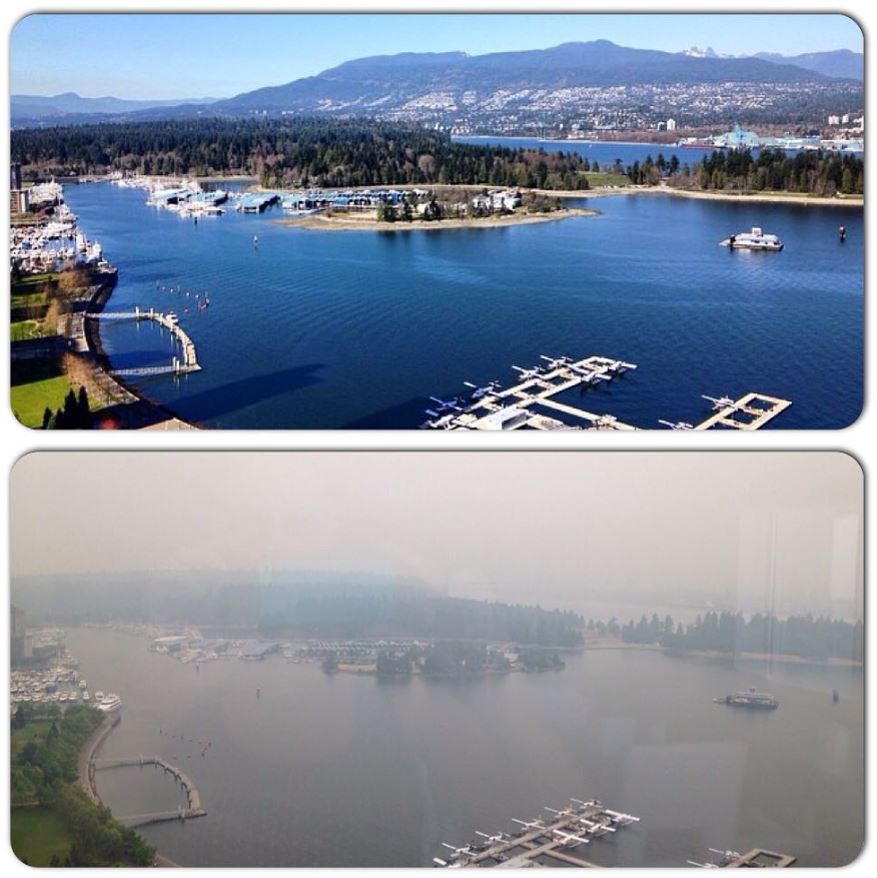 Thick smoke from record-setting forest fires has plagued Vancouver for large parts of the past 2 summers.

If you've made it this far in the article, you might be starting to wonder what any of this has to do with the automation industry; this is automatedbuildings.com after all. I think the main takeaway is this, decarbonization and electrification are happening now, and they mean more complicated building systems in a lot of cases. If you're replacing your boiler with a heat pump, you may need to run your building much of the time on significantly lower temperature hot water. To be effective, that sort of change requires highly optimized control strategies that are finely tuned to building demand. Electrification is also going to put new pressures on the electrical grid, meaning active load management and demand response are going to be critical as these solutions start to roll out at scale in the coming years.

This is all going to require that our industry is at the top of its game, with high demand for skilled practitioners capable of making these systems work effectively. Fortunately, this sense of greater purpose, which has often been missing in the past when discussing building automation, should also be effective in attracting the talent that will be needed to meet this challenge. To badly paraphrase that old Chinese proverb - In every (climate) crises, there is an opportunity.

Recent news: New York City declares a climate emergency, the first US city with more than a million residents to do so
---


[Click Banner To Learn More]
[Home Page] [The Automator] [About] [Subscribe ] [Contact Us]