---
The original open protocol may have been air. Although signals were sent to control devices, they usually did not return information. Pneumatic control allowed any controls manufacturer to install controls in an existing facility in a competitive fashion.











As technology evolved proprietary networks were the standard of the industry as network development was a high priority.
Integration has been a dream since the early 1990s. The ability to add different manufacturer's controls to existing systems would again be possible.
Even better, integration creates the ability to choose best in class as well as least expensive in class, cross discipline, cross manufacturer and bring them all to a common platform. With Linux web servers any browser will do. No more controls system upgrades to match the platform; just maintain the existing systems.
With the new technology our company has been able to integrate many of these systems and protocols. At several of our clients facilities we have lighting systems, VAV controllers, CO2, CO, propane sensors, energy and power monitors, heat pumps, packaged boilers, medical sensors, wall mount controllers and IP cameras to name a few.
The swing we are noticing is towards IT departments integrating the controls into their realm and controlling full facilities function. IT departments are beginning to see the value of these integrated systems if not only for monitoring and alarming their IT rooms and generators but as a subset equal in necessity to all of the information systems they maintain.
With Linux web servers and hardened security these servers are moving into the IT world and saying goodbye to the thick client "BAS" front end.
It's All About The Graphics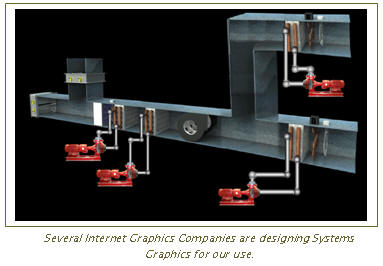 Rich Graphics Strong Features
Fully Animated Browser Based Graphics, Graphic Programming, Email Alarms, Trendlogs delivered to FTP site, RSS feed capabilities and all the features a first class system can deliver, with a Future.
Years ago we had several target facilities that were to be integrated. We wanted a powerful tool set that would allow us to easily map and raise information to the TCP/IP level where web pages would be the standard. The Host product we chose was Richards-Zeta Mediator®.
Since that decision, we have integrated countless LonWorks®, BacNet® and ModBus® products of different manufacturers into these facilities. Our latest project included Integration of a LonWorks® control system, packaged heat pumps, propane and CO parking system, packaged LonWorks® sensors®, Power Measurement Equipment, packaged boilers, LonWorks® lighting system and ModBus® temperature controllers into the Supervisory Host.
It's All About The Connections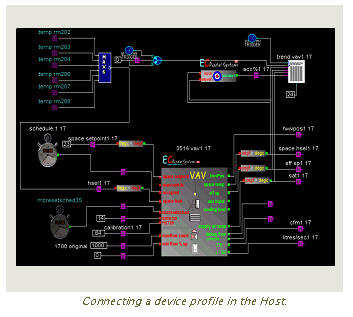 In automation software the process of programming is combining strings of functions with connections. Connections between parameters of functions and assigning points, to connect and form meaningful code that does real work.
In LonWorks® connections look more like virtual wiring as you connect system network variables (SNVTs) from one controller to another for instance, to form a Low select of temperature sensors . Forming these connections is time consuming and somewhat tedious at best.
Using Supervisory Host Tools the program is compiled and a set of connections is generated to connect to the Lon devices. All you need is the device XIF file and you can form a LonWorks® device profile in the Host.
The difference between a Supervisory Host Tool and LonWorks® is hub connections on the Supervisory Host level where all connections exist in the Host as opposed to the connections being inside LonWorks® between devices.
On our last project we had to combine the two disparate systems to create one system using the Host Supervisory Tools. Differing versions of LonWorks® were not compatible and could not coexist on the same network. We thought we would have to manually load all of our connections one by one on top of the existing system.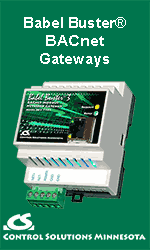 We found a company that offers a LonWorks software package capable of upgrading LonWorks Version 2 to Version 3.1. Other features include the ability to save LonWorks connections to text files where they can be modified and matched to the router segment they now belong to.
The software also allows more than one job file to be open at the same time. This allows for migration of one set of connections to be added to the other database to form one larger database. At the end of the day our last database had over 7500 connections. The site is now complete and we are moving on to the next phase, another Host Integration to a LonWorks® project on the same Campus.
Questions?
Write us at osh@ecdsi.com or visit our website http://www.ecdsi.com
Check out our Integration Demo at http://www.ecdsi.com/demo.php
---
About the Author
David Oshoway has been application engineer for companies such as Honeywell Ltd., Energrated Systems (Delta Controls), and Energetic Concepts Ltd for the past 18 years. With a strong electrical/mechanical background David has combined computer skills, database design, systems knowledge and engineering to move into open platform integration of building control systems, energy engineering and specification writing.
As the President of Energetic Concepts Ltd. David bases sales on negotiated jobs (request for proposals) and successful closure requires his people skills to be good. David has been self-employed for 13 years as Energetic Concepts Ltd. He sat on the board of governors for the Vancouver chapter of the Association of Energy Engineers (AEE) for 10 years, delivering building systems presentations to audiences of professional engineers at seminars as well as hosting booths at many trade shows in Canada and the United States.
---


[Click Banner To Learn More]
[Home Page] [The Automator] [About] [Subscribe ] [Contact Us]