---

EMAIL INTERVIEW – Jim Cahill and Manny Mandrusiak

Jim Cahill, based in Austin, Texas, is the chief blogger and head of social media for Emerson Process Management. His career includes roles in sales, product applications, alliance management, product management, and marketing communications. Before joining Emerson in the late 1980s, he began his career as a Systems Engineer with Conoco North American Production in New Orleans. Jim received an Electrical Engineering degree from the University of Texas at Austin and an MBA from the University of New Orleans.

---

Industrial Automation "Social Media Master"
I recently wrote an article, "Is Listening Online Worth Your Time?" (
http://jimc.me/hmlDa5
) for Valve magazine
Mandrusiak: Jim you have a huge reputation in the industrial automation world as the "Social Media Master". How did you get started with Blogging and Social Media for Emerson?
Cahill: The services side of the process automation business has grown in significance and importance over the past decade. About 7 years ago we were looking at ways to highlight the experts we had around Emerson Process Management who helped process manufacturers across the lifecycle of their operations—from upfront planning and design, to project engineering, commissioning, optimization, and ongoing lifecycle support. We decided a blog was a great way to share stories of our experts and make these stories easily findable to people using the search engines seeking help to the challenges they faced. Based on this idea and some internal selling of the idea through the Emerson organization, we launched the blog 5 years ago and have seen a steady growth in visits, subscriptions, and contacts.

Mandrusiak: I know that a lot of folks in the Building Automation Industry believe that Social Media Tools provide little value for them. Perhaps you could elaborate on some of the value that they have provided for Emerson?
Cahill: The value comes in making Emerson easier to connect with, which in turn leads to business opportunities. The posts are discovered, my contact information is there, and I help connect folks with the experts who can help address their challenges. The blog has also provided closer connections with members of our trade press and analyst community. These closer relationships can result in more PR opportunities, which help to increase thought leadership. I've also found that the relationships established with customers and prospective customers foster positive word of mouth, which is by far the most powerful form of marketing.

Mandrusiak: Where is a good place for someone who is new to Social Media start? I'm a huge Twitter fan myself, but I was curious what your thoughts are?

Cahill: Listening is a great place to start. I recently wrote an article, Is Listening Online Worth Your Time? (
http://jimc.me/hmlDa5
) for Valve magazine. Whether you are a company or an individual, it's a good idea to listen to what's being said about you, your brands, and your key areas of expertise. Some ways I share to do this include Google alerts and RSS search subscriptions, Twitter searches, and LinkedIn groups. Once you have a good feeling for the online conversation, your business objectives should drive your tactics. In our case, the blog was a great next step. In other cases, it may be very active participation in existing online communities. Or, it could be using Twitter to provide links to interesting content you think your audience would care about. The key in whichever path you choose is to give it sufficient energy. It can't be yet one more thing to do, but something you really need to do and commit the time and energy to do it well.
Mandrusiak – What Social Media Tools do you favor?

Cahill: For listening, Twitter and my RSS feeds and searches are tops. For building thought leadership, the blog is number one. For interaction, Q&A I like LinkedIn Groups and Facebook Fan pages. They are very different environments, but both very valuable in forming better relationships with folks interested in our company and brands.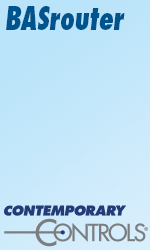 Mandrusiak: What effect have you seen from Emerson's Social Media efforts in relation to increase in brand awareness and product sales?

Cahill: In addition to the business opportunities I field on a daily basis from people who find me through the blog, Twitter, Facebook Fan page, and LinkedIn, our social media efforts have built thought leadership in many important areas. Some examples include process safety and wireless field networks. Having built this credibility over time has been instrumental in several large project wins.

Mandrusiak: As the Industrial Automation "Social Media Master" what parting thoughts would you like to leave those that are on the fence about how to effectively integrate Social Media into their marketing plans.
Cahill: I'd sum up my thoughts by saying that listening is an important first step and if you decide to participate in a greater way, make sure you commit the resources to be fully successful. Half measures are easy to identify by your audience and may end being counterproductive. Also, have clear policies (google IBM Social Computing policy to see a good example) to make sure those who participate know the rules of the road to stay out of trouble. Most importantly, let your natural personality shine through if you participate.

Mandrusiak: Jim I appreciate your time. If readers have any questions or comments for you where can they find you?

Cahill: Manny, thanks for the opportunity to allow me to share some thoughts. Folks can connect with me in LinkedIn
www.LinkedIn.com/in/JimCahill
and send me a message or visit the Emerson Process Experts blog and find all my contact info.
---

[Click Banner To Learn More]
[Home Page] [The Automator] [About] [Subscribe ] [Contact Us]