---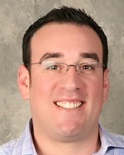 EMAIL INTERVIEW – Lee Odess and Ken Sinclair
Lee Odess, VP of Marketing, Brivo Systems
Lee Odess has approximately 14 years of experience in leadership roles and now drives the marketing and communications plan for Brivo Systems as the Vice President of Marketing, as well as the vision of Brivo Labs as the General Manager. He first served as Senior Director of Sales Operations Brivo Systems before moving into his current roles. Previously, he founded and was the President of energy + light + control, a local custom electronics design, installation and integration firm that was sold in 2012.

---
How Social Applications will Transform Building Management and the Security Experience

Ultimately, the whole point of creating social spaces is to empower them to take actions based on the ability to know, talk, and trust.

Sinclair: I've heard of the Internet of Things (IoT), but what is this growing trend called the Social Internet of Things (SIoT), and how is it different?

Odess: Social networks and social applications have become the single hottest growth category for both web and mobile technology. Social applications have literally transformed the way our society uses computing devices and have proven useful in real estate, navigation, family management, reviews, business networking, and news distribution.

There's a growing trend called the Social Internet of Things (SIoT). These are physical devices connected to social applications that let us interact with them in the same ways we interact with people—status updates, texting, group updates, checking in, posting photos—all that, with so-called "social things". Through the SIoT, we will be able to log into "things" with our social identity and based on our attributes the physical device will provide functions and privileges. For example, sign into a door, the HVAC goes to 70 degrees. On the other hand, if you have not been verified, a turnstile won't provide access or the lights won't turn on. All based on exactly who you are.

Sinclair: What if the physical spaces we manage could interact the same way as consumer products when connected to "social devices" and what if our buildings knew who we were and why we were there?

Odess: Social applications have found their way into our industry already, and they will continue to introduce some of the most sweeping changes we've seen since the introduction of IP technology itself. Some outcomes include:
Enabling a more participatory security process
Blending the security experience into business processes
Using your social identity as the identity authority by which access is granted or not
Improving real-time situational awareness
Creating more intuitive, less obtrusive interactions
Sinclair: Define the term, social spaces, and how will it change our management of public places?

Odess: Being social is mostly about how something interacts with the rest of the world. For our purposes, if something exhibits social behaviors, then it is social. People have a love affair and a relationship with places and structures like Wrigley Field or Times Square or the Louvre. Before technology like mobile phones, that relationship was one way, the spaces had no ability to communicate back, to be social. Now, they can and by knowing who you are they can customize the experience and the conversation. There are four key behaviors that help us define social spaces:

Knowing. Social spaces can identify and know their inhabitants, visitors, and any other people who interact with them. This knowledge is fundamental because social relationships are built on the concept of stable personal identity over time. How we are greeted, where we're allowed to go, and the assistance we receive depends on who we are and why we are there.

Talking. No communication, no social relationships. Social spaces will communicate with us through social applications. You could ask a social building to let you in, lock the door, or allow a guest to visit next Thursday—all without learning any new applications.
Trusting. Social relationships are based on trust, and trust is based on familiarity. For social spaces, trust is built up over time. At some point, our things and spaces will need the ability to operate more like we do, and learning trust is a big part of it.
Acting.
Ultimately, the whole point of creating social spaces is to empower them to take actions based on the ability to know, talk, and trust. For example, a social space could remember its past interactions with me, and change its way of dealing with me as it gets to know me better.
Sinclair: Are there social communications tools that can be applied to enhance safety at home and in the workplace?
Odess: Most definitely. We're seeing the emergence of social communications being used for personal and neighborhood safety in applications like Life360 and Nextdoor. Life360 operates at the level of the family, providing integrated messaging and location tools that give the entire family situational awareness about each other. If someone fails to arrive where they should be, or goes somewhere they shouldn't, geofencing algorithms trigger alerts that allow family members to respond. Nextdoor creates awareness across a private group defined by geographical proximity in a residential setting. In addition, wirelessly connected devices bring the Internet of Things to life through Bluetooth Smart technology.

Sinclair: How can social spaces technology provide a more frictionless experience?
Odess: Let's take visiting an office building as an example. It's fair to say that most encounters with building security are less than positive. Even in the most hospitable lobbies, the best you'll get is the stranger treatment and a clipboard. And when it's your building, everything about this user experience is turning off your customers. How do we make this experience more frictionless, even, enjoyable?
A truly social space could be set up to know in advance who will be visiting. With that information, the guest could be welcomed by name upon arrival, rather than being treated like a stranger. By using a mobile credential or pass sent in advance, registration and badging could be as simple as scanning the invitation. The social space would then use a preferred social network to tell your hosts you've arrived. Your credentials could also include access to the restroom, free refreshments in the break room, and complementary parking—whatever you wish to give to your visitor. Compared to today's baseline experience, this whole scenario shows the transformation of an impersonal security experience into a welcoming customer experience.

Sinclair: Are social spaces here now, or where are we in realizing this vision?

Odess: Social spaces aren't exactly here yet, but many pieces of the puzzle are coming together right in front of our eyes: mobile phones for identity, wearable computing devices, social applications that interact with cars and various appliances, beacon technology being widely installed, and the growing acceptance of social applications for business. Most important are APIs for cloud-based social platforms, such as the SAM platform, which brings social spaces to life. We've moved the individuals' identity to the center of the interaction. It's no longer about the badge or the ticket. It's about the person. We've brought together identity and physical access management to make this possible wherever you go.
Like many other technologies, social computing will move into security and building management slowly at first, then become pervasive, and finally it will leave us wondering how we ever did without it. For those having any doubts, it will soon be time to get out of the way.

---


[Click Banner To Learn More]
[Home Page] [The Automator] [About] [Subscribe ] [Contact Us]