---

EMAIL INTERVIEW – Marc Petock and Ken Sinclair
Marc Petock, Vice President, Marketing, Lynxspring, Inc.

---
Lynxspring and Connexx Energy - our involvement Realcomm/IBcon 2014

Not only will we be exhibiting, we will also be featured speakers in some of the conference break-out sessions.


Sinclair: I see you are a sponsor and are participating at Realcomm/IBcon. Tell me about your plans?

Petock: Yes, we are very excited to be part of this event again. We will be there with both our Lynxspring business and our Connexx Energy business. Not only will we be exhibiting, we will also be featured speakers in some of the conference break-out sessions including Smart Building Cyber Security-55,000 Vulnerable Buildings & Counting, Smart Building Market Overview -What Does the Next Few Years Look Like and Energy Management versus Building Automation –Understanding the Differences.

In addition, we are participating in developing and delivering the "Smart Building Integrator Summit", a 1/2 day pre-conference summit and workshop for system integrators and consultants. The Smart Building Integrator Summit will provide an insightful and relevant educational curriculum focusing on best practices as related to IT, Analytics, Data Visualization, Cybersecurity, Data Governance, Client Intelligence, Network Design and Legacy System integration
Sinclair: On the exhibit side what are you be showing and exhibiting?

Petock: Lynxspring will be demonstrating our latest version of the JENEsys Building Operating System, our open, building operating system that combines connectivity, integration and interoperability, supervision and control, energy management, visualization and actionable information (data & analytics) into a single, integrated architecture within a cyber-secured environment. In addition, we will be showcasing LYNX CyberPRO, the industry's first cyber-threat protection solution designed specifically to protect building automation and energy management systems.
Connexx Energy will be exhibiting Connexxion™, our new DaaS (Data-as-a-Service) Enterprise Energy Intelligence and Operational Solution that combines SkySpark and a comprehensive set of
services with connectivity, integration and cyber security that enables users to deploy optimal energy and facility operational strategies, capitalize on accurate and concise intelligence relating to the performance of their facilities. For building owners and operators it allows them to host an energy analytic application themselves and receive operational data that helps them identify opportunities to reduce energy consumption and cost, operate their facilities more efficiently and at peak performance levels.

Sinclair: Cyber security continues to make headlines in the news. What is the latest?
Petock: Cyber threats and vulnerabilities are continuing to make headlines within our industry and be a major issue. Cyber threats against the building environment are more frequent and increasingly sophisticated and our systems and devices are targets and vectors into the network. There's no issue that has become more important that's less understood than cyber security in buildings and facilities. Protecting our facilities from cyber threats has as much to do with supply-chain integrity as it does with any encryption, authentication and the secure remote access of devices. Scrutiny of firm's cybersecurity policies is only going to increase in the future. Cyber related issues play a growing role within our building networks. The number of attacks continues to rise and we are seeing the level, sophistication and intensity of cyber incidents continue to increase. Cyber-attacks are no longer focused solely on IT environments. Cyber invaders have turned their attention to operational technologies and our building networks and infrastructures. Never more so has there been a need for system integrators to also become trusted cyber security provider and advisor on the systems and integrations they do. System integrators are crucial in helping customers protect against attacks. As building owners look to make better decisions about risk and liability security providers today's system integrators need to be knowledgeable in making sure their systems are protected. Want more on the latest on cyber security, check out LYNX CyberPRO's news room at: http://lynxcyberpro.com/company/newsroom and the Download Center for White papers and resource materials at: http://lynxcyberpro.com/support/white-papers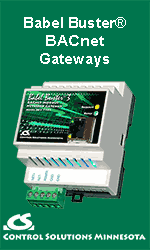 Sinclair: I see that Project Haystack is an industry sponsor. Can you tell me more?

Petock: As a supporter of Project Haystack, we are excited to announce that there will be a session devoted to Project-Haystack at IBCon entitled "Project Haystack – A Smart Building Industry Initiative to Create DATA STANDARDS"
For those new to the topic, Project Haystack is an open source initiative to develop tagging conventions for equipment data to enable it to be easily consumed and understood by software applications. The session will provide attendees with an introduction to haystack -- what it is and why it's needed, and will then include presentation by companies who will share their experiences, the benefits they have seen and why they are now strong supporters of the effort.
The session will be moderated by John Petze, one of the founding members of the Project-Haystack effort and I have heard he will make an important announcement about the Project-Haystack effort at the session. I will leave that to him though.

---


[Click Banner To Learn More]
[Home Page] [The Automator] [About] [Subscribe ] [Contact Us]