---
Documenting Productivity and Well Being

Health, Wellbeing, & Productivity and the 3-30-300 rule and is a good fit with IBcon, San Jose.

Founder, Owner, Publisher AutomatedBuildings.com
Our June Theme is evolved around New Measured Variables; Health, Wellbeing, & Productivity and the 3-30-300 rule and is a good fit with IBcon, San Jose.

The 3-30-300 rule There is a "3-30-300" rule of thumb that organizations typically spend approximately $3 per square foot per year for utilities, $30 for rent and $300 for payroll. While these figures are just archetypes, they are useful in providing an order of magnitude between the three areas of expenditure. According to the 3-30-300 model, the greatest financial savings from greening a workplace may not be in energy but in productivity. A 2% energy efficiency improvement would result in savings of $.06 per square foot but a 2% improvement in productivity would result in $6 per square foot through increased employee performance. As beneficial as energy savings can be, any green investment that increases employee wellness and productivity can have exponentially greater value.
This was extracted from Green + Productive™ Workplace pdf discussing an online application focusing on measures that balance sustainability with employee wellness, comfort and productivity.

There was lots of talk at both CABA and Lightfair San Diego about how we need to tap the 300 not the 3. Seems obvious, correct? + millennium folks the new clients for our buildings need to touch and feel the sense of wellbeing. They are moving from coffee shops, libraries, mom's basement and they are not going to work in a cubicle with no control over everything that they have control of now.
Health, Wellbeing & Productivity in Offices
This report proposes a simple, high level framework for measuring organizational outcomes and relating those back to the physical features of buildings and employee perceptions.
Staff costs, including salaries and benefits, typically account for about 90% of business operating costs.
Occupant health outcomes
The physical office factors influence the health of occupiers (health outcome) which can be measured or evaluated.

Health

• Headaches
• Eye strain/damage
• Skin irritation
• Infections
• Fatigue
• Seasonal Affective Disorder
• Asthma & breathing disorders
• Stress & depression
• Other physical complaints,e.g. back ache
• Other serious disorders,including cardio-vascular etc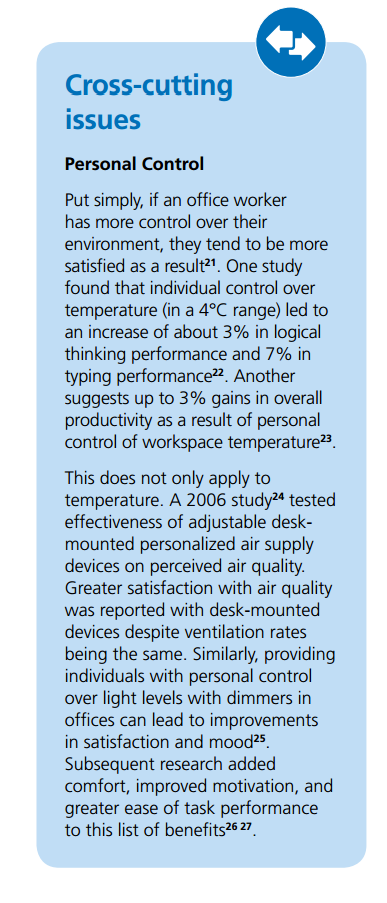 Occupant wellbeing and perception outcomes
Health is an important element of wellbeing, but an occupant's sense of wellbeing is also comprised of their perception of numerous factors, including how productive they think they are:
• Perceived physical health
• Perceived psychological health
• Perceived productivity
• Perceived office environment
• Perceived organisational culture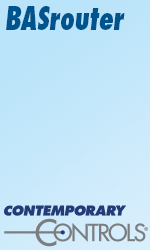 Organisational or financial outcomes

The office environment can have a direct impact on occupant productivity, in which health and wellbeing is often a compounding factor. This 'outcome' for the organisation can be measured or evaluated in the following ways (not exhaustive), all of which have financial implications for the employer.

Productivity

• Absenteeism
• Presenteeism
• Staff turnover/retention
• Revenue
• Medical costs
• Medical complaints
• Physical complaints
• Task efficiency & deadlines met
Looking forward to catching up with lots of folks at IBcon to discuss this new opportunity.

Be sure to catch up with our advertisers at IBcon that are exhibiting there.

http://www.realcomm.com/ibcon-2016/current-exhibitors.asp
Your can find more resources here on our pinterest board.
Well Being in Buildings
Our new tools of social engagement allow us to rapidly and continuously quantify as never before the measured variables of "Satisfaction" and "Well Being" in our buildings.

https://www.pinterest.com/kens0684/well-being-in-buildings/

---

[Click Banner To Learn More]
[Home Page] [The Automator] [About] [Subscribe ] [Contact Us]