---
| | |
| --- | --- |
| IP Video Technology & Narrowcasting | Ken Sinclair |
1-2-1VIEW Digital Signage Retail Case Study: Siam Centre & Siam Discovery, Bangkok
I received a pdf in an email from 1-2-1View who's Home Headquartered are in Hong Kong and with offices throughout Asia











1-2-1VIEW™ Corporation has developed a groundbreaking digital signage and media management system with unprecedented one-to-one targeting and real-time effectiveness measurement capabilities. Aimed at outdoor advertising network operators and facility owners such as retailers, shopping malls, convenience stores, restaurant chains, public transport organizations and government agencies, 1-2-1VIEW™ unlocks the revenue potential of their assets and maximizes promotional impact.
Based on advanced IP video technology and built on a proven consumer electronics platform, 1-2-1VIEW™'s turnkey hardware/software solution operates reliably 24/7 and is highly scalable over a large number of screens in diverse locations.
1-2-1VIEW™ Corporation is part of BNS Corporation, a leading IPTV technology and solutions provider in the Asia Pacific region with offices in Hong Kong, Beijing, Seoul, Taipei and Tokyo. Go to the BNS website. http://www.bnsltd.com/eng/index.asp
More from their web site
About Narrowcasting
Narrowcasting describes the transmission of information, programming, or advertising to a highly targeted, or narrow, segment of the public at scheduled times. It is the opposite of broadcasting which is directed at the entire viewing public.
Compared to traditional media, narrowcasting has some major advantages, such as lower production costs, greater flexibility, and more attractive, innovative and attention-grabbing visuals.
Cutting through the clutter
Today's abundance of product variety in a visually saturated environment poses major challenges for advertisers in their quest to reach target audiences and get their message heard. For a medium to be effective in this environment, it must provide instant and precise campaign measurement and the delivery mechanism is the ultimate key to a successful campaign.
For operators, using narrowcasting via public displays, usually close to the point of purchase or service, has emerged as an ideal advertising delivery mechanism
Applications
Whether you require Public Displays in shopping malls, airports or train stations, Small Screens in a one-on-one setting, such as in train seat backs, or Interactive Kiosks, 1-2-1VIEW™ is the ideal solution for any electronic display needs.
Siam Centre and Siam Discovery, Bangkok, Thailand
Siam Centre and Siam Discovery are two of the most well known shopping malls in Bangkok. While the complex has undergone numerous refurbishments and updates, it needed to differentiate itself against the various shopping malls that have sprung up in the neighbourhood in recent years.
The owners' vision was to transform the mall, along with neighbouring Siam Discovery, into a dynamic "Magical Glass Box" that offers the latest in fashion and lifestyle to attract the young and trendsetting shoppers the owners are targeting.
1-2-1VIEW™'s advanced IP-based multimedia digital signage system that is scalable, targeted and accountable and allows flexible remote content management across two connected sites.
Click here to download the full case study in PDF format:
http://www.121view.com/application/case.asp#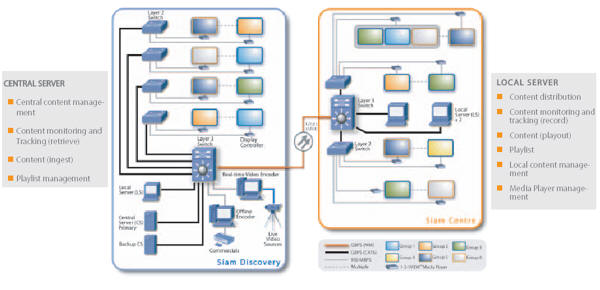 ---


[Click Banner To Learn More]
[Home Page] [The Automator] [About] [Subscribe ] [Contact Us]