18 February 2006 • Tianjin, China
The Chinese arm of KMC Controls, known as KMC Development Co., Ltd., held an extremely successful conference on this day, attracting scores of consulting engineers and specifiers in this important economic development region. The Teda International Hotel in Tianjin served as the conference venue.











Richard Newberry, CEO of KMC Controls (USA), was in attendance as was Charlie Shum, Managing Director for KMC Development (Tianjin) Co., Ltd.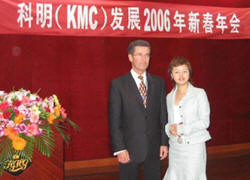 Mr. Newberry expressed a good deal about the company's commitment to the Chinese market and provided insights on continued product development. Among other things, he stated: "Our passion is to create products of the highest quality and provide them at the right price and with the best support services. Meeting the needs of the marketplace here in China is one of our highest priorities. And we are pleased that our automation systems have been embraced so well here."
Supporting that last statement, a representative of Qianjia.com, was on hand to announce that KMC had been ranked 4th in a list of leading building automation suppliers in China. Qianjia.com is a premier industry internet site devoted to home and building automation issues and news. While the listings can change each month, KMC has consistently held that ranking.
(Richard Newberry and a representative of Quianjia.com)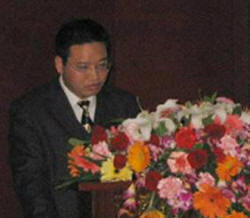 (Huo Xiaoping)
Another significant speaker at the event was Mr. Huo Xiaoping, General Manager of Shanghai Integrated Technology Co., Ltd. He related the energy savings that had resulted in some significant projects that utilized KMC controllers, including some extremely large VAV installations. He was followed by Miss Yu Hui, Training Director of KMC Development Co., who presented details about the systems integration capability of KMC proprietary and BACnet systems.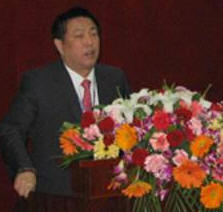 (Charlie Shum)
Mr. Charlie Shum presented the closing remarks, outlining the cooperative relationship between KMC Development (Tianjin) Co., Ltd. and KMC Controls, Inc. (USA) and the continued commitment to excelling in the Chinese market.
While this conference targeted the engineering community, future events will look to attract building owners and managers as well as developers.
About KMC Controls:
KMC Controls (formerly Kreuter Manufacturing Company; www.kmccontrols.com) has been designing and manufacturing HVAC controls and building automation products for over 35 years. KMC remains the only privately held controls manufacturer with a full line of pneumatic, electronic, and digital products. KMC maintains regional sales offices throughout the U.S. and is represented by value-added, authorized installing contractors and wholesalers throughout North America as well as authorized distributors worldwide.