---

EMAIL INTERVIEW -
Danny Yu & Ken Sinclair
Danny Yu, CEO of Daintree Networks
Danny Yu brings 20 years of leadership and growth experience in lighting, communications, enterprise infrastructure, and semiconductors. He is currently the CEO of Daintree Networks, a pioneer in wireless mesh networking and standards-based lighting controls. Prior to Daintree, Danny was Vice President of Segment and Strategic Marketing at Philips Lumileds where he led global marketing, business development, and product definition for Solid State Lighting segments. Danny earned a BS in Mechanical Engineering from Stanford University and an MBA from the UCLA Anderson School.

---

Open, Interoperable Lighting Controls
We strongly believe that by utilizing open and interoperable industry standards, the lighting controls industry can overcome the key issues that have kept large-scale solutions from being widely adopted.

Sinclair: How is Daintree working to make intelligent wireless lighting controls pervasive?
Yu: Daintree Networks has recently announced the ControlScope Connected partner program. Through this program, Daintree works with lighting vendors to build or integrate wireless networking into their lighting controls products, using the ZigBee wireless standard for communications. As part of the program, we ensure that products from a variety of vendors can all communicate together wirelessly in a large-scale lighting control network – wall switches/dimmers, occupancy and photocell sensors, ballasts, LED drivers and more. This enables interoperability and future-proofs customer investments in lighting control retrofits, while increasing the potential customer base for each partner. Our partners also receive access to technical and design assistance, as well as ongoing sales and co-marketing opportunities.

History has proven, throughout IT markets, that interoperability has the power to grow industries. We strongly believe that by utilizing open and interoperable industry standards, the lighting controls industry can overcome the key issues that have kept large-scale solutions from being widely adopted.

Sinclair: What does this program mean for building owners and facility managers?
Yu: For buildings looking to implement a retrofit lighting control solution, the introduction of the ControlScope Connected program further showcases the benefits of choosing a wireless and standards-based solution. In a retrofit process, many buildings are looking to integrate a lighting controls solution while retaining some of their existing infrastructure, not completely redesign and replace their current setup. Because of the interoperability between vendors, customers can continue to work with the products and vendors they are most comfortable with while still gaining the benefits of wireless controls.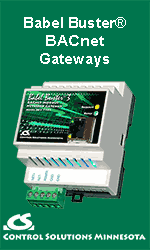 Sinclair: Are you seeing any change in governmental policy/direction that points to an increase in importance of energy efficiency measures?
Yu: President Obama's recently-announced Better Buildings Initiative is a great example of this progress and an important step in establishing national policy to drive energy efficiency in the commercial building sector. This program would solve a big challenge for companies that want to green their facilities, by adding a national incentive to the currently fragmented approach of individual state-based programs. Building automation and lighting controls are proven technologies that can cut commercial energy consumption significantly, thereby reducing operating costs while also adding more granular control, better energy management capabilities and more.

Sinclair: What type of effect do you think policy like this will have on the industry?
Yu: Hopefully, having stronger national policies in place will provide the incentive to meet the strong desire within the commercial building arena for greater energy efficiency retrofits. Many older buildings, commonly in need of the most upgrades, have faced barriers to all but the simplest energy efficiency measures. Daintree Networks has worked to decrease both costs and time with our ControlScope wireless platform for energy-efficient lighting controls. With the governmental push, I would suspect to see increased innovation among companies. That, coupled with the incentives laid out in the President's plan, has the strong potential to meet pent-up demand across the industry.

Sinclair: What innovations are needed to ease adoption?
Yu: More than innovation, the industry as a whole needs to move towards standards-based and interoperable technologies. By exponentially increasing the options available, the introduction of choice across platforms will also reduce costs and is an important step in the transition of lighting controls, demand response and other energy-management technologies into mainstream and large-scale market adoption.



---


[Click Banner To Learn More]
[Home Page] [The Automator] [About] [Subscribe ] [Contact Us]