---
Getting Started with Social Media for Business – Part 2

Understanding what Social Media tools can benefit Building Automation

Manny Mandrusiak
Managing Creative Consultant,
4 Bravo Marketing

Last month's column gave readers a place to start in the world of Social Media and that is often the hardest thing to decide. With so many Social Media programs and Apps out there it can easily be overwhelming, so to summarize that last article, I recommended starting with: Twitter, YouTube, and LinkedIn. After all, content is king to Google in the year of the Panda and these three tools will enable building companies to start building followers while showcasing podcasts, videos, white papers etc.

I received a lot of mail from the last column from people asking me about other Social Media platforms. How do they relate to Building and Industrial Automation. Why didn't I talk about them? The short answer is that I selected the three that I felt were the easiest to establish, maintain, and feed existing content to. There are many tools in the toolbox and I suggest using as many as you can. Just ensure that there is a good understanding of what each one is, and does. I came across a great JPEG that really breaks down some of the most popular Social Media programs into exactly what they do. I've adapted it here for Building Automation: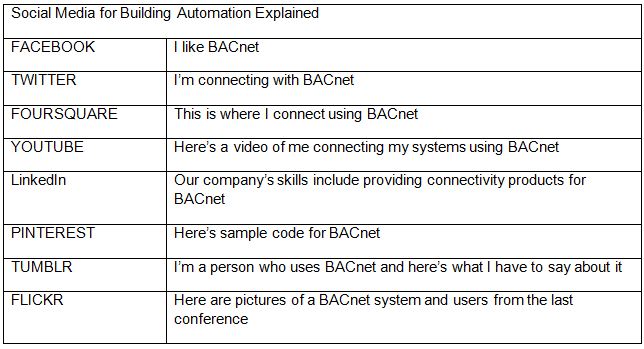 The world is becoming very Social, and to stay competitive companies need to go Social or get left behind. To provide a good example of how engaging Social Media is one simply needs to turn on a television. Watch any one hour of TV and pay attention to the commercials. One that I like is the Brisk Ice Tea commercial marketing Brisk's new Star Wars Light Saber App. Putting aside great animation if you look at the call to action in the commercial it wants you to download the App not from the company website but from Facebook. Why? We are all becoming more Social and someone who downloads the App will no doubt share it with their network of friends. I have 447 friends in my network from all over the world. With a simple click I can share the link for the Star Wars App and it is instantly shared with my friends. Who will share it with their friends, etc. The beauty of this type of viral marketing is that Social Media is not locked into someone receiving the message about the App only when they are sitting at a computer. Wireless devices and smart phones are the main targets from this type of marketing. My friends can be anywhere in the world doing anything and still receive the message. This is an extremely powerful feature of using any of the Social Media platforms listed above. The desired message can be sent, and then resent and is only limited by the number of people in the combined friend networks.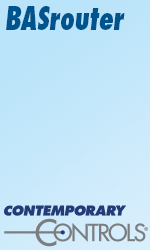 I'll explain a little further. When I was filling technology seminars for the OPC Foundation and PI International I relied on email mailing lists that sent my HTML based messages at scheduled times to get people to register for the events. I had to continually refine the positioning of my message to ensure that my message was interesting enough to get read over the 1000 of other emails that people found in their inbox. It was successful, but now the same effect can be achieved by incorporating Social Media. By properly creating a decent Twitter following of say 600 followers I can send that same message about registering for the seminar as a Tweet. There is a Twitter application designed for every smart phone and tablet on the market today. People are twice as likely to stop to read a Tweet than they are to read an email that comes to their phone. If they liked the Tweet about the seminar it is very easy to Re-Tweet it to their followers. This is part of the addictiveness of Social Media. It creates within the user the desire to make posts. To voice opinions, and to point out when they like something. If the message in the Tweet is good about the seminar an engineer on Twitter may easily Re-Tweet it to the 500 other engineers following on Twitter. The medium enables the message to work for you, rather than only get sent once.
It does not matter what Social Media Program a company starts with. The important thing is to take that first step toward expanding your customer base by effectively using the popularity of Social Media to work for you, and not against you. Stand in the Food Court of any mall anywhere in North America and just start counting how many people are using Smart Phones and tablets. Then ask yourself how do they get your message? The answer is obvious, and easy to get started. It all starts with one-click to change the way your company reaches potential customers. The power to reach them exists, and the results are only limited by the creativity of the message.
Until next time.

Interested parties can follow me on Twitter @emandrusiak (www.twitter.com/emandrusiak) or on LinkedIn http://ca.linkedin.com/in/mannymandrusiak



---


[Click Banner To Learn More]
[Home Page] [The Automator] [About] [Subscribe ] [Contact Us]