---

The Collaboration of Haystack Support and Supporters
Reviews from this event:

Haystack Connect Review A summary of my observations and takeaways "My Back from the Stack"
For a great video and commentary of event go to http://controltrends.org/. Eric and Ken did an amazing job of exposing with video interviews the people who made this event work.
Christopher Naismith Learning Manager SES Consulting I recently had a chance to present briefly at the Haystack Connect conference with my mentor Ken Sinclair on the topic of 'Attracting Self-Learning Assets' or 'How do we attract staff that will teach themselves what they need to know?' Ken asked for my input as the learning manager of a building automation technology consulting firm, SES Consulting.
Haystack Connect Final Update before the Event
Haystack Connect What is it and Why Should I Attend?
A Preview of the Haystack Connect Technical Program
Introduction Video: video presentation of what Haystack is all about
Haystack resources http://www.project-haystack.org/download
2012 Haystack tagging makes it possible for visualization software to assemble graphics of equipment systems with almost no human involvement.
oBIX & Project Haystack -- Understanding where each fits.


Cloud-Based Data Acquisition and Storage
Managing a Building's "Big Data"
Detailed Schedule of Sessions and Speakers for Haystack Connect Announced!

Haystack Connect What is it and Why Should I Attend?
Unlocking Energy Efficiency with Haystack
The Spirit of Project Haystack
Haystack Enabled Energy Efficiency
Making Device Data Self-Describing to Enable Seamless Integration across Multiple Applications
A Preview of the Haystack Connect Technical Program
Beware of Trojan Horses Bearing BACnet Logos
Last Month in the Automation Ballet
June 2013
Something Happening Here the first ever Haystack-Connect Event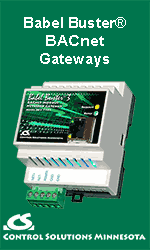 Releases
KMC Announces KMC Connect Configuration Software KMC Controls, a leader in building automation systems, today announced the upcoming release of its new KMC Connect configuration utility for the KMC Conquest line of BACnet direct digital controllers.

KMC's Richard Newberry Appointed to IBCon Advisory Council KMC is a platinum-level sponsor of the bi-annual Realcomm IBCon conference, which will be held at the Marriott Rivercenter in San Antonio, Texas from June 9th through June 10th, 2015.

KMC Announces KMC Conquest BACnet Router The router is a key component of KMC's new Conquest line of BACnet direct digital controllers and appliances designed to connect building automation systems to the Internet of Things (IoT).
Contemporary Controls' Leads Discussion on the Automation Application Platform at Haystack 2015 Similar to a PC but more reliable, the Automation Application Platform is hardened for the heavy demands required for building automation.
Project Haystack Announces Keynote Speakers for Haystack Connect 2015 Conference Project Haystack, a collaborative community of leading technology suppliers and systems integrators developing common standards to streamline the interchange of data among today's smart devices, systems and equipment, is pleased to announce Dennis Lottero (Vodafone), Jack McGowan (The McGowan Group) and Peter Kelly Detwiler (NorthBridge Energy Partners) as keynote speakers for the second bi-annual Haystack Connect Conference 2015 beginning May 18, 2015 at the Cheyenne Mountain Resort in Colorado Springs.
Have You Registered for Haystack Connect Yet? The bi-annual Haystack Connect event (May 18-20) brings the community together to discuss Haystack topics and provides a unique opportunity to network with others that are addressing the challenge of integrating systems and data to improve facility operations.
8 Days Left of Early Bird Discount for Haystack Connect 2015
New Sponsors and Exhibitors Announced for Haystack Connect 2015
---


[Click Banner To Learn More]
[Home Page] [The Automator] [About] [Subscribe ] [Contact Us]