---
BASSG Open Sources Project Builder Plus



Paves Fast Track to Haystack Tagging


Therese Sullivan,


Principal,




BASSG has just released one of its most popular utility software tools, Project Builder Plus (PB+), for free open-source use and development. The PB+ editor makes it easy to work on large trend data files from your desktop, adding Project-Haystack tagging and custom extensions in preparation for data analytics and visualization applications. PB+ imports building operational data as raw XML and CSV files and exports Project-Haystack-compliant ZINC files. From the editor screen, you can assign Haystack tags and extend tags with batch oriented tools. PB+ has options to communicate with NHaystack, Project-Haystack's open-source Niagara AX module, and with oBIX- (Open Building Information Exchange) compatible databases. These connectors can be extended to Modbus, BACnet, and other standard building protocols. Now that PB+ is open-source, developers can create new connectors to other protocols popular in their specific domain. The Apache LuceneTM text search engine is built-in so that users can easily search for specific records or by specific tags in any database built with PB+.

"Project Builder Plus is a great tool for learning the Project Haystack methodology," said BASSG's Alper Uzmezler. "My goal in writing it was to simplify the job of Haystack modeling across diverse data sets. PB+ is designed to make it easy to work on large files of raw building data from your desktop computer. It includes a robust editor and test files with predefined Haystack tags that can be extended with custom tags. It's like a starter kit for getting onboard with standard semantic data modeling and web services for applications in automation, control, energy, HVAC, lighting, and other building systems. Project Haystack is all about unlocking value from all the digital data streaming from equipment, devices, and occupants in buildings today. PB+ just makes the process of deploying Haystack easier."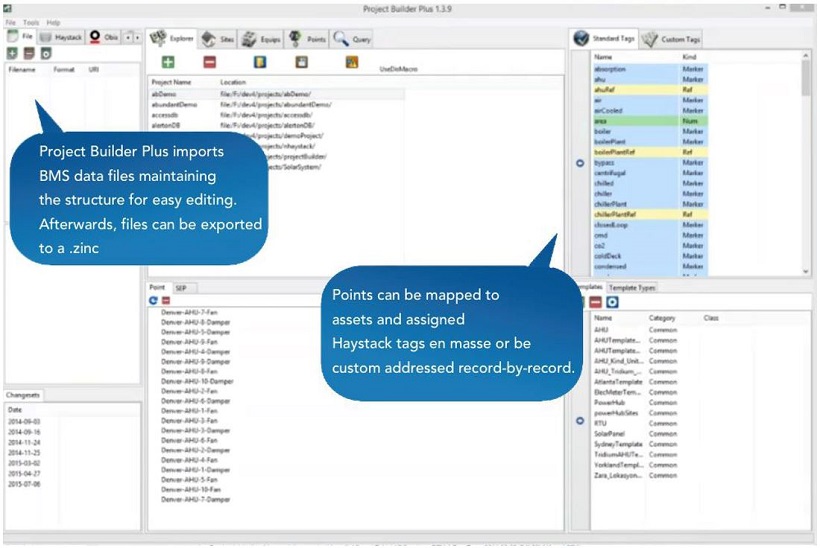 PB+ has Haystack tags predefined and extensible as test files. Users can easily bulk assign these tags to records. Not only do the resulting ZINC records encapsulate time and zone setting, history setting, and site/equip/point structure, they also maintain any metadata tags associated with these settings. This is ZINC's great advantage over CSV or XML. From here, you can easily generate a Haystack config database to be used by a web service. In this way, PB+ is an ideal platform for generating Haystack microservices for physical and virtual assets.

Founded in 2004, BASSG is a leader in commercial building informatics and machine learning. It provides realistic rendering, dashboarding, energy analytics programming, integrations, and other services. BASSG is also a software developer selling data visualization, custom UI, and HTML5 block programming tools delivered as a unified environment. BASSG's is a distributor of Tridium Niagara, SkyFoundry SkySpark, EnerCase, Solidyne and Ontrol branded products. It is DevOps partner to leading energy management, commissioning and master systems integration firms and an active participant in open-source BAS, supporting both Project Haystack and Sedona Framework communities. In 2016, BASSG sold its first edge analytics controllers (EACs) to beta customers. In January 2017, it founded Anka Labs to develop further and market EACs and to bring the power of Machine Learning and AI to commercial buildings.




---


[Click Banner To Learn More]
[Home Page] [The Automator] [About] [Subscribe ] [Contact Us]