---
Articles - March 2017

Our authors provide insight into our rapidly evolving industry.
Please take the time to read their valuable articles.

The Transformation of the Building Performance Software Business The building performance software industry has at least 350 established suppliers delivering across six main different market segments that can be further sub-divided into 16 segments. - James McHale, Managing Director, Memoori
BASSG Open Sources Project Builder Plus Paves Fast Track to Haystack Tagging - Therese Sullivan, Principal, BuildingContext Ltd
Beyond Smart Grid… the Internet of Energy Things Grows Up - Jack Mc Gowan, CEM, Principal, The Mc Gowan Group
From Building Automation to IoT The Long Winding Road towards Truly Intelligent Buildings - Memoori
Four Questions to Ask Before Getting Started on a Building Analytics Project - Jon Schoenfeld, Director of Energy and Analytics, Kodaro

Analytics Creates Transparency Is That Good for Your Business? - James Lee, CEO & President, Cimetrics Inc.
Learn More About the Sedona Alliance Primarily developed for the building automation industry, Sedona Framework is not restricted to this one industry. - The Sedona Alliance
Wellness Keeping employees in an office setting healthy and well is critically important, and smart buildings are making it easier to achieve than ever. - The Comfy Team
Performance Design for the Built Environment Performance designers aim to deliver buildings that enhance productivity, attentiveness, and the well-being of users within the space. - Amarpreet Sethi, Performance Designer, DLR Group

Haystack Connect 2017 Program Preview Need reasons to attend Haystack Connect 2017 - one of the most important is the high-quality technical program - sessions by industry experts that get to the real issues and solutions in connecting smart devices and their data into solutions. - Robin Bestel, Conference Manager, http://www.haystackconnect.org

If You Spec It, They Will Come Out of date and over spec'd designs are failing to address the major problems of most control systems. - Brad White, P.Eng, MASc, Principal, SES Consulting Inc.
Third Generation of Periscope Tools Built to analyze/visualize data from smart devices and systems found in and around buildings. - Greg Barnes, Vice President, Activelogix, LLC

Resolve Problems Faster By Commissioning Your Network Commissioning your network shows you issues you didn't even know were there. - Ryan Hughson, Manager of Building Solutions, Optigo Networks
2017's ever-changing Workplace 2017 belongs to the contractors and freelancers. It is their virtual world now. - Manny Mandrusiak, Executive Director, Q College and Q Academy

Will ASHRAE's 2016 90.1 Increase the Demand for DDC Controls? The latest 2016 version of 90.1 has expanded its scope to include remodels/additions to existing buildings. - Ira Goldschmidt, P.E., LEEDŽ APEngineering Consultant, Goldschmidt Engineering Solutions

Productivity and Satisfaction Deployment Neither satisfaction or productivity are easy to define and involve obtaining deep knowledge of each asset's personal self-esteem, well-being, stress, innovation level, and contribution to corporate purpose. - Ken Sinclair, AutomatedBuildings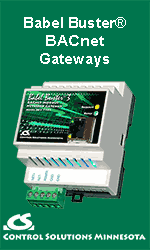 Articles and Columns from
February 2017
---


[Click Banner To Learn More]
[Home Page] [The Automator] [About] [Subscribe ] [Contact Us]