---
Articles - February 2017

Our authors provide insight into our rapidly evolving industry.
Please take the time to read their valuable articles.

The Other "I" in IoT Interoperability is a major contributor to the difference of "being on the Internet to being the Internet of Things." - Marc Petock, Chief Communications Officer, Vice President, Marketing Lynxspring & Connexx Energy
Master Systems Integrators Tomorrow's Solutions in Today's Projects - Jason Houck, Chief Information Officer, Mike Reed, Business Development Analyst, Hepta Systems

Clouds, Fog and the IoT – Isolation or Collaboration? Elena Pasquali examines whether IoT equals the Internet of Connected Things. - Elena Pasquali, Managing Director, EcoSteer Limited
If Data Is The New Gold, Then Data Scientists Are The New Gold Miners If data is the new gold, then smart technology provides the mine. - James McHale, Managing Director, Memoori
Fishing for Actionable Intelligence in our Rapidly Growing Data Lakes We are collecting data with a current need in mind; we are collecting for future purposes, and we are collecting it just to have it, in case we find a way to use it later. - James McHale, Managing Director, Memoori
The Label Maker...is You Appreciating How Metadata Makes AI Possible - Therese Sullivan, Principal, BuildingContext Ltd.

What Will I Learn at Haystack Connect 2017? This year's conference theme is "Where Data Gets Real," and the program for the event will maintain the high standards that have been set for the previous two conferences. - John Petze, Executive Director, Project-Haystack.org
Alexa – Make My Building Run Better! All devices installed in a building, such as boilers, chillers, generator sets, electric sub-meters, pumps, VAV controllers, fire panels, etc. should be smart and have their own individual cloud points-of-presence and applications, just as consumer devices do. - Varun Nagaraj, President, CEO, Sierra Monitor Corporation
Partnerships, Collaborations, Gadgets Market Smart connected gadgets market is set to grow significantly over the next decade. - Vishakha Kashiv, Sr. Digital Marketing Engineer, Big Market Research
The Integrity of Building Analytics Analytics for building systems, regardless of whether the services are cloud-based or on-site solutions, should be accompanied by constant observation of the data and the analytics themselves. - Levi Epperson, Operations Manager, Ezenics, Inc.
Increase the Value of Your Commissioning Process 'Business shapes the tools, then the tools reshape the business' is one way to describe technology disruption. It is true that when you put the latest controls technology into the hands of a commissioning agent, the Smart Building design-construction cycle gets a much-needed makeover, as explained by Altura Associates. - Matt Schwartz, PE, Sr. Associate & Greg Shank, Principal, Altura Associates

Main Benefits of Model Predictive Control MPC is not a single strategy, but a class of control methods with the model of the process explicitly expressed in order to obtain a control signal by minimizing an objective function subject to some constraints. - Jiří Cigler, Feramat Cybernetics, Jan Široký, Research Team Leader, Energocentrum Plus

Bridging the MS/TP Gap Getting visibility into all levels of your BAS system including your MS/TP networks is crucial for proper troubleshooting of BACnet systems. Optigo Networks and Contemporary Controls - Dan Ronald, VP Product Development, Monica McMahen, Marketing Manager, Optigo Networks
Who Manages The Building Data? There would seem to be a very good case for bringing all the facility data into a unified database architecture and putting into practice standard methodologies and processes to manage the data. - Jim Sinopoli, Managing Principal, Smart Buildings, LLC
From Data to Insights What We're Doing, How, and Why - Stephen Dawson-Haggerty, CTO, Comfy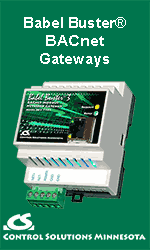 Columns - February 2017
Get More From the AHR Expo As a technologically advanced Society we need to leverage the tools that are put in front of us, and what social media does is provides trade show vendors with the opportunity to maximize every moment that they are at the show to gain customers, and increase brand awareness. - Manny Mandrusiak, Executive Director, Q College and Q Academy
Higher Service Autonomy and the New IoT What would you do with a building service that can tell your system that the building occupants are angry, or happy, or frustrated? - Toby Considine, TC9 Inc

The Future of BAS Manufacturers I believe that analytics and artificial intelligence needs to trickle down into the firmware of DDC controllers to have the maximum impact. - Ira Goldschmidt, P.E., LEED®AP, Engineering Consultant, Goldschmidt Engineering Solutions
Our Assets Are People, Not Technology If you can hire good people, train them well, and ensure they continue, throughout their career, to learn, we will see industry, from the operators to the engineers, achieve the potential we all know is there. - Ken Sinclair, AutomatedBuildings



---


[Click Banner To Learn More]
[Home Page] [The Automator] [About] [Subscribe ] [Contact Us]