---
Bridging the MS/TP Gap

Getting visibility into all levels of your BAS system including your MS/TP networks is crucial for proper troubleshooting of BACnet systems. Optigo Networks and Contemporary Controls


Dan Ronald, VP Product Development,
Monica McMahen, Marketing Manager,
Optigo Networks

We've all been there. Your network is acting up -- devices aren't responding, or lights are turning on at the wrong time -- and you have no idea why. If you're lucky, you are a Wireshark pro with a remote login to the network and can use this to capture traffic and source the problem. You dig around and discover the problem is in the MS/TP network. Unfortunately, when you are capturing information at the BMS server, there is no visibility into the the MS/TP chains which often connect the bulk of devices in a BAS system. Now you have to send someone to the site, capture on the MS/TP network, and set aside a whole week to work through the packet capture. You are not alone.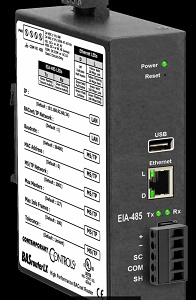 We know that you don't have the time to go to the site. Wireshark is challenging and time-consuming. Getting visibility into all levels of your BAS system including your MS/TP networks is crucial for proper troubleshooting of BACnet systems.

This particular headache is why we at Optigo Networks are collaborating with Contemporary Controls: to bridge that gap between your MS/TP network and your network diagnostic tools with a hardware-software integration.

The Contemporary Controls BASrouterLX is a high-performance BACnet router providing stand-alone routing between BACnet networks such as BACnet/IP, BACnet Ethernet, and BACnet MS/TP. Its advanced features include remotely triggering the capture of Wireshark files for analysis. Optigo Networks has teamed up with Contemporary Controls to expand this capability - the files are now pushed to VisualBACnet.com for quick and easy analysis. From the office or from home, the user can log into the system, capture a file, and find out the Network Health Score of their BACnet/MSTP network. If the score is low or there is a specific problem to be solved, the user can use the diagnostic checks to drill down to find the device or situation that is causing problems.

In addition to troubleshooting, our integration will allow captures to be pre-scheduled. Rather than waiting until something goes wrong to troubleshoot the network, users can schedule regular captures -- for example, every day at noon. Visual BACnet's Site Monitoring feature will then track the network health over time, making it easy to anticipate problems when changes happen in the network and track back over time when problems do occur.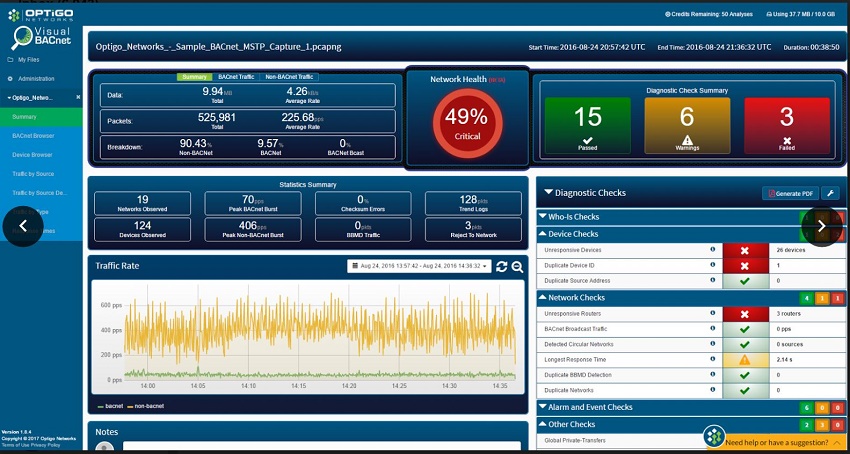 This new feature saves integrators and building operators valuable time, money, and energy, without sacrificing either product's power, performance, or user-friendliness. It means building operators and integrators can dedicate their time to monitoring and fixing or improving their network's health -- not tracking down a router to capture its MS/TP data. It means you can get a better sense of your network's health before issues arise, and deal with problems more efficiently when they do.

Saving time, money, and energy on MS/TP network diagnosis? That's one less headache for you.

We're excited to launch the beta testing program to refine this new integration. If you're interested in being a beta tester, contact visualbacnet@optigo.net


---


[Click Banner To Learn More]
[Home Page] [The Automator] [About] [Subscribe ] [Contact Us]