Deep integration is a process rather than a conclusion, but it results in true Energy Web Services that companies can offer to go far beyond traditional DDC and Building Automation.

John J. "Jack" Mc Gowan, CEM
Energy Control Inc.
Contributing Editor
---
It is a longstanding practice of the author to analyze trends in industries that present migration points for new technology to Building Automation. In the seventies and early eighties, it was worthwhile to follow Industrial automation for example, as that is where Direct Digital Control began. It would come as no surprise to the reader that today it makes sense to follow the Information Technology (IT) business, among others. A new term that has emerged in IT is "deep integration", and it immediately attracted me because the term seems so relevant to Building Automation. Deep Integration is a term that is associated with real-time service, another critical factor in the future of this industry. According to TIBCO, a global software company, the focus of deep integration is on real-time business, "…which unifies and optimizes business assets, such as people, systems and processes, to coordinate end-to end activities that get information where it is needed." If the activities referenced here include control of critical facility equipment, including HVAC, fire / life safety and security, this clearly defines the future of Building Automation












Given this introduction, here is the authors' explanation of how these terms are relevant to Building Automation. Consider the concept of integration depth for a moment. Shallow integration would imply a surface level approach with very limited access to data and control and therefore minimal functionality. An example would be what some vendors call "red wire" or relay logic. This is control integration at its least intelligent, with such applications as a relay that interrupts the power wire from a thermostat to a unit. A better approach, that is still "shallow", is a communication interface that provides only a subset of the points in a given controller and allows little or no access to control logic. This would be very much like the early generation interfaces to legacy systems or some factory-mounted equipment controllers.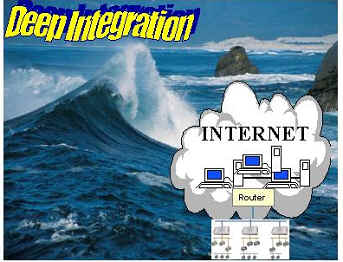 Shallow integration may be accomplished through a gateway or some limited-scope driver software, and it may be acceptable in some cases, but it is rarely what is conceived by the word Integration. It is important at this point to distinguish between "Integration" and "Interoperability". There may not be ready definitions that clearly accomplish this distinction, because in many respects these terms define the same thing. Yet this author would postulate that Interoperability is the verb that defines the action of achieving system interaction and Integration is the noun that defines the concept of multi-dimensional automation systems. In any case however, the concept of "depth" in this case would apply to the richness of functionality that is to be achieved.
The term "drill down" could easily be applied here to describe the idea of a deeper level of control integration that implements a communication interface to interact with the logic of the device. To this point however, most of the discussion has related to HVAC and traditional automation. Deep Integration implies much more though; it is in fact a depth of sophistication and a "breadth" of application. Deeper interaction with control logic provides enhanced sophistication at the controller level, but this is just the beginning. Deeper interaction also assumes that other systems are being addressed as well, such as fire, access security and video surveillance. Depth assumes that this integration is not only interacting with control sequences for HVAC, but for the other systems as well. A deep integration sequence might be to use cameras to verify that individuals with proximity cards for access, are not followed into the facility by unauthorized individuals, a practice that is sometimes called tailgating. Further integration could include limiting elevator travel, and enabling lighting and HVAC in that individuals' area, etc.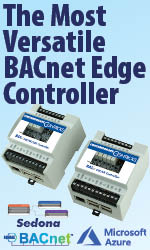 The ultimate in Deep integration of course is full-scale implementation of the Internet and Web-enabled control for comfort, energy management, security or other functions that support the customers' mission. Deep Integration is the logical conclusion of the convergence between Information Technology (IT) and Building Automation; something this author has also called Internet Control. Deep integration is a process rather than a conclusion, but it results in true Energy Web Services that companies can offer to go far beyond traditional DDC and Building Automation. Access to real-time information anywhere, anytime through an Internet-enabled automation system, and the ability to integrate that information into automation technology that is controlling an entire enterprise is the real value of this technology. As this author has said more than once, the key issue for integrators is finding the value proposition to offer and sell these capabilities to building owners. Remember though that this may not be an option. The control industry is on an inevitable path toward commoditization, and the only way for control companies to continue to carve out a niche in new market is to find new ways to deliver value. There has been a great deal of discussion at AHR and BuilConn about IT and Web-based devices, but it is not clear if a control business "person on the street" truly recognizes whether there is any real value in this technology for the owner. This author believes that not only is there value, but that those companies that develop business propositions to deliver that value will be the long term winners in the control business. Those who do not may not exist in five years. The challenge is to develop competency in deep integration and find new ways to both sell and deliver the benefits of this technology.
________________________________________________________________________
ABOUT THE AUTHOR
John J. "Jack" Mc Gowan, CEM is an author and President of Energy Control Inc., an Energy Service Company and System Integrator. Mc Gowan has worked on numerous multi-million dollar projects in every capacity from design through financing as an end user and ESCO. He has published 5 books including "Direct Digital Control" on Fairmont Press. The Association of Energy Engineers named him 1997 "International Energy Professional of the Year", and he is listed in Who's Who in Science and Engineering, Millennium edition, Marquis Press. Mc Gowan sits on the Energy User News Technical Advisory Board and writes a regular column for that magazine called Energy Online. He is a Contributing Editor with WWW.Automatedbuildings.com.
---


[Click Banner To Learn More]
[Home Page] [The Automator] [About] [Subscribe ] [Contact Us]